The festivals are just around the edge and we need a lot of home decor solutions to amp up our spaces without spending a lot of money. But for DIY projects also, we need really simple ideas that do not require many efforts. So, since Diwali is a festival of lights, we are here with five DIY light fixtures that will light up your homes like new. Hence, check these out now.
Light Up The Leaves
Image Courtesy: cloudinary
For this cool project, you will need an old lamp shed and some artificial vine strings. All you have to do is cover the whole lamp shed with the vines wrap them losely and stick them properly with glue so that they don't fall out. Now carefully hang the light in a nice big corner of your room and light it up your nature themed light fixture is all set to astound your relatives.
Bottle Up The Lights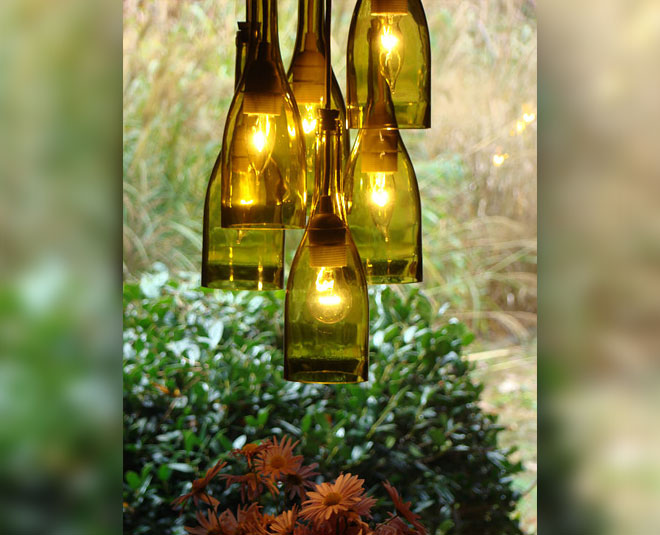 Image Courtesy: media3.onsugar
This DIY number two is another very cool option for you to check out. This is very elegant and would look super amazing inside modern homes. Just take uniform glass bottles and cut them from the middle to make a shed like appearance. Insert wires through the small opening of the bottles and block them with bulb holders. Screw in the bulbs and hang these lights collectively to enhance the appeal of your home.
Mosaic Of Crystals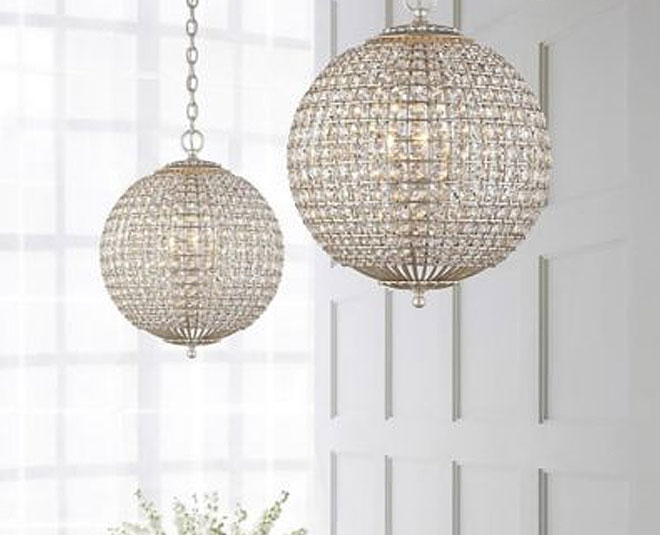 Image Courtesy: Pinterest
This light fixture is very classy and easy to make just take a big glass bowl, get a hole punched in the center of its base from a frame maker, etc. Afterwards, brush a layer of a strong adhesive glue on it. Now, take transparent stones or crystal with a flat side and stick them over the entire glass bowl and complete the placement of the bulb and holder. Once the light is set, screw in the bulb and let this light throw its reflections through magic.
Don't miss: Make Your Own Candles With This DIY Recipe And Save Money
DIY 3D Lamp Shed
Image Courtesy: images.lumens
There are a lot of hanging light fixtures DIY ideas present on the Internet but very few of those talk about fixed lamp sheds. Here we're making a cute lamp shed. So, we begin with taking to circular iron frames. Then we connect the two frames parallelly using strong iron wires. Once, that is done, take a 3D paper and cover the entire iron frame with it and glue it to keep it secured. Now we take a lamp stand and attach the light frame to it. Finally, place it in it's destined spot and enjoy the subtle light falling on your faces.
Cup Plate Up There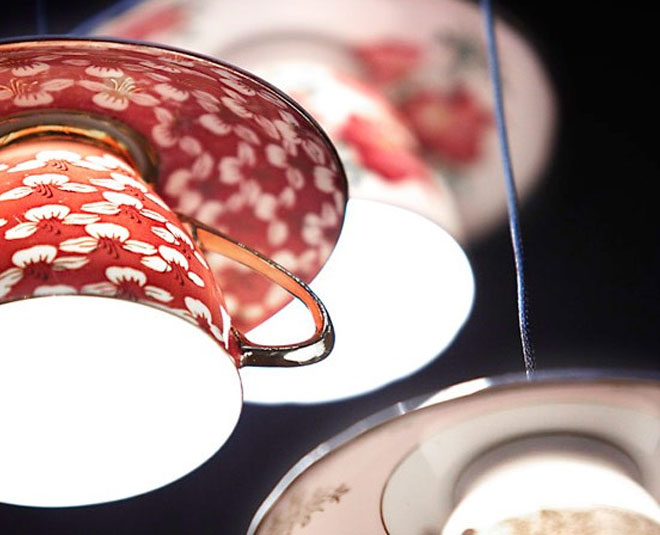 Image Courtesy: livinspaces
This one is a very interesting DIY project and I really like this a lot. You need a couple of tea sets. It will be better if you buy broken or worn out pieces because those will be cheaper and you can customise them accordingly. So stick the cup on the plate using a waterproof glue and get a small hole punched in its base. Now place a small holder and bulb inside it and hang it in your living room. This innovative idea is sure to leave everyone's mind blown.
Don't miss: Take A Look At Some Cool DIY Projects For A Stunning Home
Stay tuned to Her Zindagi for more articles like this.