Women's Day Special: Sakhi Founder Swati Bedekar On Breaking Taboos Over Menstruation
We had a quick conversation with Swati Bedekar recently wherein she talked about menstrual waste, hygiene and more.
Vadodara's Swati Bedekar needs no introduction. She is one among the many pad women doing exemplary work to break the taboos over menstruation and the use of sanitary napkins in the country, especially in rural areas.
Swati Bedekar is the founder of Sakhi, a brand offering 100 percent biodegradable and low-cost sanitary napkins to women in rural areas of the country. The founder recently made it to HerZindagi's list of women achievers of the month and we had a quick chat with her on our Instagram handle where she talked about menstrual waste, lack of menstrual hygiene education, and a lot more. Here are excerpts from the interaction.
The Importance Of Using Biodegradable Pads
While a lot of brands are today offering biodegradable sanitary pads, many women aren't aware of the benefits of using them. We asked Sakhi Founder Swati Bedekar to shared why is it important for women to use biodegradable pads. How is it beneficial for our health and the environment?
She said, "After regular cotton pads, brands started to use nylon and super absorbent polymers to make sanitary napkins which reduced the cost of producing sanitary pads for companies, however, not for women."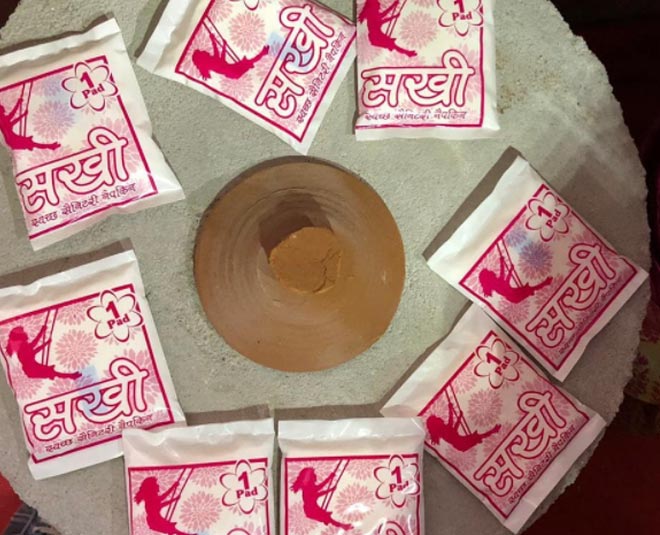 Image Courtesy: Swati Bedekar/Instagram
"Many women aren't aware that usage of just sanitary napkins is not just harmful to the environment but their health too. Health-wise, while breast cancer was one of the most common among women, over time with the usage of plastic-filled sanitary pads, there was an increase in cervical cancer. Many women use the same sanitary pad for 8 hours and the radiation from these pads led to the increase in cervical cancer among women. Cervical cancer cases were earlier only seen in rural areas because of lack of hygiene but after the high usage of polymer pads, the number of cases increased in urban areas too," she added.
"A single woman uses about 10 sanitary pads during her menstrual cycle. If we multiply it with the population using sanitary pads, it is a lot. If these pads aren't biodegradable then we are putting that amount of plastic in our environment which isn't healthy," Swati Bedekar shared about menstrual waste.
Consequences Of Poor Menstrual Hygiene
Even though there is a constant debate over menstruation and menstrual hygiene across the country, many women, especially in the rural areas lack knowledge about it and that's one big reason why they are unable to follow good hygiene during their periods. Following a poor menstrual hygiene have many consequences.
Swati Bedekar said, "A lot of girls and women especially in the rural areas due to lack of information suffer from vaginal infections due to poor hygiene. A lot of them use cloth for their menstrual blood and the bacteria developing on it goes straight to their body and leads to infection. A lot of women then suffer problems in conceiving a baby due to the same issue."
Don't Miss: Companies In India That Offer Paid Menstrual Leaves
Neglected Menstrual Health In India
Movies like Padman did capture the story of women's menstrual health in India, how often it is neglected but menstruation taboos continue to exist. We asked Swati Bedekar how we can overcome these taboos. She said, "There are a lot of taboos linked with menstruation and women's health in general. For instance, many tell their daughters to not enter the kitchen or touch pickles during their menstrual cycle and over time they became a regular practice. A lot of these taboos have developed out of fear. Women should themselves think that when their body releases menstrual blood, it is called impure but when a woman is pregnant and the baby gets all the nourishment from her womb, she is called pure. The blood is actually the nourishment for the child, it is the life of the next generation."
Don't Miss: Lara Dutta Says She Would Never Endorse Sanitary Napkins And We Understand Her Point
If you missed watching the Instagram live, you can watch it here -
View this post on Instagram
For more such exclusive, inspiring interviews, stay tuned to HerZindagi.