India's richest family, the Ambanis need no introduction. The Ambani family is one of the most talked about families in the country and of course, one reason behind that is the luxury life they live. You dream of it and they have it! Lavish houses, luxurious cars, exquisite jewellery, ensembles from top designers of the world, you just name it! Do you know the Ambani family is so fond of buying luxury cars? Knowing the Ambanis, you can imagine the luxurious car collection they own.
Mukesh Ambani and Nita Ambani own a total of 168 cars which are parked inside their house Antilia. Out of all these cars, Mukesh and Nita Ambani own 8 luxury cars that cost in crores.
Those who don't know, Ambanis own a palatial house, Antilia in Mumbai. The 27-storey building has 6 floors dedicated to just cars. Another floor is also dedicated to the service station. The Ambanis own the most expensive cars of the world.
Maybach 62
Nita Ambani gifted a Maybach 62 to Mukesh Ambani on his birthday. She got it customised for husband Mukesh Ambani. Talking about its performance, this car can reach 249km/h (155mph). It has 18-way power rear seats, power side sunshades and wireless headphones too. The car costs a whopping Rs 5.15 crores.
BMW 760Li
This BMW owned by the Ambanis has a bulletproof coating. It costs a whopping Rs 8.5 Crores. This is one of the safest cars owned by the Ambanis.
Mercedes Maybach 660 Guard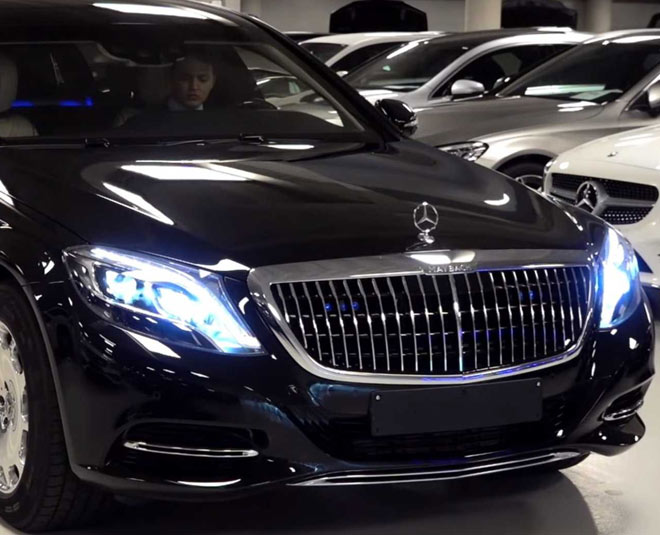 This car costs Rs 4 crores. This one has a 6.0 litre, V12 engine.
Bentley Flying Spur
This luxurious car costs Rs 3.69 crores. It has a 6.0 litre and a w12 engine. This car is a new version of the Continental Flying Spur.
Don't Miss: Mukesh Ambani Earns 7 Crore Every 1 Hour, Anant Ambani Worships Lord Balaji, Unknown Facts About The Ambanis
Rolls-Royce Phantom Drophead Coupé
You don't spot this car much in the country. India has just 6 of these and the Ambanis own one of them. This car comes with a 6.75 litre, V12 engine. This car can reach 241 km/h (150 mph) in just 5 seconds. This car costs Rs 7.6 crores.
Don't Miss: These Unseen Pictures From Nita And Mukesh Ambani's Wedding Are Priceless!
Bentley Bentayga
The Ambanis own this beauty too! This one is one of the fastest SUVs. This five-door SUV can reach 301km/h. Reportedly, this car is Akash Ambani's favourite. It costs Rs. 7.6 Crores.
Aston Martin Rapide
Not just Rolls Royce and Mercedes, Mukesh Ambani and Nita Ambani also own a Aston Martin Rapide. This car costs Rs 3.38 crores. This car is powered with a V12 engine and a 5.9 litre.
Rolls Royce Cullinan
This is another luxury car the Ambanis own. This car comes with various luxury features and this makes it take place at the Antilia garage. This car costs Rs 6.95 crores.
Looks like the Ambanis love cars and their parking lot has some of the most loved cars. We are sure a lot of must be envying the car collection of the Ambanis.