We all know the worsening conditions of the environment and still, most of us tend to ignore the preventive measures that are supposed to be taken every time. We still use plastic extensively without thinking twice about the environment. The rising polluting levels in the air, water, and soil, and the fact that our world oceans are getting depleted along with the decreasing air quality and changing climatic conditions are some important points that must bear in mind while being reckless with nature.
So, this Diwali let's try not to make things worse and protect our mother nature as she protects us. Let's make this Diwali totally eco-friendly by making eco-friendly idols of Ganesha and Laxmi on our own, right at home. Take a look at the step by step procedure here.
Items You Will Need
Image Courtesy: Pinterest
This is a very affordable and easy option to celebrate an eco-friendly Diwali. For making, eco-friendly Ganesha and Laxmi Idols, you will need potter's clay and some water. Decide where you're going to make the idols beforehand and make sure that the place is open and sunny. As the clay will dry easily where it is more sunny and airy. Now that you have decoded the place, place a couple of layers of newspapers so as to protect the surroundings from getting spoilt.
Making The Dough
Take a larger proportion of the clay and a lesser proportion of the water. And mix them together thoroughly to make a nice chunk free dough. Now divide the clay into different pieces. Make 2 big balls, 4 very small balls(as big as a playing marble), and 9 elongated pieces. Now, flatten the pieces and even them out at the edges with the help of a ruler.
Start Building The Clay Idols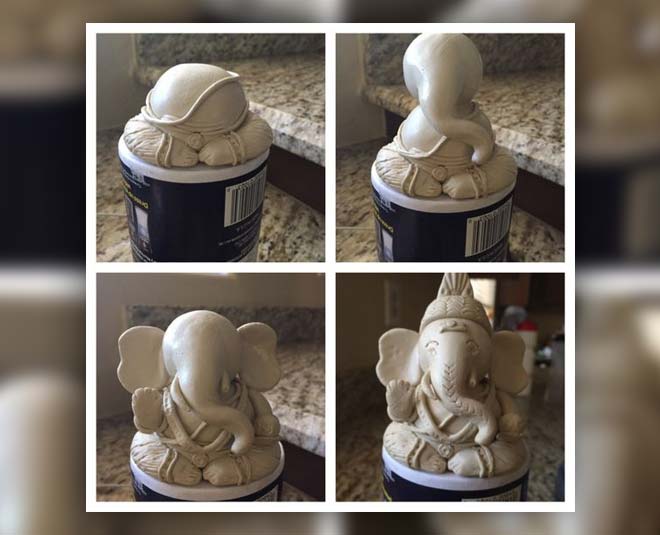 Image Courtesy: Pinterest
Take the bigger ball and use 2-4 drops of water and toothpicks, attach 2 elongated pieces to form the torso and the legs. Then take another elongated piece and attach it just above the legs to each of the idols. Flatten the end of the piece in order to make it look like the idol is blessing (with one palm). Attach the other hand to both the idols and then carefully carve fingers and thumb using water and toothpick.
Carving The Head
Next, place a smaller ball over the bodies of your idols, and to one of the idols, attach an elongated piece to make the trunk. Carefully press every attachment and then use toothpicks to support it. Use small balls for ears and eyes and also make laddoos. Attach them in the same way as you did earlier and carve small features like eyebrows and lips using the toothpick.
Final Touch Ups
Image Courtesy: Pinterest
Make the hair of the goddess Laxmi Idol and give it a feminine touch. Finish up carving the features of the idols and then place them on a leaf tray. Paint their eyes with black and us golden pain to add a touch of adornment. And Voila, you're good to go!
Don't miss: Some Cool And Easy DIY Home Decor Projects For Diwali 2020
Why You Should Make Organic Clay Idols This Diwali
The clay that is used in these idols, is natural and can decompose within a day or two. While the PoP that is used to make Ganesha-Laxmi idols, takes a lot of time, years, in fact, just to degrade. Plus not a lot of paint is used to make these idols, this helps in avoiding the addition of chemicals and toxins into the water bodies and hence preserve them and prevent their depletion along with protecting the marine life, etc. So, go eco- friendly this festive season!
Don't miss: Diwali 2020: 7 Tips For Celebrating A Pet-Friendly Festival!
If you liked reading this article, stay tuned to Her Zindagi for more such articles.