There is nothing better than a soft and delicious ladoo melting in your mouth. If you worry about putting on weight by binging on delicious ladoos then let us tell you an easy recipe that tastes great and will not make you gain weight. Badaam Ladoos taste great and they are really easy to make. These can be prepared for everyday consumption with a glass of milk in the morning or they can also be prepared for a special occasion or festivities. Instead of using sugar that makes you gain weight, we use a healthy alternative for this recipe, jaggery. Jaggery or Gur adds the required sweetness without being harmful to your health. With the goodness of almonds, coconut, and jaggery, this recipe turns out to be a delicious dessert.
Badaam Ladoos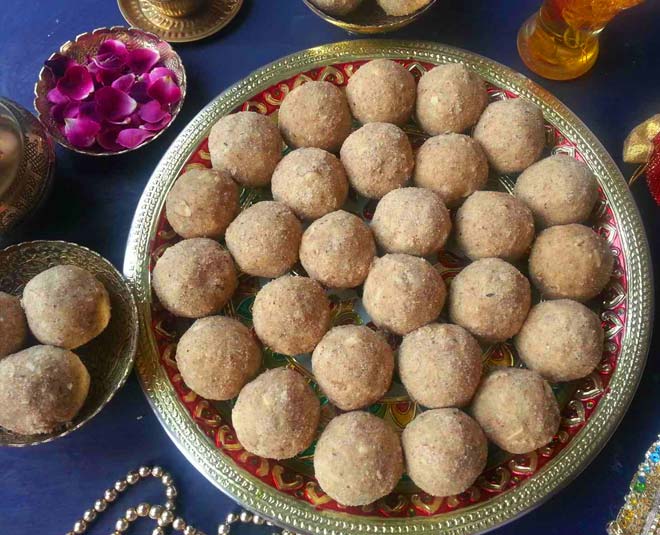 Ingredients:
1 cup chopped almonds
1 teaspoon ghee
Handful of raisins
1 cup powdered jaggery
5 green cardamoms
1 cup grated coconut
1 tsp chopped nuts
How To Make Badaam Ladoos?
In a pan, dry roast almonds. Heat till you get a nice aroma. Switch off the gas and let the almonds cool. Now take cardamoms and dry roast them too. Make sure you don't end up burning them. Roast them and keep aside. Now in a blender, add grated coconut, almonds, and cardamom. Next, add jaggery to the mix and run till it becomes smooth. Now take this mix out in a bowl. Add ghee to it and start making small balls of this mixture. Your ladoos are ready.
Store your badaam ladoos in an airtight container. These ladoos can be kept for a week.
This one is a great recipe for your kids. If your kids don't like munching almonds then this is a great way of making them consume almonds. Almonds are great for overall health. Preparing this delicious recipe is a great way of adding them to your everyday diet. Read on to know some of its amazing benefits.
Almonds are rich in micronutrients that make the bones and teeth stronger.
Almonds are healthy nuts that boost the functioning of the brain.
Almonds help in maintaining the weight. They are rich in fiber and protein and they keep your full for longer.
Adding almonds to your diet helps in increasing the good cholesterol level in the body. Don't Miss Consume Almonds Daily To Prevent Cancer, Lower Your Cholesterol And More
Rich in Manganese, almonds give you the much-required energy to function with power all the day.