Easy Cleaning Hacks Using Cornstarch That Will Save You Money
Cornstarch is usually used to thicken sauces and soups but there are many other non-culinary uses of this ingredient, from cleaning to deodorizing!
Are you tired of buying those expensive chemical-laden cleaning products? Then, you've landed at the right place!
You often have to purchase different cleaning products as per the specific materials such as silver or glass, cleaning items for removing odours, or just for removing stains from your clothes, right? While those products can be effective at times, but mostly, they burn a hole in your pocket.
So, what if we tell you that there is a humble, low-cost, and miracle product that you can use for each of these mentioned tasks? Well, it is cornstarch!
One of the most popular kitchen ingredients, cornstarch is basically a pure starch powder that is extracted from corn kernels. It is then made by grinding, washing, and drying the starch-rich endosperm of the corn until it reaches a fine and powdery state.
Now, this easily available ingredient can be used for many other purposes apart from preparing food. So, we have listed some amazing cleaning hacks that you can try using cornstarch. Scroll down!
Removing Grease Stains From Clothes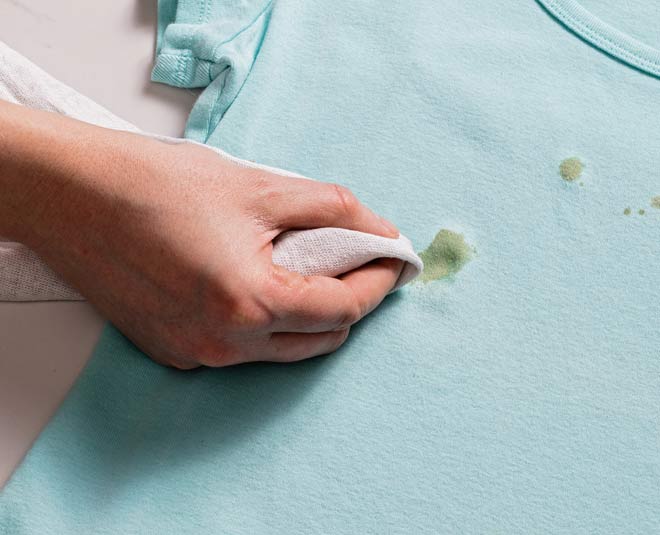 Image Courtesy: Apartment Therapy
You might have heard of using baking soda for removing grease stains from your precious clothing items, but if you don't have baking soda on hand, then what should you do? Simple, just use cornstarch.
Cornstarch is a great natural abrasive cleaner and the added advantage is that it can tackle grease stains without damaging your delicate fabrics.
Method
Take cornstarch and sprinkle the necessary quantity on the affected area.
Allow it to sit for about 12 hours. In this time, this magic ingredient will absorb all the grease from the cloth.
After that, wash the clothing piece as you normally do.
Then, let it air dry.
Don't miss:9 Cleaning Hacks For Your Home That'll Make Your Life Much Simpler!
Polishing Silverware
Image Courtesy: Cleaning - LoveToKnow
Is the sparkle gone from your silverware? Then, you should definitely try this cleaning hack!
Using cornstarch can rub off any tarnish on your silverware while absorbing any harmful residues and that too, without damaging the surface. Also, cornstarch is edible, so you can use your cutlery just after polishing it. Isn't that great?
Method
Take 1 tablespoon of cornstarch.
Take 2 tablespoons of water.
Mix both the ingredients and form a smooth paste.
Then, rub the paste all over your silverware using a paper towel or microfiber cloth.
Once the paste dries out, wipe it off and buff it clean. This will reveal that old shine of your silverware.
Don't miss:5 Simple Baking Soda Tricks That Will Make You Fall In Love With Cleaning!
Cleaning Glass Panes On Doors And Windows
If you are fed up with cleaning dust and grime on your windows followed by getting streaky windows, then this one is for you!
Cornstarch is a wonderful glass cleaner! As its granules are very fine, this ingredient is perfect for helping you clean your glass panes on doors and windows, and without leaving any streaks!
You can create your own streak-free window cleaning solution by following the below-mentioned method.
Method
Pour two cups of warm water into a large bowl.
Add a tablespoon of cornstarch and white vinegar each.
Mix the ingredients well and funnel them into a spray bottle.
Spray the solution on the windows and then, wipe it with a paper towel or lint-free cloth. This will leave your glass panes streak-free.
Are you going to try these cleaning hacks? Do share your thoughts with us on our Facebook page. For more such stories, stay tuned to HerZindagi!