Anushka Sharma and Virat Kohli have been one of the sweetest and most loved couples of Bollywood. And today the couple is celebrating three years of togetherness. The power couple has seen ups and downs, been in a long distance relationship, but still came out stronger than ever. Recently, Anushka Sharma took to Instagram and asked her followers to quiz her about anything. She posted a question and answer story on her Instagram account and wrote "I have had a lot of carbs & buzzing with energy. Ask me an interesting Q?"
Soon a lot of questions popped in and Anushka answered several of them. What caught the attention was her revelations regarding her married life. From keeping a marriage strong to identifying the right person, Anushka spilled all the beans. So, couples take note and read on to know what keeps 'Virushka' strong throughout.
Secret To A Long Lasting Marriage
Anushka Sharma and Virat Kohli have completed more than two years of a happy married life. They never shy away from expressing their love for one another. From commenting on each other's pictures to posting photographs together, this power couple has given us major relationship goals. When asked about the secret behind a long-lasting relationship, this is what Anushka said.
Question- What is the main aspect to make a relationship long-lasting?
Answer- "Faith, knowing that love is acceptance, a good relationship is a commitment, a promise to be there for better or worse because through the ups and downs it allows the individual's space and understanding to grow into their highest human potential."
Don't Miss: This Was Gauri Khan's Reaction When She Found Out About SRK & Priyanka Chopra's Alleged Affair!
True Signs Of A Gentleman
Virat Kohli's gestures and mannerisms never fail to prove how much he respects his lady love. When asked about the true signs of a gentleman, Anushka gave a rather practical and truthful reply.
Question- How do you identify if a man is a gentleman?
Answer- "If he respects people around him whatever their jobs maybe. If he does not speak over you in a conversation. If he does not try to explain a point further that you just made. If he is kind to animals. If he is kind to people. If he is kind to himself. Basically, the same applies for gentlewoman too."
Don't Miss: When Govinda Gifted Flat, Cars To Rani Mukerji And Their Relationship Became The Talk Of The Town In 2000
A Relationship Without Ego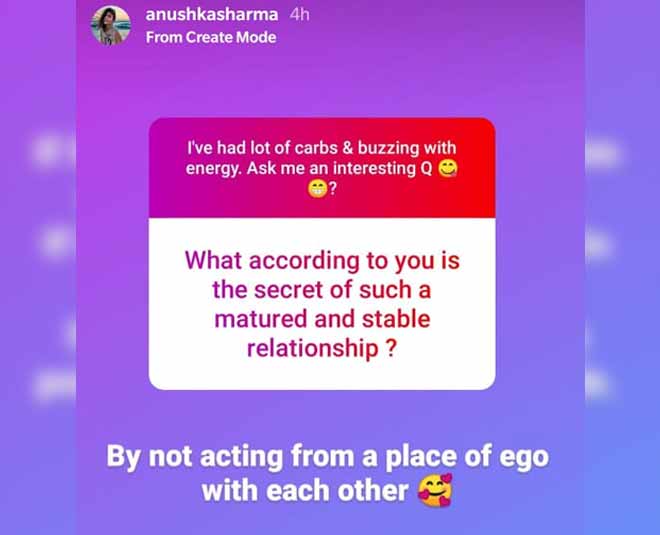 Ego is probably the only thing required to tarnish a happy relationship. Both sides need to act mature and prevent ego from seeping into the relationship, to prevent the pious bond from spoiling. When asked about the secret behind a stable relationship, this is what Anushka said.
Question- What according to you is the secret of such a matured and stable relationship?
Answer- "By not acting from a place of ego with each other."
Fun Times Together
Light hearted 'nok-jhok' between couples is what keeps the relationship alive. No matter how much you fight, get angry or annoy each other, both of you always have each other's back. When questioned by a follower about what Anushka does to annoy Virat, the actress gave a rather amusing reply.
Question- What's that one thing you would do to irritate/annoy virat?
Answer- "If I beat him in any board game and then rub it in. He hates losing in anything."
Anushka Sharma, who was last seen in Shahrukh Khan starrer 'Zero', has established herself as a successful producer. Her two blockbusters 'Paatal Lok' and 'Bulbbul' have proved that there is a long way to go for her.
For more such articles and stories from the world of entertainment, stay tuned to HerZindagi.com