Keeping our homes clean has become an absolute essential these days. With the pandemic going on, the last thing we want is to create a breeding space for all kinds of germs and bacteria. Another problem that follows the pandemic is that even though we need to keep our houses clean, there is hardly any scope for calling any professional to do a deep cleaning. At times like these, the one cleaning essential that you must have at home is vinegar!
Yes, you heard us right! This ingredient that takes the top spot for cooking Chinese is a pro cleaning ingredient! In this article, we will be sharing with you five cleaning hacks where vinegar is the star ingredient!
Cleaning Greasy Stains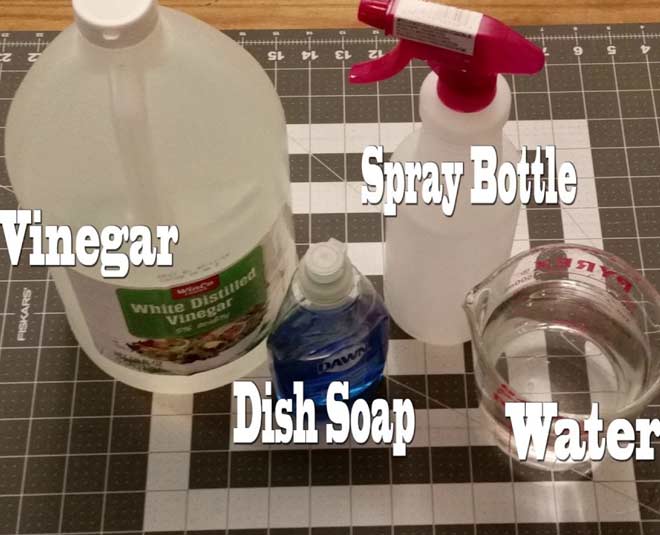 Image Credit: i.ytimg
In your vessels or on your stove, there are often stubborn greasy stains that may have been caused due to burned oil, sugar etc. Not only do they look disgusting but the longer you keep them as they are, the more adamant they tend to become! In times like these, take a spray bottle, in that add equal parts of water and vinegar. Then add one tablespoon of dishwashing liquid and shake well! Spray this liquid on the stains, scrub and leave for a while. Let the vinegar do its magic and then wash it off!
Dirty Sheet Pans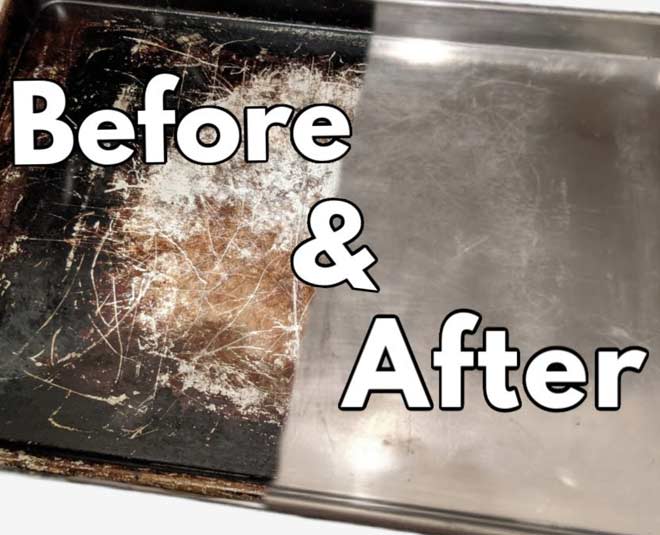 Image Credit: i.ytimg
Due to extensive baking or not using sheet pans at all, they tend to get very dirty. There comes a point when throwing them away seems like a better option. For times like these, take the sheet pan(read more on cleaning sheet pans) and soak it well in hot water. After that mix half a cup of water with half a cup of vinegar and spray it all over the tray. Scrub it well. Sprinkle the tray with baking soda and scrub again. Leave for half an hour, let it dry up. Finally, spray some more liquid, scrub one last time and wash!
Don't Miss- Here Are Some Cleaning Hacks That Don't Actually Work
Clean Tiles
Our washroom tiles are extremely irritating when it comes to cleaning them. They may not have any visible stains but still tend to look old. For times like these, take a spray bottle, mix vinegar and water in a 1:1 ratio and squeeze half a lemon in it. Mix well and then spray the liquid on your tiles(read more on cleaning bathrooms). Vinegar removes stains and lemon aids in whitening!
Cleaning Coffee Makers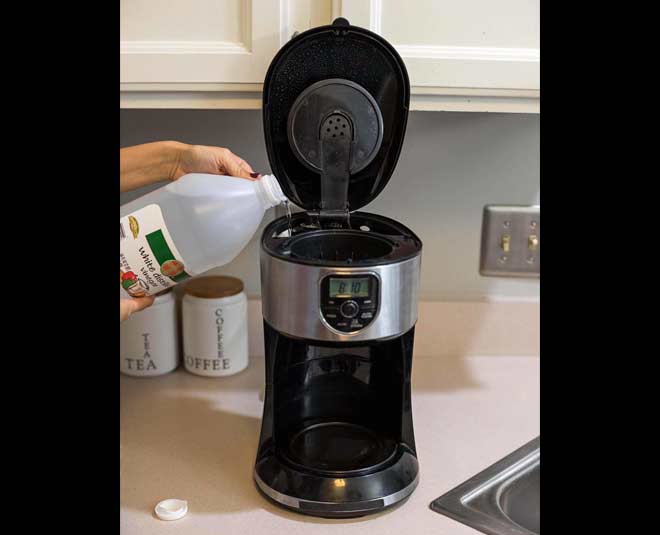 Image Credit: hgtvhome.sndimg
This amazing instrument is perfect for making a delicious cup of coffee. However, while it is brewing your coffee, do you realise how dirty it may be from the inside? For cleaning these kinds of coffee makers or tea makers, what you can do is fill the reservoir with water and vinegar in the ratio of 1:1 and brew. Power off mid-way and let it sit for a while. After half an hour, switch on the machine and brew again. The vinegar will dissolve all the mineral deposits and clean your pot!
Don't Miss- 9 Cleaning Hacks For Your Home That'll Make Your Life Much Simpler!
Clean Microwave
Take a bowl that is heat-proof. Fill the bowl up with water and five tablespoons of vinegar. Place the bowl inside the microwave and close the door. Heat for five minutes. Once the time is up, let the door be closed for another five minutes and voila! After the heat disperses, wipe your microwave with a dry cloth for perfectly cleaning it!
We hope you enjoyed reading this article. If you wish to read more such articles, stay tuned to HerZindagi!