No ice cream can really beat the quintessential vanilla ice cream. Agree? But I know a lot of people who think that having a bowl of plain vanilla ice cream is simply boring. Can we please tell them how versatile the vanilla ice cream can be?
Personally, I like having my vanilla ice cream just as is, without any topping. But then there are days when you might want to give it a twist by drizzling some hot chocolate sauce over it or even some crushed biscuits. But there is so much more that you can make using that vanilla ice cream tub in your freezer.
So, here are 5 interesting dessert recipes that you can try making at home using vanilla ice cream.
Vanilla Ice Cream Sandwich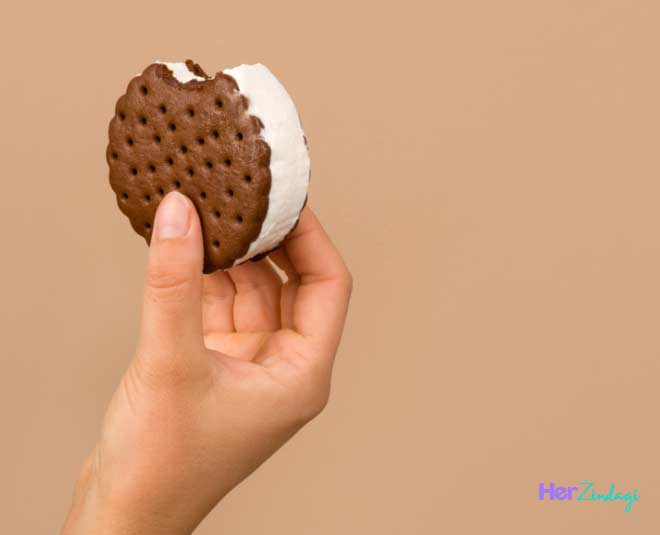 This is the easiest one but believe me, nothing can really beat its taste. It is filling, flavourful, just the perfect snack.
You Will Need
Vanilla Ice Cream
Chocolate Biscuits Or Any Biscuits Of Your Choices Or Toasted Bread
Chocolate Sauce Or Ganache
Directions
In between two cookies or biscuits, place a thick vanilla slice. If you don't want to use biscuits, use it in between two crisp bread slices.
Prepare chocolate ganache by melting some chocolate or use chocolate syrup over it.
Have it as is or freeze for some time and then enjoy!
Don't Miss: This Easy-To-Make Butterscotch Ice Cream Recipe Is Pure Love!
Crisp Vanilla Ball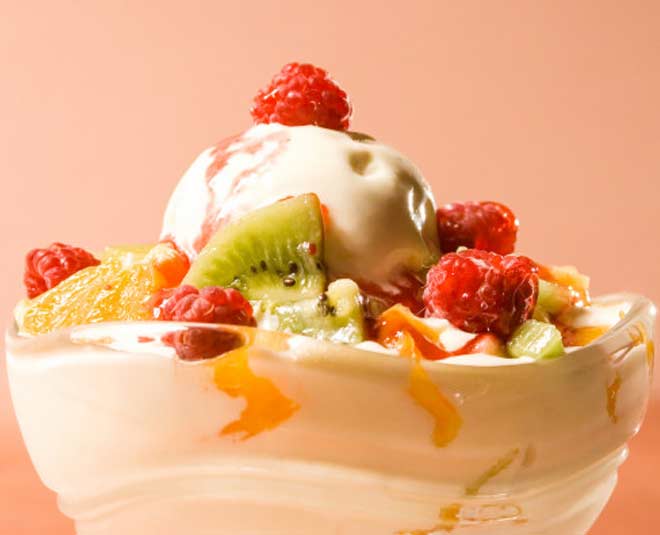 Ever thought of giving your regular vanilla ice cream a crisp twist? This is just the perfect pick-me-up dessert. (easy cookie cream ice cream recipe)
Ingredients Required
Vanilla Ice Cream
3-5 Cups Corn Flakes Cereal
Chocolate Sauce
1/2 Cup Butter
Toppings As Per Choice
Directions
In a bowl, add cornflakes and crush them to small bits.
In a pan, add some butter and roast corn flakes till they golden brown. Let the mix cool for some time.
Take out vanilla ice cream from the freezer.
Give it the shape of a ball and roll the ice cream over the cornflakes mix.
Freeze the balls for 1-2 hours.
Top with chocolate sauce, caramel sauce or whipped cream, or any topping of your choice, and enjoy.
Vanilla Ice Cream Cake
Bored of regular whipped cream cakes? Try making ice cream cake. Super delicious and so easy to make!
Ingredients Required
Vanilla Ice Cream
Cake Slices
Fruits Of Choice
Chocolate Sauce (Optional)
Directions
Take a deep glass container and layer it with cake slices. You can take big or small slices, whatever available.
Next layer it with vanilla ice cream.
Top vanilla ice cream with fruit cubes of choice.
Layer with cake again and then follow with ice cream and fruits.
Drizzle some chocolate sauce over the cake.
Freeze for some time and then enjoy!
Vanilla Ice Cream Pancakes
Ingredients Required
1 Cup Vanilla Ice Cream
1 Cup Water
1 Egg
1 Cup Maida Or Refined Flour
1 1/2 Tsp Baking Powder
Pinch Of Salt
Oil As Required
Directions
In a bowl, add some ice cream, water, and egg. Whisk well.
In another bowl, add flour, baking powder, and salt.
Add the wet and dry mixture well.
On a non-stick pan, spread some oil.
Transfer the batter to the pan. Make sure the pancake is a little thick.
Cook till both the sides are properly cooked.
Take off flame. Enjoy with toppings of choice.
Vanilla Mug Cake
Craving for a quick sweet? This mug cake is just what you need to satiate your cravings.
Ingredients Required
5 Tbsp Melted Vanilla Ice Cream
2 Tbsp Maida Or Refined Flour
2 Tsp Powdered Sugar
1/4 Tsp Baking Powder
1/4 Baking Soda
Chocolate Sauce
Directions
In a microwave-safe mug, add melted vanilla ice cream.
Next add powdered sugar, maida, baking powder and baking soda. Mix well.
Bake in the microwave for 2 minutes.
Remove from microwave. Drizzle some chocolate sauce over it. Enjoy!
Tell us which one is your favourite vanilla ice cream dessert among these and why? For more such easy recipes, stay tuned!