Eid is one festival super important to us especially the food lovers who look forward the goodies we get to gorge on, so how can we not have some scrumptious biryani recipes ready for you? Prepare them with all your heart and the result will for sure be loved by all your loved ones!
Awadhi Mutton Biryani Recipe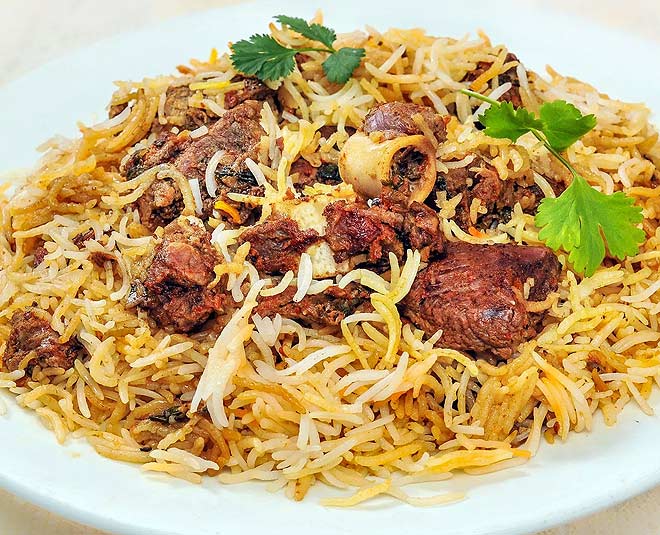 Ingredients
For garam masala:
1 cinnamon stick

8-10 cloves

2-3 mace

2-3 brown cardamom

3-4 green cardamom

2-3 tsp cumin seeds

1 tsp fennel seeds

2-3 tsp coriander seeds

1 tsp peppercorns

2 star anise
For mutton marination:
1/2 kg mutton

4-5 tsp curd

2-3 tsp ginger-garlic paste

1 tsp turmeric

1 tsp chilli powder

A pinch of garam masala
For cooking:
2-3 tsp salt

3 tsp ghee

2-3 tbsp oil

2-3 cups milk

Saffron
Method
Prepare garam masala:
Dry roast all the spices and then transfer them into a masala grinder.

Prepare mutton marination:

In a big bowl add half kg mutton, ginger-garlic paste, turmeric and chilli powder, garam masala, curd and whisk it.

Cover it with the lid and put it in the refrigerator for an hour (marination).
Final Cooking:
Let the meat come to room temperature when you take it out of the fridge and then season it with salt.

Grease a handi (heavy bottom utensil) with some ghee and oil.

Transfer the meat into it.

Next, stir and cook the meat for a few minutes.

Cover with the lid and simmer it for another half an hour.

Now layer the mutton with cooked rice and pour a little saffron induced milk over it.

Add a little salt, garam masala, roasted onions and ghee over it.

Cover the handi with the lid and weight it down with something heavy. Keep the flame low.

Cook for about half an hour.

Serve
Don't Miss: Cook Biryani In 10 Minutes Via One Pot One Shot Cooking Method!
Chicken Reshmi Biryani Recipe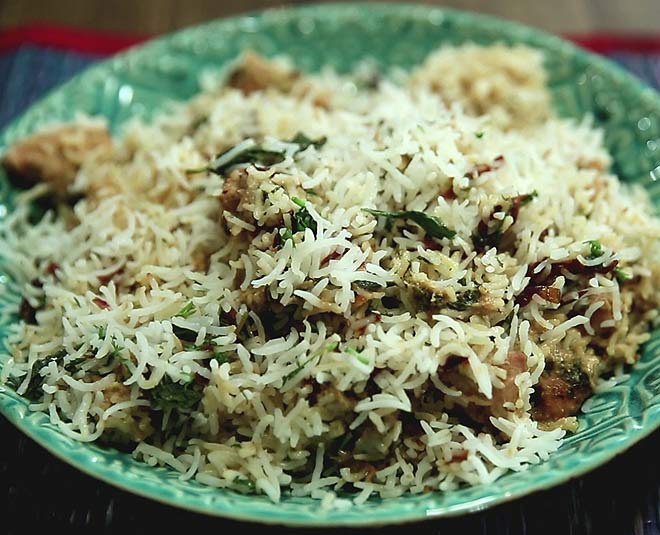 Ingredients
1 kg chicken (broiler, cut into 8 pieces)

1 kg onions sliced

For frying Oil

1 cup Hara dhania (coriander leaves), finely chopped

1/2 tsp haldi

2 tsp chilli powder

1/2 tsp garam masala

1 tsp garlic and ginger paste

1 tbsp powdered dhania (coriander seeds),

1 cup curd

1 tbsp salt
For the rice:
1/2 tsp salt
Water
2 cups basmati (long grained rice)
To seal the pan:
Method
Heat enough oil in a kadhai that will take in the onions comfortably as they need to be covered with the oil and fry until brown and crisp.

Strain the onions and the oil into a strainer, and keep aside.

Marinate the chicken in the garlic-ginger paste, garam masala, curd, dhania, haldi, chilli powder, and salt, for 3-4 hours at least.

Semi cook the rice in water to which salt has been added

Bring water to a boil and then add the rice and salt.

Cook till the rice is almost cooked and then drain, keep it aside.
Heat 1/2 cup of the remainder of the oil in a large heavy-based pan with a lid and add the chicken to it, spreading it to form a layer.

Over the chicken, make a layer of each, half of the rice, onions and coriander leaves.

Repeat the layers a second time and cover the pan, sealing it with some dough after greasing the edges of the pan so that the dough comes off easily when you are done.

Let it cook on high heat for 10 minutes, then leave on low heat to cook for about an hour.

Next, cook it for another hour in an over.

Break the seal and serve either in the same pan or transfer on to a serving dish.>
We have more chicken recipes and dessert recipes for you to enjoy this Iftaar. Stay tuned to HerZindagi as you know that be it any festival, we got you covered!