If chicken is your first love then here are some recipes from the House of Barcelos Restaurant, shared by Rohit Malhotra, Business Head- India Operations, Barcelos India, that you got to try.
Flamed Grilled Chicken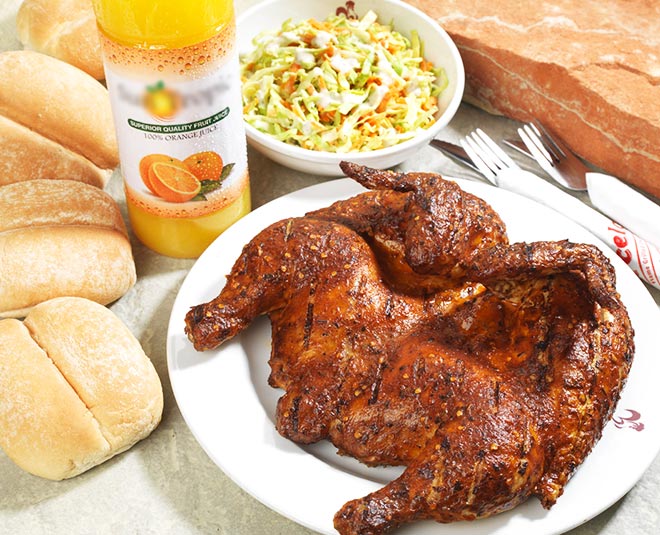 Ingredients:
Vinegar 1/4 cup
Juice of 1 lemon
Olive oil 2 tbsp
Dijon mustard 2 tbsp
Brown sugar packed 2 tbsp
Peri Peri sauce 1 tbsp
Garlic, minced 2 cloves
Thyme 1/2 tsp
Oregano 1/2 tsp
Rosemary 1/4 tsp
Kosher salt and freshly ground black pepper, to taste
Skinless chicken breasts 4 boneless
Chopped fresh parsley leaves 2 tbsp
Directions:
In a medium bowl, whisk together balsamic vinegar, lemon juice, olive oil, Dijon, brown sugar, Peri –Peri sauce, garlic, thyme, oregano and rosemary; season with salt and pepper, to taste. Reserve 1/4 cup and set aside.
In a large bowl, combine balsamic vinegar mixture and chicken; marinate for at least 1 hour to overnight, turning the bag occasionally. Drain the chicken from the marinade.
Preheat grill to medium-high heat. Add chicken to grill and cook, flipping once and basting with reserved 1/4 cup marinade until cooked through, about 5-6 minutes on each side.
Serve immediately, with Portuguese special, succulent chicken cooked in our secret peri- peri sauce is flame grilled and served with traditional Portuguese rice.
Peri-Peri Chicken Wings
Ingredients:
Precooked chicken wings
Kitchen Sauces
Perinaise
Front grill
Basting brushes
Grill fork
Grill brush
Read More: These Easy Mexican, Italian Snack Recipes Are Bound To Impress Your Guests
Method:
Using fork place the pre-cooked chicken wings on the grill, with the wings tip facing upwards.
Grill the wings for approximately3-4 minutes or until golden brown.
Turn the wings and lift the tip of wings so that it is parallel with the grill, to ensure the tip does not burn.
Grill for approximately 3-4 minutes or until golden brown.
Baste with the required kitchen sauce.
Turn the wings and baste another side also with the same sauce.
Take out chicken wings from grill using grill forks and place it in a platter.
Put flavour tag and serve with perinaise dip.
Scrape grill using grill brush.