If you love chicken then we are sure you would love to try out different recipes and treat yourself and your family. Here are two recipes that we thought you would love to experiment with:
Dhaba Style Chicken Curry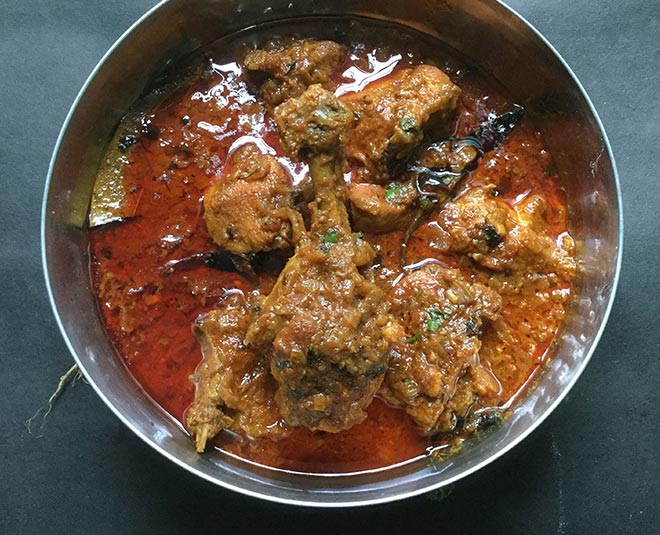 Image courtesy: ytimg.com
Ingredients:
3 onions, coarsely chopped
2 garlic cloves
One 1-inch piece of fresh ginger, peeled and chopped
1/4 cup vegetable oil
1 tablespoon ground coriander
1/2 teaspoon ground cumin
1/2 teaspoon cayenne pepper
1/4 teaspoon cinnamon Pinch of ground
Cloves
Pinch of ground cardamom 1/4 teaspoon turmeric
1 cup tomato sauce
Four 6-ounce chicken breast halves on the bone, skinned
Salt 1 cup water
Garam masala, for sprinkling
2 tablespoons chopped cilantro
Method:
Chop the onions.
Add the garlic and ginger and grind it in a food processoer until they are finely chopped.
Heat the vegetable oil.
Add the coriander, cumin, cayenne, cinnamon, cloves and cardamom and cook over low heat until fragrant, for about 1 minute.
Add the onion, ginger and garlic mixture and cook over high heat.
Do not forget to stir occasionally, until the mixture is golden brown, which would be for about 6 minutes.
Add the turmeric and tomato sauce and simmer over moderately high heat. Stir occasionally, until it is slightly thickened.
Season the chicken breasts with salt and add them to the casserole.
Coat the chicken with the sauce. Add the water, cover and bring to a boil.
Let it simmer over low heat, turning a few times, until the chicken is white throughout. This would take around 10 minutes.
Season the chicken curry with salt.
Sprinkle garam masala on top and then garnish it with the cilantro.
Hyderabadi Chicken Curry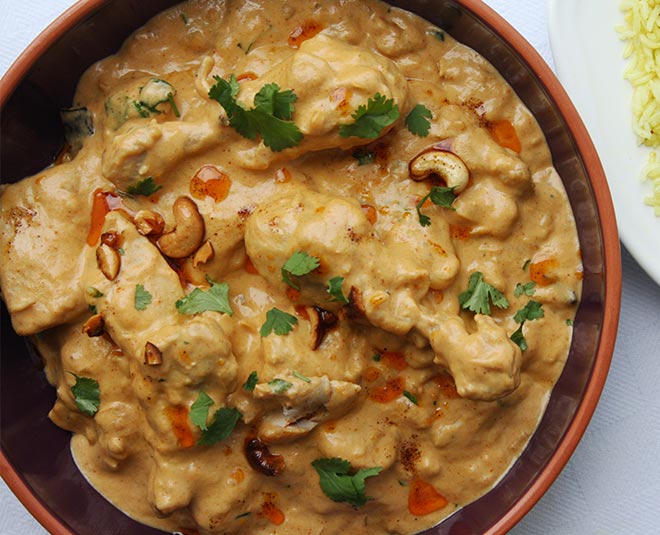 Image courtesy: maunikagowardhan.co.uk
Ingredients:
1 kg chicken, cleaned and cut into joints
1/2 cup grated coconut
1.5 cup onion, finely chopped
200 ml thick coconut milk
200 ml tomato puree
20 dried red chillies
1 tsp cumin seeds
1/2 tsp fenugreek seeds
2 tsp coriander seeds
6 cm piece cinnamon
a small piece nutmeg
3 tbsp cashew nuts, chopped
4 tbsp oil
1 tbsp ginger garlic paste
2 tsp sugar
2 tbsp lime juice
4 cardamom
Salt to taste
Method:
Grind coconut, dried red chillies, cumin, fenugreek, coriander, cinnamon, nutmeg and cashew nuts to a smooth paste.
Heat ghee or oil in a kadai and add onion and fry till it turns golden brown.
Add ginger garlic paste and fry till fragrant.
Add the ground paste and fry till the oil separates.
Add coconut milk, tomato puree and 1 cup of water.
Add chicken, salt and sugar.
Cover and let it simmer till the chicken is cooked and the gravy becomes creamy.
Stir in the lime juice and serve