It is the last month of 2020 and given how torturous this year has been to us, we really want to step into 2021 very soon. So, to celebrate this new year's you ought to throw that perfect party, and for the perfect party, you need the perfect meals. Here are some really unique and easy recipes to add to the new year party menu and surprise your friends with your flawless arrangement. So, read on.
Beetroot Tacos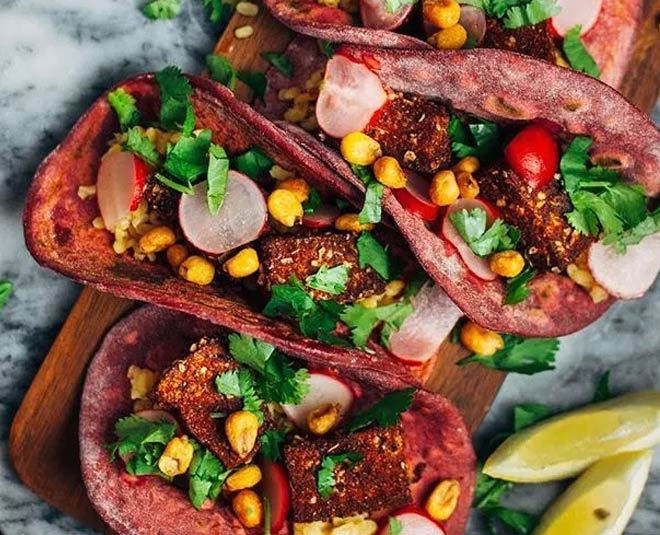 Make this incredibly unique dish with the crunch of tacos and flavour of exotic beetroots. Here's a simple recipe.
Ingredients
2 Cups - Baby corn, cut into thin circles
2 Cups - Spring onions
4 Tablespoons - Tomato Sauce
2 Cups - Broccoli Pieces
4 Tablespoons - Oil
Salt To Taste
2 Cups - Makki Ka Atta (Corn Flour)
2 Cups - Maida (flour)
8 Tablspoons - Ghee
2 Cups - Beetroot Juice
Oil
Method
Mix the Makki ka atta, maida, ghee and add some salt to taste. Then mix all these ingredients nicely.
Next knead this into dough with the help of the beet root juice.
Make small balls with the dough by dividing them into small portions.
Then in a pan heat some oil to deep fry.
After that, roll small discs and deep fry them until they become crispy.
In order to give your puris a taco shape, put them inside a taco mould and then keep those mould in hot oil.
Once the tacos attain a crispy texture, then gradually remove them from oil and now your tacos will be ready to be filled.
So, finally, add all the veggies inside your beetroot tacos and enjoy.
Coconut Custard Tart With Roasted Pineapple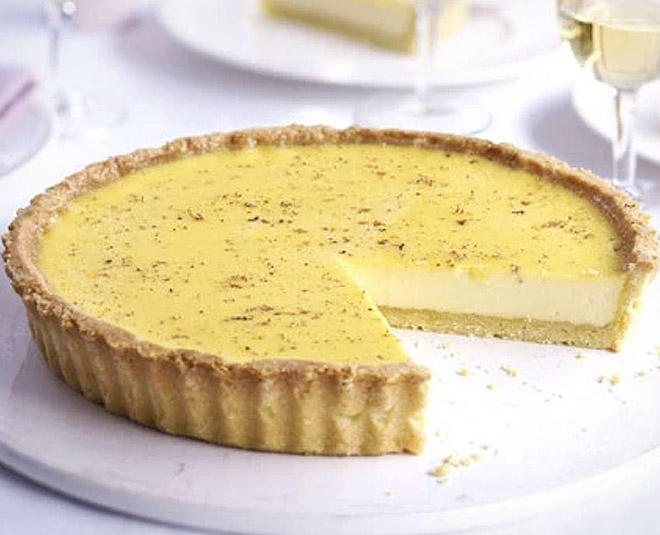 Made with some really delicious twists of coconut custard tart with roasted pineapple. Here's a simple recipe to making it.
Ingredients
350g Plain Flour
150g Cold Butter, Cut Into Small Cubes
100g Caster Sugar
5 Egg Yolks, Plus 1 Beaten Egg
430ml Double Cream
350ml Coconut Cream
4 Eggs
100g Caster Sugar
Fresh Nutmeg, Finely Grated
2 Small Pineapple
4 Tablespoon Light Brown Soft Sugar
3 Tablespoon Lime Juice(benefits of sweet lime juice)
Toasted Coconut Shavings
Method
Start by mixing the flour and butter together using your hands and then add the sugar, 3 egg yolks, 2 tablespoons cold water and mix till the clumps start being formed.
Now place this dough and knead it into a smooth one and then wrap it up inside a cling film for about 30 minutes.
Heat the oven at 180 degree Celsius and line the middle shelf with butter paper.
Roll out the dough on a flat surface and remember to cover it with dry flour before doing that. This will line the base of the custard and the sides of the fluted tar tin.
Wrap the rolling pin with it and lift it from above the tin container.
Leave an overhang of about 1 cm and save the extra scraps for the pastry.
Now you have to line the tart case with a parchment sheet and Bake it for 25 minutes fill in the hole if any, with the extra scraps.
Then put it back in the oven to give it a dark brown colour. Then brush with the beaten egg and put inside the oven for 2 more minutes.
Afterwards, you need to trim the pastry to a height of the tin and then let it all cool down.
Simultaneously, in a different pan mix and heat the cream and coconut cream and in a different bowl, add sugar, whole eggs and the yolks and whisk thoroughly.
Pour the hot creams over the egg mixture and whisk again till all the sugar gets dissolved.
Now pour the custard inside the tart case and top with nutmeg. Place and bake in the oven for about 55 minutes and let it cool and store it inside a refrigerator for up to two days.
Next, peel pineapple and cut slices out of it and mix some sugar, lemon juice and nutmeg and brush it over the pineapple slices. Now bake the slices for 10 minutes and serve hot with cold custard.
Cheese Garlic Flower Bread
Originating from the blissful land of Italy, this cheese bread is uniquely crafted to resemble a flower in appearance and a cheese garlic bread in taste. So, let's take a look at this amazing dish's recipe and surprise our friends with it this new year.
Ingredients
3 Cup All-Purpose Flour
4 Tablespoon Sugar
2/3 Teaspoon Salt
1 1/2 Tablespoon Yeast
4 Tablespoon Curd
2 Cup Warm Milk
3 1/2 Tablespoon Butter Or Ghee
1 1/2 Cup Cream Cheese
1 1/2 Small Chopped Onion
6 Cloves Chopped Garlic
3 Chopped Green Chillies
2/3 Teaspoon Crushed Black Pepper
2/3 Teaspoon Peri Peri Masala
Salt To Taste
2/3 Teaspoon oregano
1 1/2 Teaspoon Melted Butter Or Olive Oil
Method
In the dough maker, add the all-purpose flour and make three holes in it. Add sugar, yeast and salt in the respective three holes and then mix it all.
After this, add the curd, butter(some easy butter hacks) and slightly warm milk and make a smooth and sticky dough out of it.
Next, take a bowl and and add grease it with oil, then transfer the dough into it and cover with a cling film for fermentation(1 hour).
Now take the cream cheese in a bowl and then add the chopped chilies, chopped garlic, black pepper, peri peri powder, oregano and 1 tablespoon butter store this in the refrigerator.
After an hour, when the dough rises, dust some dry flour over it and divide it into 16 sections.
Then roll the 16 pieces to a disc and add the filling to it. Roll each disc in to a semi circle and then join the top two corner to make a petal like shape.
After you have 16 stuffed petals, arrange them in a flower shape, then preheat the oven for about 5 minutes and then place the flower bread on the baking tray lined with butter paper and bake in the oven at 170 degrees for 18 minutes.
Your cheese garlic flower bread is ready! Just sprinkle some butter and oregano and serve.
Don't miss: Take A Look At These Amazing Christmas Recipes That You Can Prepare At Home
If you liked reading this article then stay tuned to Her Zindagi for more such pieces.