The holiday season is about to arrive and with it, we do need some amazing foods to munch on while sitting inside the blanket and binge-watching with your loved ones. So, we thought of suggesting to you some really easy pudding recipes that will amp up your mood and your winter vacations in an instant.
Take a look at the easy pudding recipes here.
Easy Custard Pudding Recipe
This pudding is from Japanese/French cuisine and is known for its mouth-melting texture that remains rich and creamy till the end. Here's a simple recipe
Ingredients
4 Tablespoons Granulated Sugar
1 Tablespoons Water
1 1/2-2 Tablespoons Hot Water
2 Eggs
250 ml Milk
5 TablespoonsGranulated Sugar
Unsalted Butter
4 Custard Cups
Method
Start by caramelising the sugar in a lowly heated pan and heat till the sugar melts and turns the mixture golden brown.
Simultaneously, coat the inner side of the pudding cups with unsalted butter to make the removal of the pudding from the cup, easier.
Once the caramel is prepared, add the hot water to it in two-three times. Swirl the pot to mix it all up and then pour the caramel into the pudding cups.
Now take the eggs and beat them to get a smooth slightly frothy texture.
Then heat milk and sugar in a pan, once the sugar dissolves, then transfer the sweet milk to the whisked eggs.
Mix all the ingredients well and filter the lumps through a sieve to get a fine flowy paste.
Then pour the egg mixture into the pudding cups and steam just below boiling point to get a smooth custard pudding.
Apple Berry Pudding Recipe
Enjoy this scrumptious apple berry pudding with family at the weekends. Here's a simple recipe to check it out.
Ingredients
3 Apple (peeled, chopped)
2 Tablespoons Lemon Juice, plus 2 Teaspoons Grated Lemon Zest
1 1/2 Cups Caster Sugar
500g Frozen Mixed Berries
2 Eggs
1/2 Cup Milk
1 Teaspoon vanilla extract
1 Cup Plain Flour(Sifted)
1 Teaspoon Baking Powder
Icing Sugar
Thick Cream Mixed With 1 Teaspoon Ground Cinnamon
Method
Preheat the oven at 160 degrees.
In a pan take apples, lemon juice, and 1 cup sugar, cook this for 3-4 minutes and make sure the apples soften on heating.
Cool the mixture and transfer it into a baking dish, add the berries to it and then set it aside.
In a bowl, crack the eggs(egg replacements to try), add milk, vanilla extracts, and lemon zest and mix it all nicely. Then in another bowl, add the flour, sugar and baking soda and mix the egg mixture along with this.
Whisk it all until a smooth paste is achieved, then pour this over the fruits in the baking dish and bake the pudding for 30-35 minutes.
And serve hot after decorating with cream and dusting with icing sugar.
The Strawberry Chia Seeds Pudding Recipe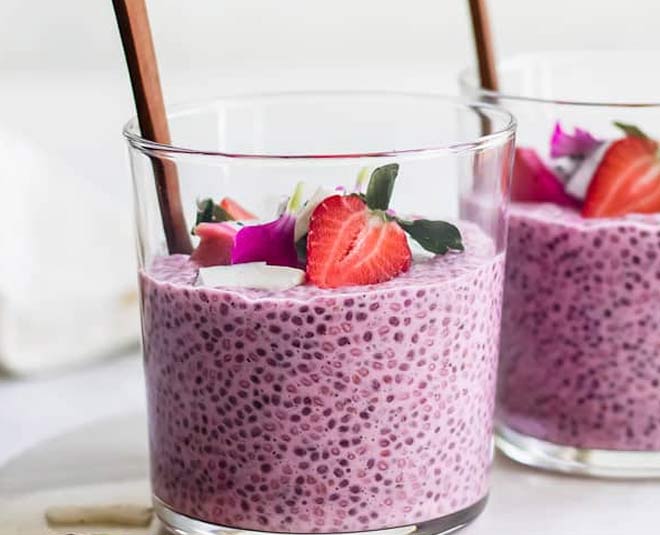 Make this lip-smacking pudding at home and enjoy it as breakfast with a touch of healthy nutrients and blissful flavour.
Ingredients
1/4 Cup Chia Seeds
1/2 Cup Almond Milk
1/2 Cup Coconut Milk
1 Tablespoon Maple Syrup
1 Teaspoon Vanilla Extract
Lime Zest
1/2 Cup Strawberries
1/2 Cup Fresh Dragonfruit (or 1 Tablespoon Dragonfruit Powder)
Fresh Strawberries For Topping
Method
Take a bowl and add, chia seeds, almond milk, coconut milk, maple syrup, vanilla extract, and lemon zest and keep it aside.
Grind the drangonfruit(skin benefits of dragonfruit) and strawberries and add the puree to the chia seeds mixture after straining.
Mix all the ingredients well and place it in the fridge over the night and the next morning top the pudding with fresh strawberries and enjoy!
If you liked reading this article, then stay tuned to Her Zindagi for more such pieces.