There is nothing tougher than to include leaves in our diet. Even though they are an absolute essential, the way they taste is what `makes them our last option while cooking. However, with the increasing talks on immunity and health, one fact that we must all acknowledge is that green leaves are an absolute essential in our diet.
Having established the importance of leaves and acknowledged their bitter taste, we have come up with five dishes that are yummy yet nutritious!
Mint Leaves Pulav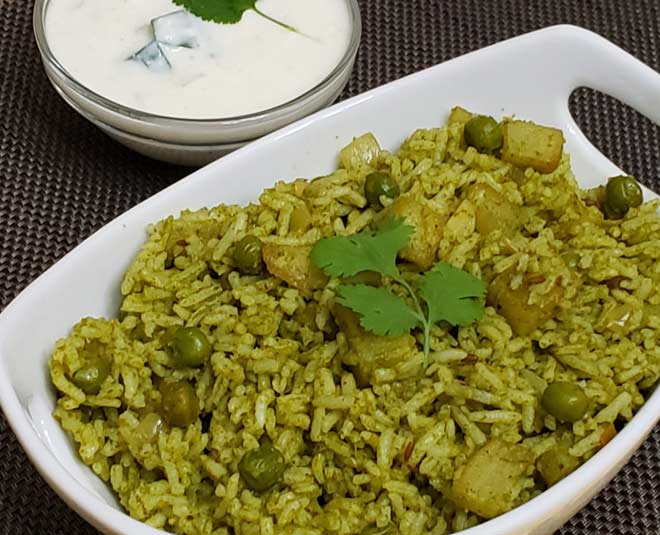 Image Credit: sirisblog198815040.files.wordpress
The benefits of mint are numerous! It is known to help with indigestion, it is good for the skin and flushes out toxins from the body! Let us get past the cliched of mint mojito where there hardly is any mint and loads of sugar and soda. What you can try instead is mint pulav, popularly known as pudina rice. It is a simple recipe that can be prepared within minutes! All you need to do is cook plain rice with a paste of coriander leaves, mint leaves, green chillies and onions. The aroma of this dish is out of the world!
Basil Pesto
Image Credit: thespruceeats
Basil leaves contain anti-oxidants, are anti-inflammatory and even known to promote heart health. An easy recipe to whip up with basil is the basil pesto by simply grinding together fresh basil, some cheese, olive oil, chillies, lemon juice, garlic, nuts(preferably pine nuts), and salt and pepper. This flavourful pesto can be used in pasta, pizza, shrimp, or even bread!
Don't Miss- Watermelon Benefits: Ways To Add The Healthy Fruit To Your Diet
Coriander Pakoda
When it comes to coriander we often just think of it as a seasoning. However, coriander leaves have immunity-boosting properties, are good for gut health, and are even known to improve kidney function. A famous Bengali dish, popularly known as Done Patar bora, is an extremely easy-to-make appetizer(read more on fritters). The recipe for this dish is extremely simple. All you have to do is make a mixture of gram flour, rice flour, chillies, chopped coriander leaves, salt and other seasonings of your choice. Mix well and drop it in small portions in a frying pan. Let it fry and serve hot! You can also bake them if you do not want to consume so much oil.
Palak Raita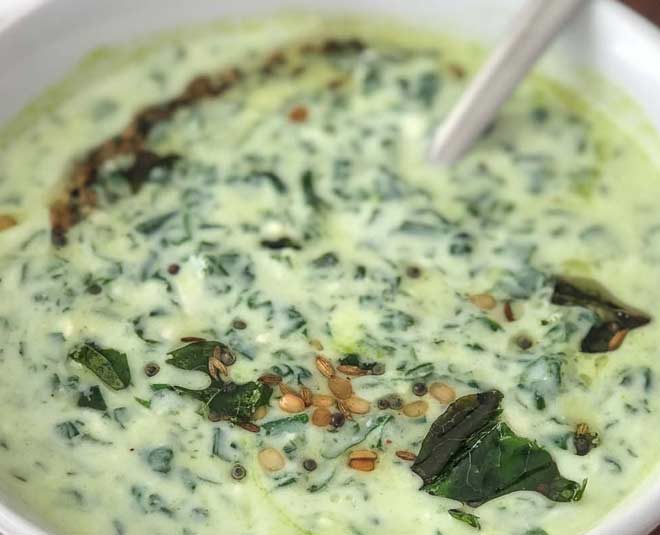 Image Credit: archanaskitchen
Spinach helps in diabetes management, lowering BP, promotes digestive health and maintains bone health. The go-to recipe when it comes to palak is palak ka saag or dal. However, the taste of that is something that may not soothe the taste buds of everyone. To easily include palak in your diet yet have the dish taste yummy, you can make easy palak raita(read more on raita)! All you need to do is heat some oil, throw in some cumin, chopped spinach and let it cook. In a bowl whisk some yogurt, add the cooked spinach, add black salt, pepper, and other ingredients you wish to be in your raita. Prepare a tadka of mustard seeds, red chillies and curry leaves and add this to your raita and voila! Your palak raita is ready!
Don't Miss- 8 Reasons Why You Should Binge On Chapattis
Arbi Patte Pakodi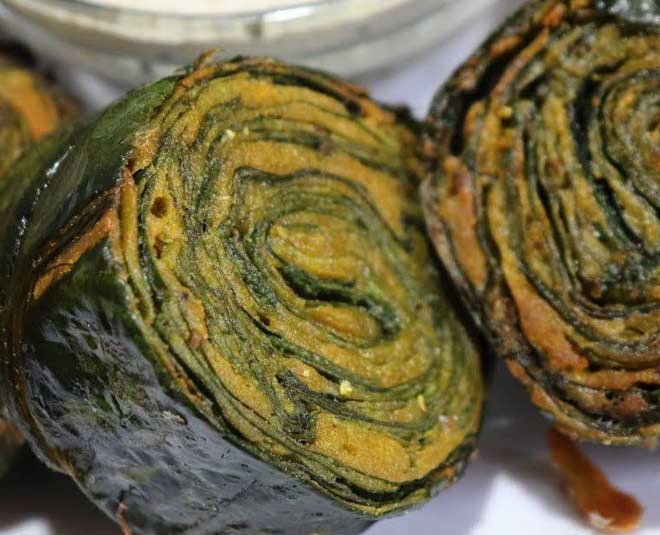 Image Credit: i.pinimg
A lesser-known leaf, arbi patta, or Taro leaves are known to keep the blood sugar in control, maintain heart health and improve vision. A dish that can be made using these leaves is 'Arbi Ke Patte ki Pakodi' or 'Taro Fritters'. All you need to do here is make a mixture of besan, salt, chilli powder, amchur, coriander powder, and ginger garlic paste. Add water to get a paste-like consistency and then spread this paste on the baby taro leaf, place another leaf on top of it, spread the paste and keep repeating till another 4-5 leaves. Roll the ends from one side to the other and steam this. Post steaming, cut it into slices and fry to get yummy fritters!
We hope you enjoyed this article and will be including these leaves in your diet now! Stay tuned to Her Zindagi for more such content.