Delicious and juicy watermelons are packed with the goodness of vitamin A and C which is great for our overall health. Also, watermelons have high water content, about 92% of the fruit is water which again makes it super hydrating and healthy.
To enjoy the amazing health benefits of watermelon, you must add this fruit to your daily diet. If you don't enjoy having the fruit as is, there are many other ways you can have it in your diet routine. Read on.
Watermelon And Kiwi Popsicle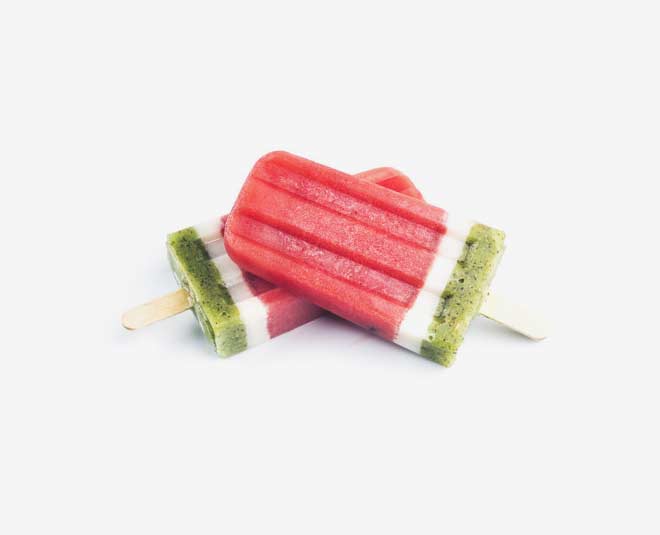 Craving for an ice cream but don't want to ruin your diet? Try making this watermelon and kiwi popsicle at home. This one is healthy and the perfect watermelon sweet snack.
Ingredients Required
3-4 Kiwis
2 Cup Seedless Watermelon
Honey As Per Taste
Popsicle Sticks
Directions
Remove watermelon flesh and cut it into small pieces. Remove all the seeds.
Transfer to a blender and pulse till smooth.
In a popsicle mould, fill in 3/4th with watermelon puree. Place it in the freezer for 30 minutes.
Peel kiwi and cut into chunks. Puree same as the watermelon.
Fill in the rest of the mould.
Place in the popsicle sticks and place in the freezer again.
Once frozen, take out and enjoy!
Watermelon Smoothie
This is one of the simplest smoothie recipes and we bet everyone will enjoy it, especially kids.
Ingredients Required
1-2 Cup Diced Watermelon
2 Cups Milk
Sugar As Per Taste
Directions
In a blender, add watermelon cubes and milk. Blend together till you get a smooth mix.
Next, add sugar to the mix as per taste and blend again.
Pour the smoothie into glasses and top with watermelon cubes. Enjoy!
Watermelon Chutney
Ever thought of turning the refreshing fruit into the form of a chutney?
Ingredients Required
2-3 Cups Watermelon
1 Onion
1 Clove Garlic
1/4 Cup Oil
1 Tsp Ginger
1 Red Bell Pepper
1 Tsp Spice Mix/Red Chill Powder
Salt To Taste
Pinch Of White Sugar
1 Tbsp Lime Juice
Directions
Chopped onions, red bell pepper, garlic, and ginger.
In a kadhai, add some oil and all these ingredients. Saute till they get soft.
Add in tomatoes, watermelon, curry powder or red chilli powder, salt, and lime juice. Mix well.
Cover and cook on low flame for 5-10 minutes.
Sprinkle some sugar and mix again.
Take off the flame and let the chutney cool down completely.
Fill the chutney in glass jars. Refrigerate. Enjoy with your meals. (watermelon murabba recipe)
Watermelon Summer Salad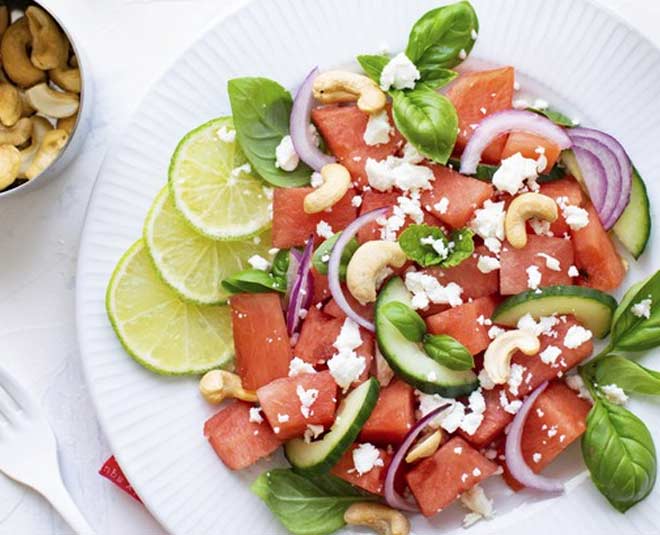 What do you really crave after a long summer day? A fresh, filling, and light salad. Right?
Ingredients Required
3 Cups Watermelon Cubes
1 1/2 Cup Cucumber Slices
1-2 Tbsp Chopped Mint Leaves
3 Tbsp Olive Oil
1 Tbsp Lime Juice
1/2 Cup Crumbled Feta Cheese
Salt Or Pepper To Taste
Directions
In a big bowl, add in watermelon cubes, cucumber cubes, and chopped mint leaves.
In another bowl, add olive oil, lemon juice, and salt and pepper as per taste.
Drizzle your salad with this topping and enjoy!
Watermelon Mint Mojito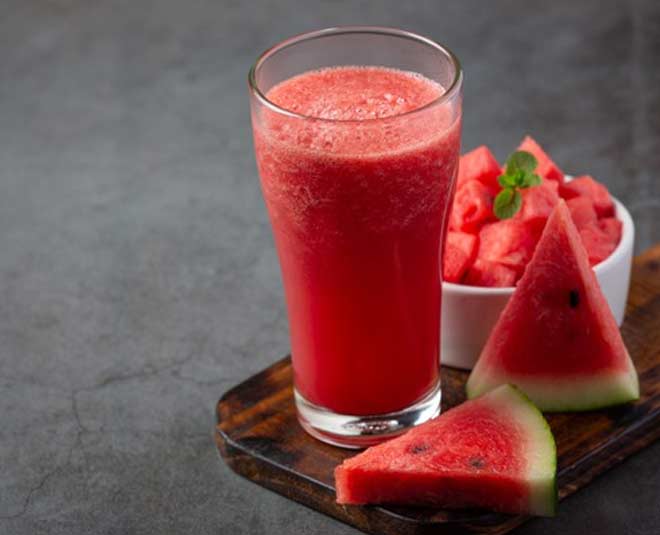 These hot, scorching summers call for a refreshing, chilled drink and there is nothing like sipping on a glass of watermelon mint mojito.
Ingredients Required
1 Cup Watermelon Cubes
Ice Cubes
1 Tbsp Lemon Juice
Handful Of Mint Leaves
3/4 Cup Chilled Water/Soda
Directions
In a small bowl, add watermelon cubes and using a fork, start to mash the pieces and get the juice.
Crush fresh mint leaves and add to the mix. Combine well.
Transfer this mix to a long glass.
Top with ice cubes and lemon juice.
Pour in chilled water or soda and stir.
Garnish with a mint leave and lemon wedge. Enjoy!
We hope you enjoy these watermelon recipes! For more such stories, stay tuned!