Interestingly, whole grain chapati, also known as roti, has been one of the most consumed staples across the world and has more nutritional value than any other grain or cereal. However, there's a common myth that eating chapati, daily, can lead to weight gain and several other health problems. It is often believed that if you are planning to shed some weight, then you should avoid binging on chapatis. However, the reality is far different from what it seems like and this staple contains only 70 calories (which is very less as compared to other cereals or grains). It is also loaded with several vitamins and minerals that can solve half of your health-related problems. Read on to find out more benefits of this 'super grain'.
Loaded With The Goodness Of Vitamins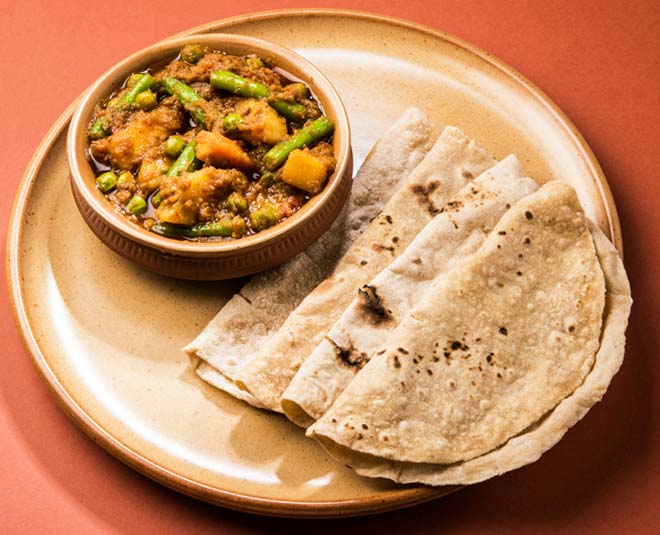 Wheat is packed with several vitamins and minerals, like Vitamins B, E, copper, zinc, iodine, manganese, silicon, potassium, calcium, and other mineral salts.
Good For Your Heart
Chapatis are made with wheat, which contains soluble fiber, which keeps your heart healthy. The fiber content of the wheat flour keeps the cholesterol levels under control and this helps in proper functioning of the heart and healthy blood circulation.
Power-Packed With Energy
Chapatis are packed with vitamin B which provides energy to our body to function properly and keeps us active all day!
Don't Miss: Nutritionist Pooja Makhija Shares 2 Ways To Add Curry Leaves To Your Diet
Digestion-Friendly!
Wheat is the most easily digestible grain. In fact, most of the grains are difficult for the body to digest as most grains are coated with phytic acid, which makes them difficult to digest. Also, they contain bran which promotes better bowel movement and prevents Irritable Bowel Syndrome (IBS).
Boon For Your Skin
This 'super grain' is not only beneficial for your health, but for your skin too! Wheat contains a high percentage of zinc which makes your skin flawless and glowing!
Nutritional Value
If you think that chapatis contain a high amount of calories, allow me to enlighten you. According to a study, a small chapati has 70 calories, 3 grams of protein, 0.4 grams of fat and 15 gms of energy-giving carbohydrates.
Don't Miss: Is Air Pollution Making You Sick? Try These 5 Natural Remedies
Aids In Weight Loss
When it comes to weight loss, chapatis are a lifesaver. Even with the high nutritional content, they have negligible calories. This means that you can eat as many chapattis you want without worrying about your weight! Additionally, the high content of fiber in the chapatis will keep you full for a longer period of time and inhibits the release of ghrelin - a hormone that causes hunger and forces you to eat more.
Controls Body Temperature
Feeling feverish? If yes, then have a chapati. According to a study, chapatis are power-packed with vitamins that can bring down the body temperature. Simply, eat a stale chapati soaked in cold milk to control your body temperate.
So, start bingeing on this "super-dish" and keep your health in check.
Disclaimer: All content, including tips and suggestions, is entirely based on research and data available on the internet. So, it is advised not to construe it as professional medical advice and consult a doctor before making any changes in your diet.
Stay tuned to HerZindagi for more such articles.