Biryani Recipes That You Can Relish During Iftar
Ramadan is almost here and here are some biryani recipes that you can relish during the holy month.
Ramadan is just around the corner and you all must be super excited to gorge on delicious food. If you are looking for some delicious recipes, then here are two types of biryanis that you should definitely try.
Keema Biryani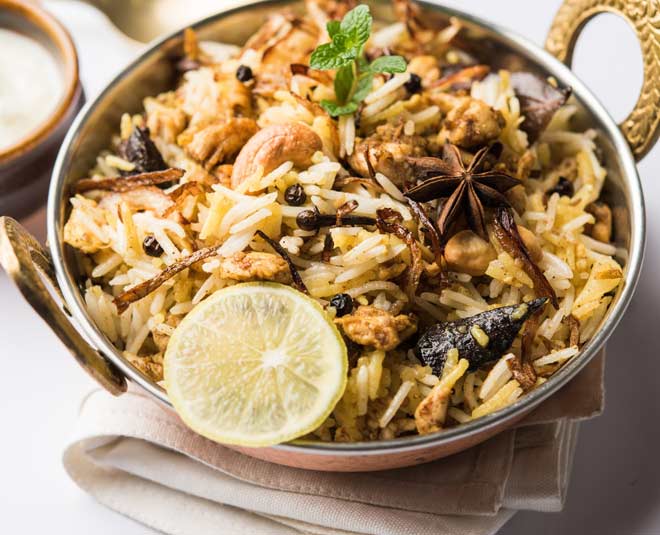 Keema biryani is an amazing recipe. In this recipe, we use minced meat instead of the traditional large pieces. Try this recipe at home and we are sure that you will love it.
Ingredients
200 Grams Mutton Mince
1 ½ Cups Basmati rice soaked
2 Tbsp Oil
1 Inch Stick Cinnamon
1 Black cardamom
2 Green cardamoms
5-6 Cloves
8-10 Black peppercorns
1 Tsp Cumin seeds
1 Large Onion chopped
Salt to taste
1 Tbsp Garlic paste
1 Tbsp Ginger paste
2 Large Tomatoes chopped
1 Tsp Red chilli powder
3 Green chillies (chopped)
2 Tbsp Fresh coriander leaves chopped 15-20 Mint leaves
1 Tsp Garam masala powder
1 Cup Fried onions
Saffron (kesar) dissolved in ¼ cup milk a few
2 Tbsp Extra virgin olive oil
How To Make
Heat some oil in a pan. Boil some water in another deep pan.
Add cinnamon, black cardamom, cloves, black peppercorns and cumin seeds. Saute well.
Add onion and saute for 2-3 minute.
Add garlic paste, toimates, red chilli powder and salt to the minced meat.
Add green chillies, coriander leaves and mint leaves to the meat. Mix well.
When the rice is done, strain it.
Add garam masala powder, salt and fried onion to the keema mix.
Put the keema mix in the rice cooker.
Spread half rice over keema and spread some fried onion, some mint leaves, some coriander leaves, some garam masala powder, half the saffron milk, 1 tbsp extra virgin olive oil, remaining keema, remaining rice, remaining fried onions, remaining mint leaves, remaining coriander leaves, remaining garam masala powder, remaining saffron milk, remaining extra virgin olive oil.
Cover the cooker and let it cook.
Serve it hot with raita.
Gongura Biryani
If you are bored of your normal biryani recipe, then you should try this amazing gongura biryani recipe by Lattu Biryani. You should definitely try this recipe during this Ramadan.
Ingredients
For Gongura Chicken
500 Grams Boneless Chicken
60 Grams Refined Oil
150 Grams
Chopped Onions
40 Grams Ginger Garlic Paste
100 Grams Gongura Leaf Paste
1 Cup Water
1 Tsp Turmeric Powder
2 Tsp Coriander Powder
1 Tsp Kashmiri Red Chilli Powder
½ Tsp Amchur Powder
½ Tsp Garam Masala Powder
Salt To Taste
For Biryani Rice
750 Grams Basmati Rice (Cooked upto 80%)
60 Grams Desi Ghee
150 Grams Saffron Water
40 Grams Rose Water
50 Grams Kewra Essence
100 Grams Slit Green Chillies
1 Tsp Mint Leaves
2 Tsp Coriander Leaves
2 Tsp Fried Onions
Salt To Taste
Don't Miss:Navratri Fast: 5-minute Kuttu Dosa Recipe
How To Make
Gongura Chicken
Heat some oil and saute chopped onions until golden brown. Add ginger, garlic paste and saute till oil leaves the sides of the pan.
Add tomato paste and gongura leaves paste and continue to saute in slow heat.
Add the boneless chicken and add little water. Cover with a lid and allow it to cook for 10 minutes.
Remove the lid, add the powder spices, stir well and adjust salt.
Keep aside.
Biryani Rice
Take 80% cooked basmati rice in a food pan.
Drizzle melted desi ghee, rose water, saffron water and kewra essence.
Sprinkle the chopped coriander, mint leaves and slit green chillies.
Finally, add the sliced fried onions on top and cover it. Cook for about 20 minutes.
Don't Miss:Curb Your Evening Hunger Pangs With This Easy & Delicious Recipe Of Vegetable Appam
For Serving
Take freshly cooked dum biryani rice in the serving bowl.
Add the pre-cooked gongura chicken on top or on the side of the rice.
Mix and enjoy eating this delicious, spicy and tangy gongura biryani.
For more such stories, stay tuned to HerZindagi!