Aunty Skates Is Breaking The 'Toxic Aunty' Stereotypes With Her Viral Skateboarding Videos
Follow this South Asian aunty skateboarding in her 40's on Instagram for major mom and couple goals.
Oorbee Roy is a 46-year-old Toronto based designer who is popularly known as Aunty Skates. She gained thousands of followers on social media platforms within a few months with her skills and a zeal to inspire and motivate people similar to her who are tagged as South Asian aunty.
She follows the moto "It really is never too late to live your best lie". She is someone filled with positivity, whether it is about skateboarding or other things in life. Her social media accounts spread positivity all around and inspire people to think that 'they can do it'.
Passion For Skateboarding
Oorbee belongs from a skating community as well as skating family. Everyone in her family including her husband and her children skateboard and they've been documenting their journey from the past few years. She is someone who portrays the good side with some cool tricks but also shows the reality by posting videos of her dangerous falls. This definitely inspires you to buy a skateboard yourself but also keeps you attached with the reality along with warning you to be safe.
In an interview with Cosmopolitan, she said, "It really is never too late to live your best life." She added, "I'm so happy that there are people that see me skating, and they might think "well, if she can do it, I can do it, too".
Social Media Accounts
Oorbee said in an interview that she started Aunty Skates amid the pandemic in order to inspire people and spread positivity and happiness among everyone. Things started going upward for her when she started a TikTok account and gained 30,000 followers within just a few months and also, she gained more than 70,000 views on Instagram viral videos.
Don't Miss:Meet These Indian Women Bikers Crushing Gender Stereotypes On Their Bikes
Trolling
Although, she has gained a lot of support from everyone but her journey was not at all easy. She had to go through her fair share of trolling. Having a dark complexion, she had to face racism. Also, she was trolled by young 14-year-old boys but she ignores all of that and keeps moving on with her tremendous journey.
However, the thing that has bothered her is comments from her own community that is the South Asian community. She is a woman skateboarding in her 40s, hence, there were some judgements from the community. Although, these judgements were not only by this community but a large population of elderly people.
Don't Miss:Follow These Influencers To Overflow Your Feed With Self-Love
Breaking The Stereotypes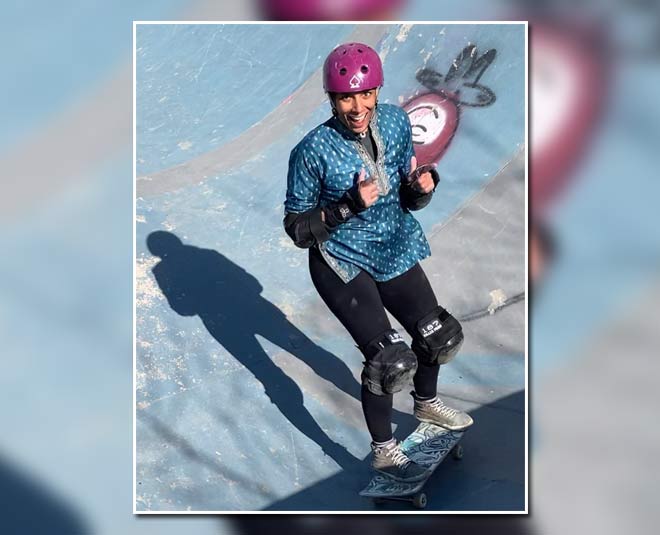 She has been vocal about facing backlash for her individual choices in life by 'toxic aunties' and she came across some social media posts by young girls stating that nothing has changed even now. However, she wanted to prove that this is not true for everyone and she can be the cool aunty breaking all the stereotypes and social norms.
She also wanted to prove that your life doesn't end when you have entered your 40's. It doesn't matter that what age you are at; you can always start new things. It is never too late to do something in life. She also felt scared at first but once she started nothing could stop her. She feels that adult life can be boring sometimes, so why not making it interesting by adding a skateboard to it.
According to a report in Cosmopolitan, she said."I really didn't realise that it would resonate with so many people and that so many people would write such positive comments on my posts, telling me things like you've inspired me to start skating again, or I thought it was too late for me but now I'm going to go get a skateboard."
View this post on Instagram
Recommended Video
For more such stories, stay tuned to HerZindagi!