'Body Shaming' are two words that itself say a lot about their intent. It has, in fact, become a serious issue in our society today. Aishwarya Sharma, a fashion activist and founder at Figuramoda, gave HerZindagi, her insight on what is body shaming, what happens when you experience it and how does one deal with it.
Technically, Body shaming is defined as being 'inappropriate, negative statements and attitudes toward another person's weight or size'. But, it is so much more than just that. It is one of the most serious forms of bullying, harassment and humiliation and usually experienced by more women than men today.
Celeb Influence
In an age where media and social media are easily accessible, there is a strong emphasis on idealised beauty on platforms such as Instagram, magazines and television. When seeing celebrities and models who are thought to have 'perfect bodies', individuals start to become critical of their own bodies and succumb to the pressure of living up to somewhat unrealistic standards. Studies show that more than 90% of women are not happy with the way they look.
Where do you think this self-rejection comes from? Why do you think these women and girls are becoming more and more conscious about how they look, what they wear and what skin colour they should have been!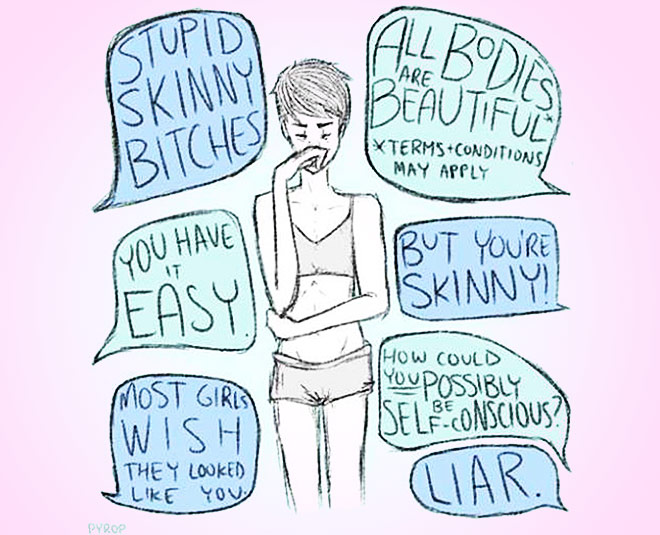 Image courtesy: odysseyonline-img.rbl.ms
Yes, it is all about the glorious women on the front pages of magazines, newspapers and models ' who look ideal'. It is in fact, all about the generally accepted standards and stereotypes of accepted beauty in the world today. With global celebrities coming out and breaking their silence on their experiences of body shaming in the industry, it has become one of the most talked about things recently.
Despite their celebrity status, some celebrities have had to deal with body shaming, from comments left on their social media pages, to having Photoshop applied to their pictures for magazine covers.
'Mad Men' actress Christina Hendricks recently spoke out about being rejected for a role for being too curvy. Priyanka Chopra spoke about being rejected for her skin colour in a lot of Bollywood and Hollywood movies. This is a point where we realise that no matter who you are, body shaming is something which follows you everywhere and engulfs everyone.
Actresses like Parineeti Copra, Sonakshi Sinha and Vidya Balan too have faced this attitude and have been judged by their body shape.
Words Bite
Words like 'you are so fat', 'you should probably try weight gainer', 'your parents won't give you food or what?' , 'your top is too short for your belly looks gross' and so many other statements which can come from complete strangers to your family member and can create a feeling of helplessness and humiliation for the one at the receiving end. And it is true.
Image courtesy: hey-woman.com
You and I and others, we all have gone through that. We all have had people who told us how inappropriate we look in a certain dress because we have chubby thighs, belly fat, short legs, or because we are simply stick thin or too fat. Eventually, we start feeling that we aren't enough.
Experts say 'psychological invalidation is one of the most lethal forms of emotional abuse and body shaming is something more than worse you can do to a person. It kills creativity and confidence of the individual'.
Body shaming is universal. When we say that, we mean that shaming can come from anywhere and from anyone. It sometimes could be out of concern or sometimes just plainly to demean the other person.
How Does It Feel To Be Body-Shamed?
You start feeling like you are not accepted by others. Sometimes, it can be internal too. Studies show that a lot of women accepted to self-shaming. They keep shaming themselves because they think they aren't like the girls in the magazines.
Magazines constantly offer tips about how to lose weight 'in days', appear slimmer 'instantly', and hide our 'imperfections'… without actually knowing anything about us, much less our appearance. This is one example of body-shaming, and it is everywhere. Sitcoms so frequently use overweight characters' bodies as the basis of many of the show's jokes.
Read More: Tricks That Will Make You Stay Positive And Motivated During Hard Times
What Should You Do?
We hear people today being more outspoken about their struggles, about their stories and in one of those moments, we realise how important it is to actually let it out. How significant it is to talk about what kills you from inside every day. Nobody wants to go to bed crying and wake up with a feeling of not being enough and it's unimaginable as to how many people experience that each day. Important questions are 'Who are these people?', 'Why do we care about what they say?' and most importantly 'Why are we detesting ourselves because someone else is not comfortable?'.
And above is exactly why people are more vocal about it. We all experience it. All of us are on the same boat, struggling to make it less about our bodies and more about who we are as individuals. Thus, it is so essential to be represented for different bodies, different race, different skin colours.