Kim Kardashian Steps Out In A Leather Head To Toe Bodysuit, Netizens Go Bonkers On Twitter
Kim Kardarshian's latest look has left everyone puzzled and no one really has an answer!
If you have followed Kim Kardarshian's sartorial picks in the past, you know she can don just anything. There is nothing like a fashion risk for Kim K. From carrying trendy creations at the red carpet to stepping out in the most bizarre, fail fashion choices, she has done it all in the past.
This time, she left us puzzled! Kim Kardashian entered NYC with mother Kris Jenner, sister Kourtney Kardashian, Travis Barker and Kris' partner Corey Gamble ahead of the Met Gala in a head to toe black leather bodysuit.
Kim Kardashian's Latest Look
We say Kim K's latest look puzzled us because her body was covered in the black leather suit and face with a zipped leather mask. She teamed it with high black boots. Strange enough?
The reality TV star's leather body suit was layered with a trench coat and a belt cinched around her waist. If that wasn't enough, she wore matching gloves with her look. The most interesting element of her look was her glitzy silver handbag. Well, we just have too many thoughts about Kim Kardashian's latest look.
Netizens Troll Kim Kardarshian's Look
Ever since Kim K's pictures went out on social media, she is being brutally trolled by the netizens. Kim K's followers often turn fashion police seeing her strange outfits and this is not the first time they went bonkers over her look.
Just like always, her followers had some very interesting memes and trolls to share over social media. While some called it the perfect halloween outfit, others asked if Kim was making her debut as an executioner.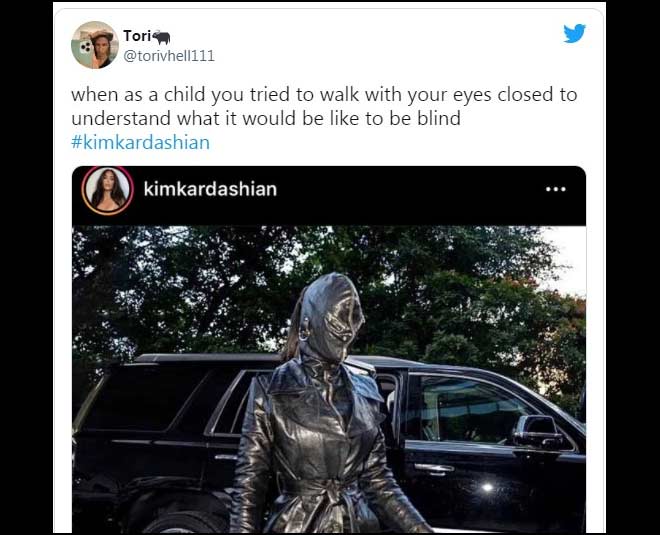 A hilarious tweet I spotted was, "If I don't wanna see anyone's face had a face !!! #KimKardashian." Another one wrote, If I don't wanna see anyone's face had a face !!! #KimKardashian."
Don't Miss: Madhulika Sharma, The Indian Model, Goes Viral After Appearing In Kim Kardashian's Campaign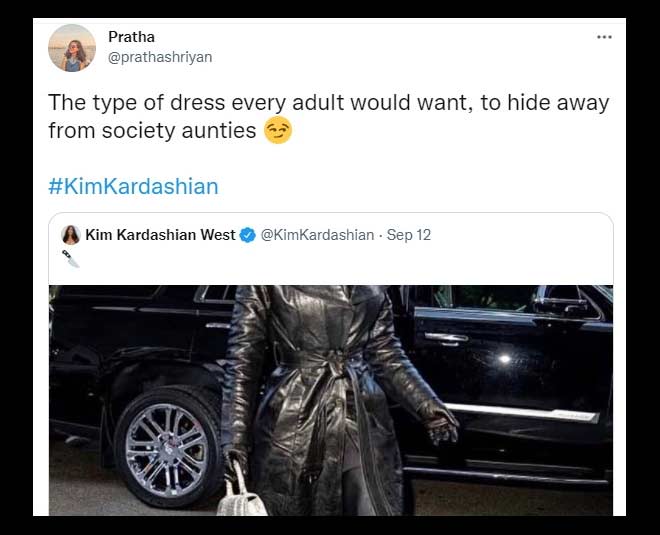 If we have to say, Kim K and trolling are synonymous. Last month, she was trolled for listening to enstranged husband Kayne West's new album Donda on mute.
Kim Kardashian posted a screenshot of her listening to Kayne West's new album Donda on Instagram and her fans quickly busted her for listening it on mute. In the screenshot she shared, fans were quick enough to notice that the volume was reduced all the way down.
A user wrote, "kim really said kanye's music sounds [so much] better when it's on mute." Another one wrote, "That's what Kanye did during the course of their marriage: listen to Kim on mute."
Kim Kardashian quickly deleted the screenshot and reuploaded a new one with the volume all turned up.
Don't Miss: You Too Can Do Kim Kardashian's Step By Step Work From Home Makeup Tutorial
Reports of Kim K and Kayne West coming back together started doing rounds last month. However, several reports suggested that no one from the industry is buying it. A source as per a report by Pagesix shared, "Kanye has been telling other rappers that he and Kim are back together, but everybody knows that isn't true.
"The real story is that Kanye wants to beat Drake in record sales, and he is putting on a big show of performance art to grab all the media attention."
Kim K's fashion picks have always been daring and we can just say that we love her for that! Her style game is unmatched, do you agree? Tell us your thoughts on Kim Kardarshian's latest look on our Facebook page. For more such fashion related stories, stay tuned!