Dark chocolates are a powerful source of antioxidants, and they calm down our high blood pressure. They also help in reducing heart diseases and oh yes, they help us in improving our brain function. One more point, they are less sugary therefore help in weight loss. So, this World Chocolate Day enjoy these bittersweet chocolates, as we have compiled a small list of dark chocolates which will help you operate better.
Morde Dark Compound Chocolate
This one is compound dark chocolate which is good for you and it is plain without nuts. People use this slab a lot for making other chocolate desserts as well. Buy Morde Dark Compound Chocolate here for Rs 210.
Cadbury Bournville Raisin and Nuts Dark Chocolate Bar
Get the best of cocoa and aroma with this one. I have these, especially during my periods. Although the cranberry version is the best for those days but raisins and nuts are my favourite so these are my go-to chocolates. Buy Cadbury Bournville Raisin and Nuts Dark Chocolate Bar, 80g (Pack of 4) for Rs 360, here.
Nestle ALPINO 71% Cocoa - Intensely Dark Chocolate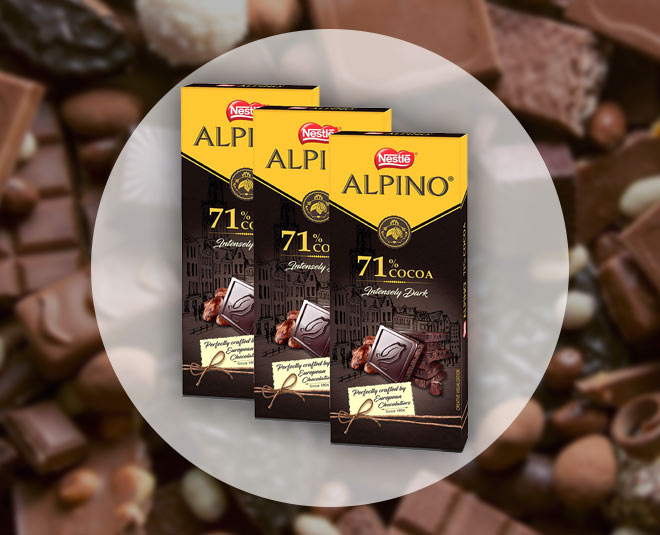 This one will be quite bitter as it has 71 % dark chocolate in it. This blend has been crafted by European Chocolatiers Since 1904 as claimed by the brand. Sourced from Ukraine, Buy Nestle ALPINO 71% Cocoa - Intensely Dark Chocolate for Rs 360 here.
Keto Chocolate - Sugar Free Hazelnut
This sugar-free hazelnut (Unsweetened) dark chocolate is a rich blend of cacao beans and cacao butter enriched with whey protein isolate which is high on fiber with chia seeds and flax seeds. This makes for perfect super food, with a balance of multivitamins and minerals. Buy this Sugar Free Perfect Keto Dark Chocolate Bar made with the finest Hazelnuts Real Cacao and Monk Fruit for Rs 180, here.
Enjoy these dark chocolates just like that or use them in different chocolate recipes as shavings or as a key ingredient. Many even make face packs using chocolate as it has not just health benefits but beauty benefits as well!