With COVID 19 taking over our lives, our meals have become all about immunity. We all are trying to indulge in healthy meals and add all the nutrition that we can to protect our loved ones, doing our bit. Shahid Kapoor's wife Mira Rajput Kapoor who has a huge fan following on social media, too made a grand meal full of greens and healthy seasonings, that ranged from salads to healthy pasta. The spread is very inspiring if you have a few family members or friends coming over. Check out what she prepared for her guests.
From a Caprese salad to pesto spaghetti, red sauce pasta and vegetable salad, these dishes prepared by home chef Mira Rajput Kapoor are a treat to the eyes. The spread has all the colours a plate should have and pasta and spaghetti give a break to so many greens as well.
The Caprese salad has the goodness of mozzarella cheese, cherry tomatoes, basil, olive oil, black pepper, and balsamic vinegar. It works as a good filling salad which has many benefits as well. Besides having 250 calories only, it is rich in antioxidants, has all the vital vitamins, minerals, iron and proteins. Basil, a very important ingredient of a salad, is used for herbal treatment in traditional medicine in many parts of the world. The green herb also regulates the impact of stressors on bodily functions, therefore helps in relieving stress.
Don't Miss: HZ Exclusive: Mira Kapoor Swears By These Desi Spices In Her Kitchen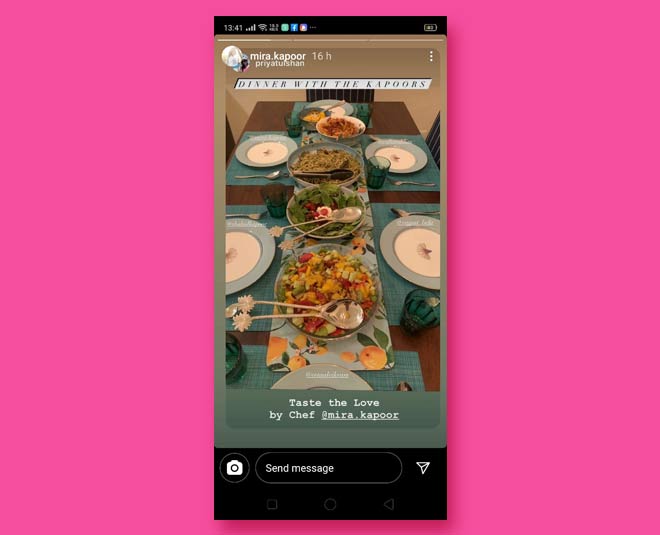 The cheese in the salad is a good source of calcium. This is very good for those on a weight loss journey and it also protects against breast cancer besides being food for our bones and teeth.
Don't Miss: Mira Rajput Channels Her Inner Chef, Asks Followers For 'Tried & Tested' Recipe of Spicy Momo Chutney As Well!
Now coming to pasta, it is healthy as long as it is not very creamy. A healthy pasta has carbohydrates that contribute to glucose generation in our body, the crucial fuel for your brain and muscles. It is low on sodium and is also cholesterol-free. If you make a pasta dish with the right greens and nuts then nothing could be healthier as it also has folic acid which is good for women who are trying to conceive as well.
Another salad you can have on your meal spread is an orange and cucumber salad with bits of beetroot. It just adds some more colour to the plate and reaps in the benefits of beetroots as well. The sweet and sour flavour of oranges adds that zing to your lunch or dinner and helps break the salad-green look and flavour monotony as well.
For more on celeb food and Mira Rajput's kitchen shenanigans, stay tuned to HerZindagi.