Getting married in the winter season but you are still hunting for some cool snacks menu for the wedding events? Don't worry as I have put together a list of something different other than your regular momos, Manchurian and spring rolls. These drinks and snacks taste heavenly and cater to all age groups and some even revive childhood memories.
Noodle Bites
Instead of the main dish, you can arrange for bite seized noodles arranged with some chicken or veggies and a little cheese. They can be placed on disposable forks and enjoyed by all in the winter chill.
Tomato Soup With Min Sandwiches Or Toasties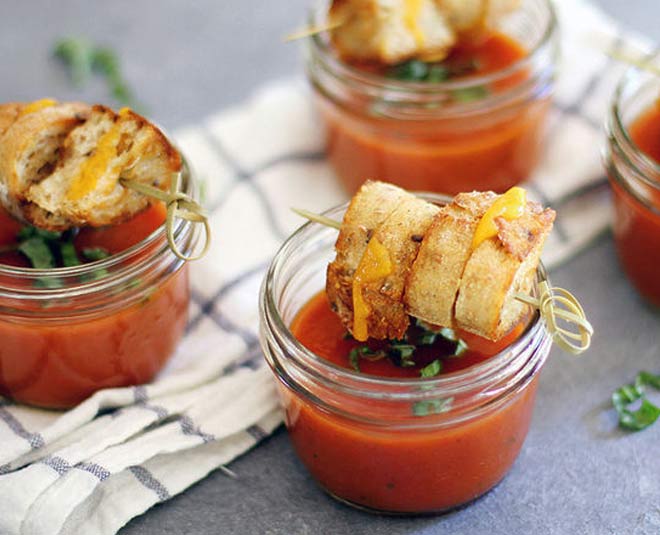 Who said you have to serve a whole mug and a big toast? You can serve tomato soup in shot glasses and place a small sandwich or toast with some veggies on it or next to it. This makes for a warm and tasty appetizer.
Mini Paninis
One yummy appetizer that is a hit most of the time is the mini panini. Top them with some tomatoes, herbs and if you have nonveg lovers then some folded bacon would be great or else some mushroom perhaps.
Mushroom Soup
Just like tomato soup, a creamy mushroom soup with some herbs tastes amazing! That winter chill is braved when ladies wrap their hands around these cups.
Grilled Prawns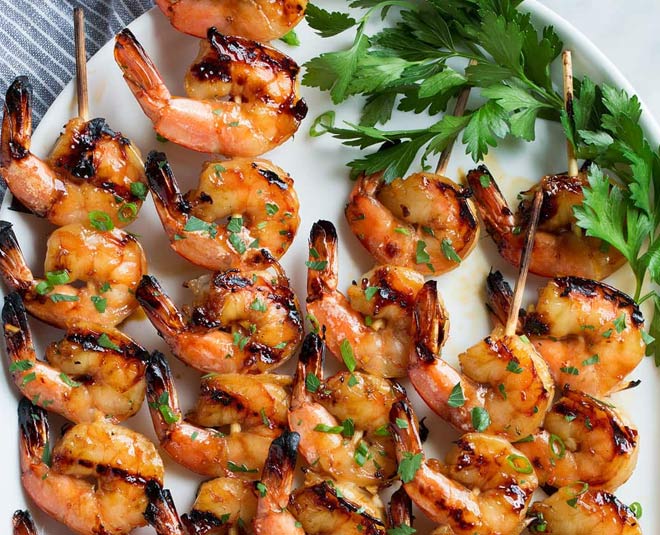 Image courtesy: cookingclassy.com
These are a hit whenever served. Tandoori or grilled, medium to big size prawns taste amazing in the winter cold. They are great for keeping as appetizers and can be served with toothpicks or disposable and eco-friendly forks.
Hot Chocolate Drink
Image courtesy: pixabay.com
This one would be a smashing hit in the cold. Give the option of whipped cream and some marshmallows with the hot chocolate if you can extend your budget and watch the smiles, ask your photographer to become seriously active when these are being sipped on!
Warm Milk With Cookies
This I saw the first time at a cousin's wedding and it was a huge hit. The winter chill was gone and I had 3 servings of these. The milk is served in shot glasses and a chocolate chip cookie is placed on top.
Taco Bar
If possible, keep a DIY taco bar where people can customise their own tacos. Try to arrange for small tacos.
Waffles
Image courtesy: pixabay.com
Serve mini waffles with a few topping options or simply with some hot dark chocolate or white chocolate smeared on top. Everyone will love them.
Chana Zor Garam
This one is basic but Indians dig it no matter who it is. It is all about how they are packaged and served. Mehendi day would be great for these.
Don't Miss: Black-Purple Burgers, Matcha, Beetroot: Food Items That Amazed Food Lovers In 10 years
Cheese & Mushroom Cups
A perfect combination indeed, this one is a hit among both veg and non-veg lovers. Serve mushroom caps with melted cheese and some small veggies and people will love it.
Coffee In Cones
Image courtesy: heartsapps.com
Just because the packaging would be different, people will attack this. Serve coffee in ice cream cones which could be decorated with sprinklers or have a chocolate lining or keep it optional.
Churros
Image courtesy: justtaste.com
Have some churros dipped in a hot chocolate sauce as one of the snacks and no one will complain if the events are delayed by minutes or even an hour or so.
Don't Miss: From Dal Makhani Pasta To Chai Flavoured Ice Cream, These Are World's Craziest Fusion Foods
Quiches
These could be small ones as they can be very filling. The small quiche tarts in veg or nonveg are amazing appetizers if you can adjust them in your budget.
Make a combination of 3-4 snacks do keep the soups and hot chocolate if you can and your appetizer, snack menu for the wedding events is sorted! If the budget is not much, you can keep these for your mehendi fay when the guests are lesser in number.
Stay tuned to HerZindagi for more winter wedding ideas.