One's company, two's a crowd and tea's a party! Tea has been a part of culture since the beginning of time. May it be the majestic mountains of Darjeeling or the serene waters of Kerala, the rustic desserts of Rajasthan or the windy heights of Mohali; "chai" is the go to beverage in every nook and corner of this country.
Mrs. Ekta Jain, CMO, Octavius Tea says, "Today, your tea could be sweet or spicy; piping hot or icy cold, but the most exciting facet of the tea universe has to be the advent of "Infused tea". This new experiment has worked wonders for tea lovers all over, as it now introduces them to a whole new and unexplored range of flavours."
Infused tea blends the timeless charm of tea with the new age infusion of flowers, leaves and a plethora of other organic solutions. If you still aren't convinced, here are a few reasons by Mrs. Ekta Jain as to why Infused Tea is the next big thing:
Ditch The Fizz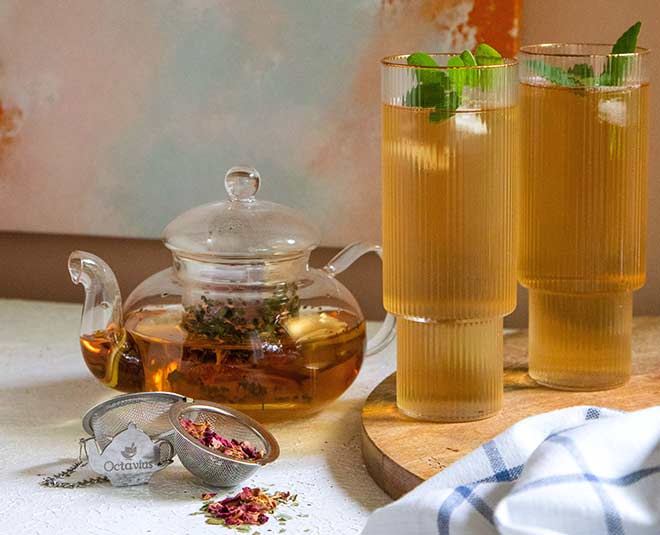 May it be a meeting or just lunch time, movie night or a weekend trip, fizzy drinks have become a constant in our daily routines! Infused teas are the perfect beverage to move over sodas and colas, they are herbal, healthy and wholesome treats. Warm and sunny or cool and chilly, Infused tea can be consumed anyway, anytime and anywhere.
The Goodness Of Mother Nature
Made with chemical free ingredients, Infused Teas are brewed sans any artificial additives. Right from the delectable taste to the unique aroma, everything that makes these teas special is sourced from nature. And that's not all, these teas are incredibly versatile, serving as a great cocktail recipe, a delectable cold drink, the possibilities are endless!
The All Season Buddy
The strongest of temperatures or the harshest of climates, wherever you go, these teas can follow! Infused teas can adapt to any condition with flawless finesse. If you are up the snow capped hills, just boil a pot to keep yourself warm. If you are exploring some soaring sand dunes, just carry along some ice tea in that trusty thermos.
A Promise Of Wellness
Tulsi, lemon, ginger, honey (honey face packs at home), our planet is rich with many medicinal herbs, and with Infused Tea, their magic is now in the palm of your hands. Every sip takes us one step closer to breathing easier and living healthier.
Easy Tea-sy
No complicated recipes, no harrowing methods, no convoluted mixes, just simple and efficient. Infused Teas are easy to make with no fuss. And the best part is one can get as creative as possible when preparing these infused delights.
Don't Miss: Explore The Flavours Of Regional Cuisines At The Culinary Renaissance Food Fest
Flavour Here, Flavour There, Flavour Everywhere
A kid in a candy store may find it easier to choose. Infused teas boast of a wide assortment of versions with a sprawling flavour list that is as wild as our imagination. They do say variety is the spice of life, and Infused Teas are the perfect embodiment of that philosophy.
Don't Miss: Mimosas, The New Favourite Drink You Should Know About
Tea Is "Greener" On The Infused Side
If you are one of those people who shun green tea, may it be because of their generic taste or lack of results in fitness, Infused options could be your new best friend. Brimming with antioxidants and proven to be much more effective for fitness freaks, these teas don't compromise in health and always deliver exquisite taste.
Just like we have evolved with time, so has our favourite beverage, Infused Teas are another milestone in the history of tea, and looks like the trend is here to stay.
For more such stories, stay tuned to HerZindagi!