If you are still new to the world of makeup and curious to know about magical concealer then this article is for you. Concealers are really saviours for many of us. From covering pigmentation on our face to highlighting areas, it can do so much really!
However, one question many women have about using a concealer is that where should they exactly use it. So, as the name suggests, a concealer helps you hide the flaws on your face.
It is crucial to know where to exactly use the concealer to make the most of this makeup product. Read on to know where you should be applying your concealer to get a flawless makeup base.
Under The Eyes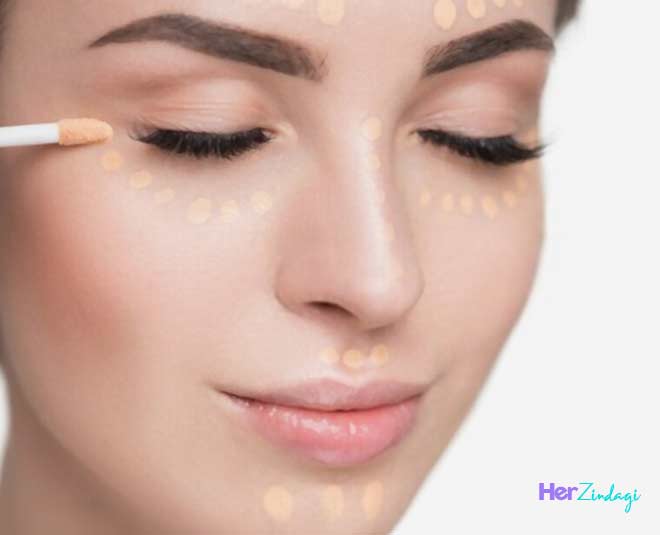 If you have dark circles or pigmentation under your eyes, you need to put concealer under the eyes. If the pigmentation is not too much, you can still go on to apply some concealer as it can brighten up the under-eye area.
Most of us have a dull or dark under-eye area and using a concealer can make a lot of difference. However, make sure you don't go overboard when applying it under your eyes. The pigmentation might be too much but applying loads of concealer might not help, using it correctly will. Take a tiny amount of concealer on your finger tip and dot it under your eyes. Dab the product gently in.
Around The Nose
Have you ever noticed pigmentation around your nose? That may be regular pigmentation or dullness because of dead skin or blackheads that usually accumulate around this area. You can cover this area with some concealer. Dab some concealer around your nostrils.
Above And Below Eyebrows
Our eyebrows define our face and we want them to be perfect all the time. After enhancing, grooming your eyebrows with a gel or palette, you can use some concealer above and below your eyebrows. Draw the concealer along with the shape of your brows. Using a blending sponge, dab the product in and see the difference!
Don't Miss: This Guide Will Help You Flawlessly Cover Acne Marks With Makeup
Center of The Chin
Highlighting the key areas of your face can amp up your makeup in a jiffy. Do you forget to highlight your chin? Not only does it adds to the overall appearance but brings attention to your lips. Make sure you don't put too much of the product. For the chin, you will just need very little product. Dab it gently on the center and you are good to go!
Corners Of Your Mouth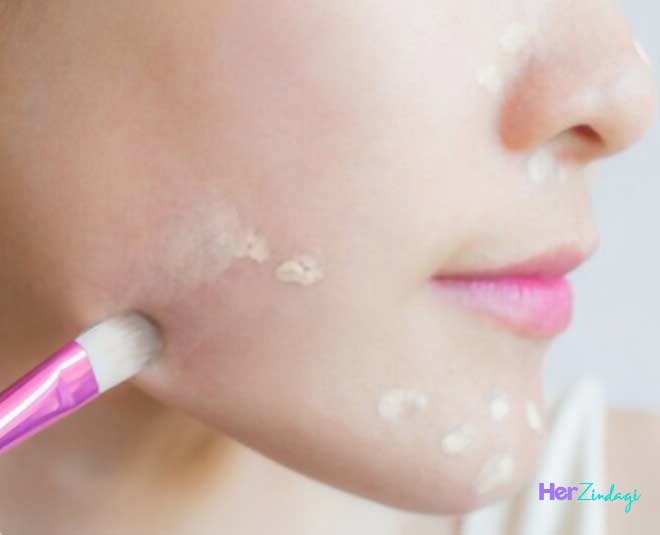 A lot of women suffer from hyperpigmentation around the corner of the lips, the mouth. Hormonal imbalance, medication, weather conditions, there is a lot that leads to this issue. To cover it with makeup, you need a concealer.
Draw the concealer along with the lines of your mouth and gently dab it with a beauty sponge or blender.
Don't Miss: How To Use A Concealer To Hide Your Dark Circles And Fine Lines
A concealer can be applied with your fingers or directly with the concealer applicator or a beauty sponge depending on the area you are using it. Always make sure that you don't take too much of the product as it can end up spoiling your look.
When choosing a concealer, make sure you don't pick a product that is just too light. Always pick a shade that is one or two shades lighter than the colour of your foundation. Also, pick a creamy consistency as it is easier to work with.
We hope this guide helps you understand more about using a concealer while doing makeup. If you have any more queries, write to us on our Facebook page. For more such beauty-related stories, stay tuned!