You can't call yourself a makeup fanatic if you don't have a concealer in your beauty bag. Concealers have become of the most loved makeup products lately. This was a hidden gem! Today, they are ruling the makeup market. This is one product that can cover your dark circles, blemishes, give you flawless skin.
If you aren't blessed with a healthy and flawless skin naturally then concealers are your best friend! If you aren't a makeup person then its high time you understand the importance of having a concealer. With time, women are realising it all but the only thing here is that a concealer won't work properly for you till you use it right.
Concealers are available in abundance in the market but how to choose the right one? Every woman should choose a concealer in a shade lighter to that of the foundation. Buying a concealer becomes trickier when you need to choose between liquid, powder and stick options. We asked makeup expert Poonam Sharma, PS Makeovers which is the best option among these and she said, "Liquid concealers are the best as they are easy to use and blend well. They give great coverage." She also suggested that one can invest in a full coverage foundation as they usually come with a concealer. She said, "You can't miss using the concealer if you want that flawless skin. it hides your blemishes and instantly brightens your face."
After you get your hands on the right concealer, you need to learn the art of applying it correctly. If you want to hide those dark circles and fine lines under your eyes, you need to use the concealer properly.
Not All Over Your Face
Do you apply concealer all over your face? Concealer is important to hide your wrinkles and dark circles but you don't have to apply it all over the face for that flawless skin. You should only apply it to the area where it is required. Under the eyes or around the lips or the nose, where you feel the area is dark or has fine lines.
Don't Miss: Tired Of Those Unwanted Bags Under Your Eyes? Try These 3 Coffee Eye Masks To Get Rid Of Them
What's The Correct Way Of Using It?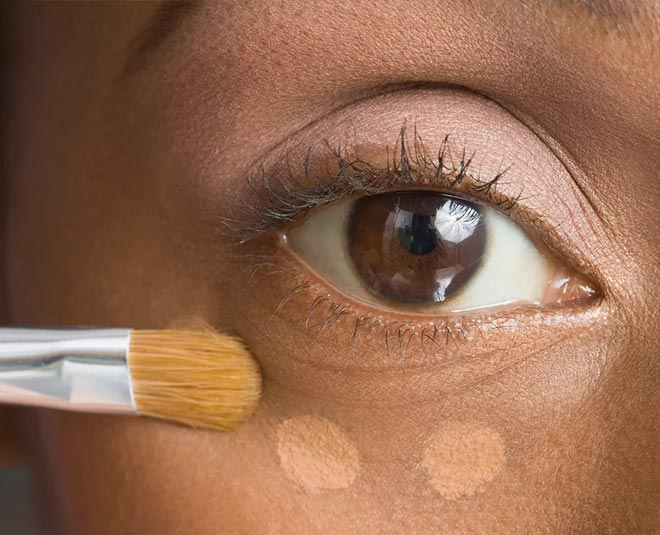 Makeup artist Poonam Sharma shared the correct way of using a concealer. She said, "Take little amount on your hand and then apply dots of concealer under the eyes. Using a beauty blender, dab the concealer on the skin." Looking for an affordable concealer? Buy Maybelline New York Fit Me Concealer here for Rs 355.
Don't Miss: Dark Circles? Eat These 5 Foods & Flaunt Your Eyes Naturally
Don't Apply Too Much Concealer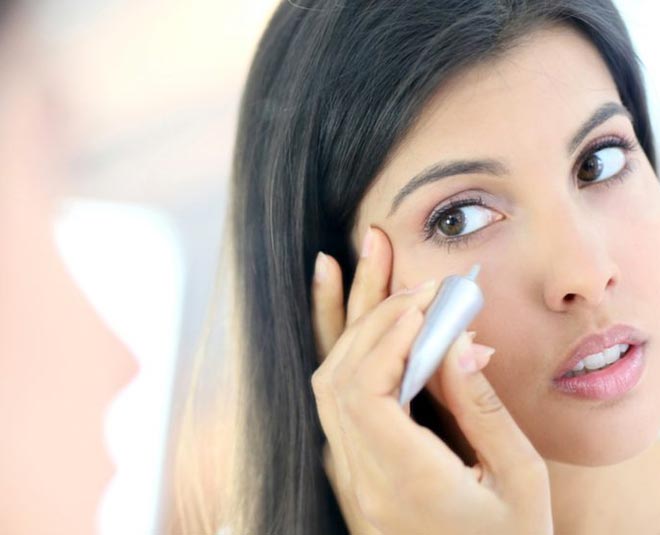 If you think using too much concealer will help you hide the dark circles then you may be wrong! MUA Poonam Sharma shared, "Using too much concealer will make your skin look dark." She also shared that one must spritz setting spray before and after completing the makeup to make it all last longer. Buy Wet n Wild Photo Focus Matte Setting Spray here for Rs 499.
When To Apply Concealer?
Before you start your makeup, make sure you wash your face with a good face wash and then moisturise it. Follow with a primer and then start concealing the dark circles under the eyes. Next, take some foundation and using a beauty blender, even your skin tone. Buy Lakme Absolute Blur Perfect Makeup Primer here for Rs 422.
Now that you know how to apply a concealer, don't forget to apply it for that flawless skin!