5 Ways To Avoid Patchy Makeup
From hydrating your skin to the pre-makeup prep, a lot goes into achieving that flawless makeup!
Weddings are exciting until your skin becomes dry, stretchy, and flaking. And if you're the bride with costly cosmetics on your face, this stretched patchiness is a no-no on your wedding day. Patchy makeup can make anyone unhappy, whether they have oily skin, dry skin, or oily-combination skin.
Cake-face is a word used in the beauty brands to describe a look that employs an excessive amount of foundation and powder, resulting in a thick and overdone appearance, as if the makeup has been "caked" on. Knowing how to apply foundation correctly will help you avoid this huge beauty blunder.
With summer officially here, the heat and humidity make it tough to prevent your makeup from slipping off your face. The foundation and setting powder, along with the oil and perspiration on your face, may make you seem like a hot mess.
You'll need a perfect base and a pre-makeup regimen to keep you appearing fresh and luminous throughout the day or night. So, to help you combat any makeup woes, we've gathered some tips on how to avoid patchy makeup at summer weddings!
Makeup Prep Is Important
It is critical to have a pre-makeup regimen. To obtain a perfect base, you need a smooth canvas to build your makeup on. You can't go wrong with well-washed, toned, and nourished skin. Be sure to include a moisturising serum in your routine. If your skin is really dry, a moisturising primer or serum is also recommended. You can proceed with your makeup when your pre-makeup is complete!
Hydration Matters A Lot
You've undoubtedly heard it a hundred times, but that's because it's true. The first step in achieving a flawless foundation appearance is to have well-hydrated and nourished skin. Even if you know how to apply foundation like a master, dry and dehydrated skin will prevent you from getting the desired effects. Whether your skin is dry or oily, a moisturiser keeps it hydrated all day, allowing you to apply foundation over a flawless face.
Summer dehydrates your skin, and dry skin makes any makeup seem flaky. You can never have too much water, but go a step further and apply a generous amount of moisturiser to your face every time you wash it and before wearing makeup. Before retiring to bed, use skin-renewal night cream. This will keep your skin hydrated and moisturised all night, and you will wake up to a soft cream the next day.
Don't Miss:Get The Chiselled Icy Makeup Look For Summer With This Guide By Makeup Artist
Medium Coverage Foundation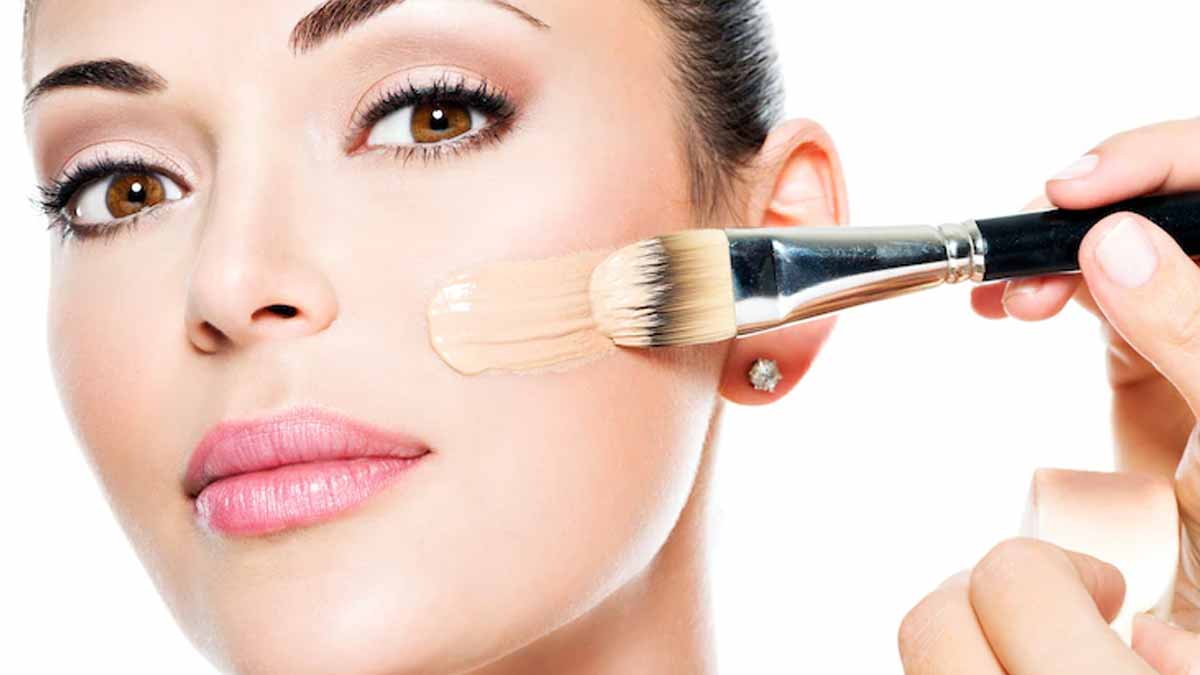 Colour pigments are concentrated in full or high coverage foundations. These foundations might feel heavy on your skin and make your makeup seem cakey and spotty if not utilised appropriately. Instead, seek for foundations with light to medium coverage that you may layer to improve coverage as needed. a medium coverage foundation that is lightweight and ideal for moderate to oily skin. The matte foundation's buildable composition allows you to apply it in layers without feeling heavy on your skin.
Don't Miss:Janhvi Kapoor's Makeup Tutorial Is Super Easy & A Must Try!
Lip Care Is Necessary
We're all aware that cream-based lipsticks don't last very long. Long-wear lipsticks, on the other hand, might cause your lips to become dry and cracked. Taking care of your lips is therefore essential. Always keep lip balm or petroleum jelly on your lips during the summers. You can get a lip mask once a week to give suppleness to your lips.
If you wish to share any interesting uses of baby oil with us, then do let us know by commenting on our Facebook and Instagram page.
Stay tuned to HerZindagi to read more such stories!