When it's summer, all one can think of is a quick visit to the mountains. You reach out for cooler vibed looks to make you look more in sync with summer season. So here is a minimalistic and natural make-up look to give you that icy reflective effect through the season!
Chandni Goyal, Makeup Artistry, Anastasia Beverly Hills told HerZindagi that "keeping it all neutral is the 'IT' of beauty trends this season. From hopping on to 'Feather brow' look to keeping it all toned 'subtle and chic'". Here is a 3- step guide for an 'Ice strobing Look' by her that you can do at home yourself, easily.
Feather Your Brows
There's no denying the fact how feathered eyebrows have become the latest rouge among women and rightly so. It instantly uplifts and adds poise to the face. Well, where there are a few hacks that can be used for holding brow hair doing rounds in the industry, there's a 'Brow Freeze' which is an extreme hold styling wax that will keep all brow worries intact just like what is needed for feathered brows. Take only a small amount of gel on a spoolie and brush your brow hair in an upward motion.
To fill in the sparse areas, either use a brow pencil to create upward strokes or use brow powder to fill the gaps. For natural-looking brows, apply the lighter shade in front of the brow and deeper shade from the arch (middle) to the tail (end).
Highlight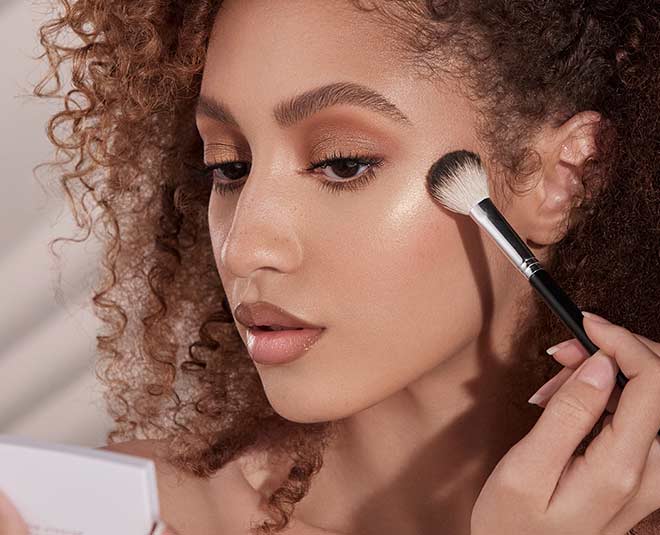 An eyebrow is incomplete without lifting it with a touch of highlight. Highlighters are used for bringing a natural radiance to the look and gives you a perfect sun-kissed snap! For completing your look- use a highlighter on all the areas you want to accentuate- such as the upper cheekbones, nose bridge, tip of the nose, cupid's bow and collarbone.
Don't Miss: Avon Anew Skin Reset Plumping Shots Detailed Review
You can use an Iced-Out highlighter which can be used for a multi-dimensional wet effect shine and gives an ice-strobing effect. You may also opt to enhance your cheeks by adding a tint of blush for a flushed look and a seamless finish.
Don't Miss: This Puppy Eyeliner Makeup Look Tutorial Will Keep You Updated With The Latest Beauty Trend
Gloss-It
The final step to achieve this chiselled icy look is to complete it with a lip-gloss. Use a crystal or diamond lip gloss which will deliver the right amount of sheen required for the look without a non-sticky feel. Wear over bare lips to let your natural colour come through or layer it with liner and lipstick for extra dimension and even fuller looking lips.
To complete the whole look you can spray on a makeup fixer and viola! you are ready to go out when the lockdown is lifted. Meet a few friends maintaining some social distance and enjoy your day or evening with confidence.
Stay tuned to HerZindagi for more such makeup looks.