Let's be honest, how often do you buy foot care products? Often, we miss paying attention to our feet. Just like our face and hands, our feet need some pampering every now and then.
One of the best ways of showing some love on your feet is by slathering on foot cream. If you don't already have one in your closet then read on to know why a foot cream deserves to be a part of your daily beauty routine.
What Are The Benefits Of Using A Foot Cream?
Prevents Athlete's Foot
Athlete's foot is a common skin infection caused in the feet which usually happens when the feet become very sweaty or when you wear tight shoes. This leads to a feeling of burning, itching especially around the toes. Applying a foot cream everyday help in preventing this problem.
Keeps Your Feet Hydrated
We often skip moisturising our feet and applying a foot cream is the way way to keep them hydrated all day long.
Prevents Cracked Heels
Cracked and dry heels are one of the most common issues women face and that's because your feet aren't getting any amount of moisturisation. Applying a foot cream everyday can help you prevent cracked heels and further prevent your feet from getting dry.
Don't Miss: Your Guide To Keeping Your Feet Soft And Smooth During Winters
How To Apply A Foot Cream?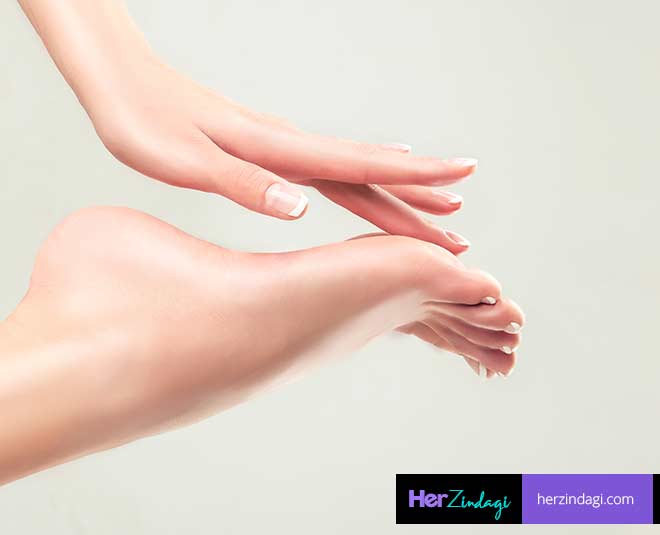 The best time to apply a foot cream is right after you take a shower when your feet are still moist. This will help your cream absorb quickly. Take a small quantity of cream on your palm and gently massage your feet in a circular motion. You can also apply a foot cream at night and then cover it with a pair of socks. This will help the cream work on your dry and cracked feet overnight and help you get soft, hydrated feet in the morning.
Make sure your feet are clean before you start applying the cream so that your feet can benefit the most from it. Gently massage. This also helps in blood circulation which is great for your feet.
How To Get Better Results With A Foot Cream?
To make the most of your foot cream and to get smooth and soft feet, here are a few tips you can follow.
Soak Your Feet
At least once a week, you should soak your feet in warm water. This helps in cleaning them well and clearing any dust or dirt stick in your toes or feet. Soak for about 15 to 20 minutes.
Exfoliate
You can use any foot scrub of your choice or a pumice stone to exfoliate your feet. This helps in cleaning the dead skin cells on your feet. Make sure you are gentle on your skin. If you have corns on your feet then be very careful as you can end up hurting yourself.
Don't Miss: Here's How To Perform An Effective Foot Cleansing Therapy
Apply A Foot Pack
Just like your face, your feet too need a good pack every now and then. You can use multani mitti or fuller's earth. It has a cooling effect on your feet. You can also use curd or essential oil of your choice which further moisturises and hydrates your feet.
Use The Foot Cream
Complete your foot care regime by applying some cream. Slather on some foot care cream and massage in a circular motion.
Other than using a foot cream, you can regularly scrub your feet with a scrubber to get rid of all the dead skin. Make sure you also keep your nails neatly trimmed and clean.
We hope this guide helps you take good care of your feet. For more such stories, stay tuned!