Do you feel a constant burden on your feet and don't know what to do about it? Actually, our feet are the most underrated parts of our bodies. We don't take time to pamper our feet as much as we do for our skin. But it is really very important to protect and pamper the feet. We say so because reflexology suggests that different organs of the body are connected to our feet and the care, we show to our feet will reflect in organ functions and apart from that relaxing the feet also helps in easing the tension in the muscles.
So, here's a simple foot cleansing therapy for you that will help you pamper and relax your feet.
Step 1: Soaking And Deep Cleansing
For the first step, you need to prepare a small tub with warm water and add fresh lemon juice, a spoonful of baking soda, and liquid soap to the water and stir properly. Now, soak your feet into the tub for 10 -15 minutes, and keep scrubbing your feet with a foot scrub and loofa while in water. Then wash your feet with normal clean water and pat dry with a towel. This ensures the deep cleansing of your feet and also effective tan removal as baking soda is known to cure many skin problems and lemon is great for cleansing the skin thoroughly.
Step 2: Exfoliating The Feet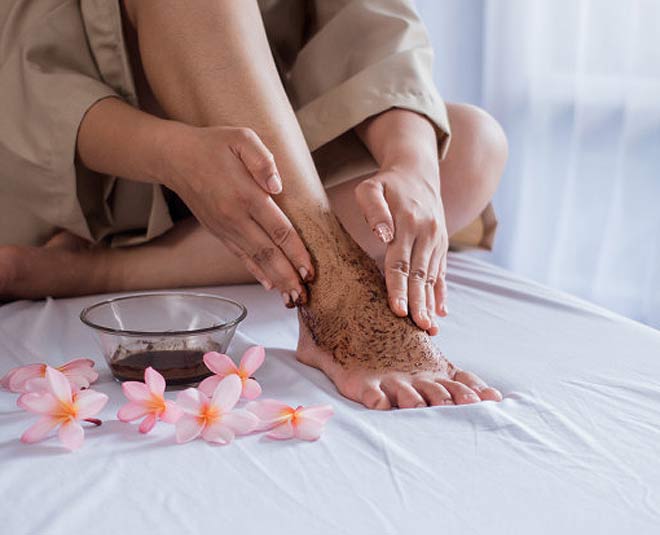 Exfoliation is a very important part of skincare and more so for the feet, as our feet get cracked and there is a lot of dead skin that remains accumulated until proper exfoliation of the feet is done. And exfoliation removes all the dead skin cells and bacteria present on our foot. So, for this part, mix coffee powder, gram flour, and sugar in a bowl. Take a tomato slice and press it over the mixture, once the tomato slice gets coated with the powder nicely, start rubbing it onto your feet and repeat until the complete area has been exfoliated meticulously. Let the mixture stay on to your feet for 10 minutes and then gently massage and wash it off with water.
Step 3: Foot Mask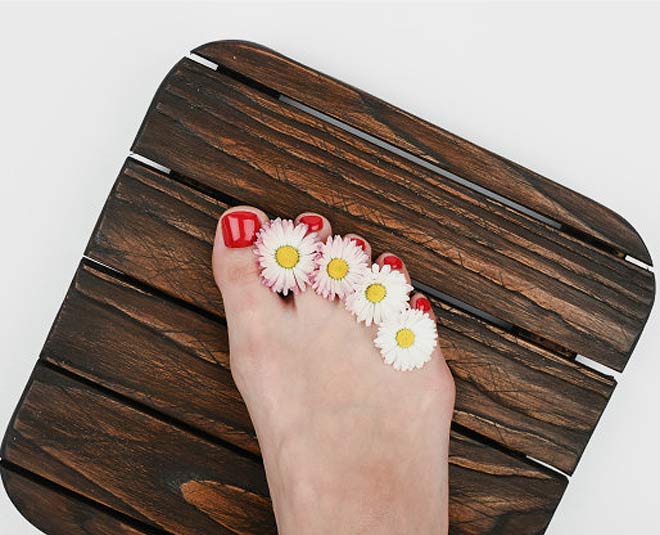 Make an extremely healthy and beneficial foot mask right at home. Take a bowl and add honey, lemon juice, and turmeric to it, mix it well while making sure that there is no air bubble left. Now, apply the mixture to your feet and let it sit for 20 min, while you close your eyes and relax with ease. Afterward, wash your feet with warm water and then apply a good moisturizer/olive oil and massage. This process will help the feet breathe and improve the blood circulation of this area.
Don't miss: 5 Ways To Prevent Dry & Cracked Heels In Summer
Extra Care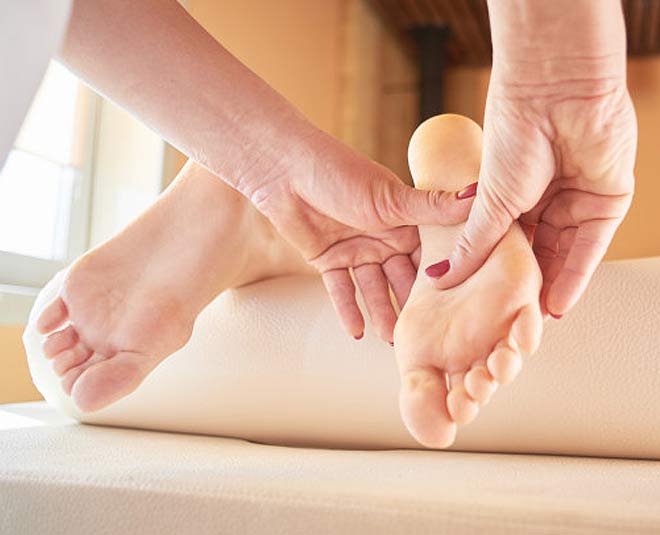 It is very important to let your feet breathe. Very high heels, tight shoes(home slipper benefits), and dirty socks may lead to too much pressure, poor blood circulation, and the growth of harmful bacteria on the feet. This can consequently lead to aches and stress. Therefore, choose a well-fitting pair with a light sole and make sure neither is it too tight nor too loose. Finally, perform this foot therapy whenever you find the time and massage your feet nicely for achieving healthy and happy feet.
Don't miss: Soak Your Feet In Vinegar Water For These Incredible Benefits
Stay tuned to Her Zindagi for more information on foot care and other lifestyle issues.