A night-time skincare routine is something you need to have! During the day, our skin is exposed to pollution, debris, dust, oil, grime, sun and what not. Taking care of your skin at the end of the day is essential to keep it in good health – no matter your skin type or age. But where should you start? It can get a bit confusing so here's a breakdown of what your night-time routine should consist of! But first, let's understand what combination skin really is! Megha Asher, Founder of Juicy Chemistry, says that if you're oily in some parts of the face and a bit dry in others, you have combination skin. In most cases, it's your T-zone that gets oily throughout the day while the rest of your face may get a bit dry or stay normal.
So here are the key steps that should be followed, given by Megha Asher:
Step 1: Removing Makeup and Sunscreen
First off, you have to wear sunscreen every day be it cloudy, rainy, cold or sunny. SPF protection is super important. If you have combination skin, you're more likely to get an oily T-zone during the course of your day so opt for gel-based or mattifying sunscreens during the summer and switch to a creamier hydrating formulation during the winter. With combination skin, there's a lot going on so it is really important for you to understand why your skin is acting the way it is and how oil/dry it gets and where it gets so.
The first step of your night-time skincare routine should be removing all that gunk, SPF and makeup off your face. There are a lot of options that you can choose from – you could go in for a micellar water, a milk cleanser, a balm or an oil-based cleanser. You may or may not have heard about the double cleanse. If you haven't here's what it is – the idea behind a double cleanse is to cleanse your face twice. First, with an oil-based cleanser or a micellar water etc to remove the makeup. Then go in with a water-based or gel organic sulphate-free cleanser to properly clean your face. The idea behind a double cleanse is to be gentle with your skin and not to strip it dry.
If you're using a micellar water or a cream cleanser using a cotton pad, be sure to not pull at your skin or irritate it too much. Also, avoid using makeup wipes! Most contain alcohol in them which can dry your skin and increase skin sensitivity over time.
Step 2: Actually Cleansing Your Face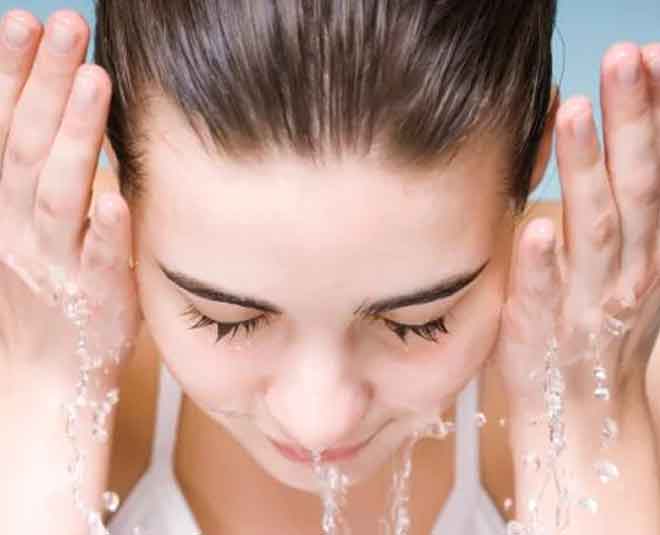 Now, you've done your first cleanse. Go in with a gel-based, organic and sulphate-free cleanser to gently remove any residuals from the previous cleanse and too deep cleanse your actual skin! Be sure to pick the right type of cleanser because you don't want to dry your skin too much. After this step, you can also add in some exfoliation. What does exfoliation do? Exfoliation or scrubbing helps get rid of dead cells and gives way to brighter skin. It also helps with improving skin texture. Just be sure to not exfoliate more than twice a week. Over exfoliating causes problems too!
Don't Miss: HZ Tried & Tested: Herbs & More Vitamin Therapy Face Wash Detailed Review
Step 3: Toner and Face Mist
There's a lot of mystery around what toners and face mists actually do. The answer is: it depends on the product! Essentially, in this step, you're prepping your skin to better absorb any product you'll apply in the next steps. Depending on the product, some toners also contain certain ingredients that could be targeted towards controlling oil production and tightening pores, hydrating the skin, soothing the skin and many more among others. Pick what works for you and have fun with it!
Don't Miss: HZ Tried & Tested: Plum Grape Seed and Sea Buckthorn Nutri-plenish Face Mist Detailed Review
Step 4: Serum
View this post on Instagram
Serums are light-weight products that are concentrated. They penetrate deeper into the skin and contain 'active' ingredients. See what your skin requires and choose accordingly!
Step 5: Moisturiser
Moisturisers help seal in the goodness of that face mist and serum. There are different types of moisturisers – gel-based, oil-based, emollients and occlusive among others. For someone with combination skin, an oil-free moisturiser is a good idea. Moisturisers can really rejuvenate and revitalise the skin so be sure to not skip this!
Step 6: Facial Oils
View this post on Instagram
You can use facial oils instead of a moisturiser if you wish to. You could also apply an oil after your moisturiser. It's entirely up to you! Earlier, many were of the opinion that, if you have oily or combination skin, you should stay away from oils and that's not true at all! In fact, oils such as jojoba oil actually help regulate sebum production! If you have an acne problem, you can also use tea tree oil and mix it with a carrier oil and apply it overnight. Contrary to popular belief, face oils absorb quickly into the skin too!
If you want, after cleansing, you can also choose to opt in for a face mask. If your skin is on the drier side, opt for a hydrating mask. If your skin is on the oily side, opt for a clay mask. You can even choose to multi-mask, applying whichever mask you need to depending on your skin. For example, for combination skin that gets oily in the T-zone and dry on the cheeks, chin and forehead, apply a clay mask in the T-zone and a hydrating mask everywhere else! Mix and match!
Skincare should be fun and therapeutic. So, go ahead and explore and have fun with it! It is so important to pamper yourself and a skincare routine could really help you wind-down and relax.