Along with a safe and hygienic house, it is equally essential to keep endowing an emotionally healthy environment for everyone in the household, especially children. The surroundings in which children grow up have a deep impact. Hence, it is necessary to create an emotionally healthy and positive environment while raising kids. However, understanding how to create a happy and constructive atmosphere can leave parents puzzled. That's why Hz spoke to Dr Amita Phadnis, MD Specialist in Child Care for some advice on creative and simple ways in which you can create an emotionally healthy home.
"For the better future of the kids, it is important that the parents take care of the kind of environment they're proving to children, both in and out. As it plays a significant role in shaping their thought processes," she said and shared some of her tried and tested methods, which she herself incorporated into her family.
Don't Miss: Baby Skin Care: Simple Tips To Keep Your Newborn's Skin Healthy
Creating A Place That Encourages Positivity
For kids to thrive emotionally, mentally, and physically it is imperative to ensure that they get enough attention from both the parents. Appreciating the child with encouraging words, for example, praising their art and displaying it on the walls (interior decor ideas) goes a long way in instilling confidence. Showcasing family pictures is also a good way of keeping the positive vibes going.
Pay Attention To Your Child's Emotions And Feelings
Let them label their emotions and help them understand those emotions through a calming conversation, by putting more descriptive words to their feelings. A child must know that it is ok to feel anger, sadness, happiness, and fear. Identifying their feelings and knowing how to deal with them is a big contributor to creating emotionally balanced adults. "I would also like to share that consistent parenting is an important approach that parents must remember while raising a child, where the parents are on the same page when it comes to decisions, to avoid conflict in the child's mind," recommended Dr Amita.
Sunshine & Natural Light Into The House Are Critical
Natural sunlight is high in vitamin D and is known to uplight the mood, and help in focusing and calming the mind. Sunlight is a natural energy booster that keeps children active throughout the day. Nature walks during the day are also very pleasant. If you live in the city, and due to the pandemic you cannot go out, you can always use your windows to view birds, trees, and rivers, depending on your locality.
Introduce Structure Via Rules
Parents must adopt the style of authoritative parenting, which is shown to be the best kind of parenting where parents are firm, yet loving. Here, parents are responsive to the child's emotional needs but set the limit and enforce boundaries. Rules and regulations within the household develop emotional and physical safety. Identify behaviours and patterns that need to be broken and are not acceptable inside the home, for example, talking loudly when displeased or using negative words while having a debate. Establish good-mannered rules as well, such as knocking on closed doors, saying please and thank you.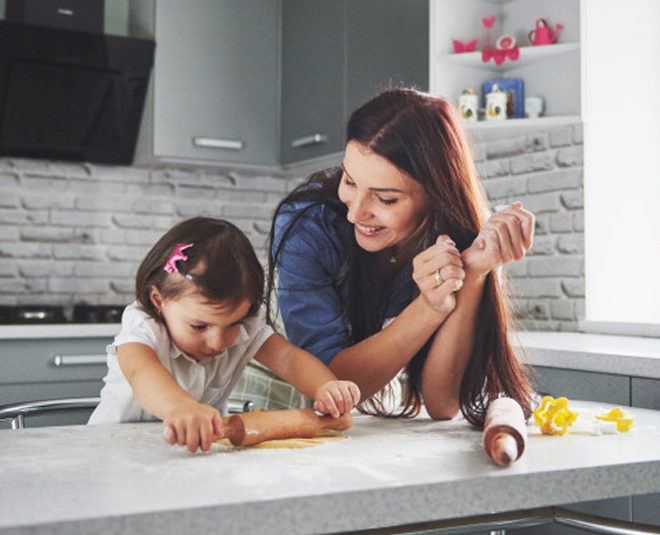 Don't Miss: Drinking A Glass Of Methi Water Everyday Has Numerous Health Benefits
Take A Different Approach
Confront uncomfortable emotions. It is usually the elephant in the room, so always address it head-on. Having an open-minded home and providing a safe space to discuss uncomfortable topics can help build trust among family members. We must support our children by helping them build their coping mechanisms. It could range from gardening to baking, or listening to some calming music. It is important to discover something that works best for you and them. Open-mindedness towards mental health is quintessential in making a family emotionally healthy.
If you liked this article, do comment on our Facebook page. Stay tuned to HerZindagi to read more such stories.
Did you like this article ?