Tips And Tricks For Women To Organise Closet At Home
Do you know that drawer separators can help to arrange clothes more efficiently? Check out the article!
Are you tired of arranging your closet again and again? Do you run out of space to arrange accessories, clothes, intimate garments and footwear in the wardrobe? Now you do not have to worry because we have brought some tips and tricks for you.
Why Is Organising A Closet Crucial?
Organising a closet allows you to keep things in order. It makes it easy to access stored items. It allows you to properly utilise the storage space and maintain order in your house. An organised closet makes space for you to store other items lying around the house.
Easy Ways To Organise Closet
Clean The Closet
Before you start organising the wardrobe, you must begin by cleaning. Pull out the clothes, accessories and any other stored item. Categorise whether you will wear it or you can donate it.
This process takes unnecessary items out of the picture and creates more space for the organisation. Once you have sorted clothes, invest a few minutes cleaning the shelves and drawers.
Categorise The Items And Label Them
When you are about to start putting clothes on the hangers, lay them on the bed and categorise them. The best way is to categorise them into fancy, delicate, summer season and winter season wear.
Not only does it help with regular organisation, but it also offers you the ease of access. You can dedicate a shelf completely to winter wear and not touch it before the onset of the season.
Similarly, you can make spaces for fancy items, loungewear, delicate fabrics, footwear, lingerie, dresses, formal wear and skirts. It prevents you from the morning hassle of picking up the clothes and getting ready.
Align Storage Boxes
One of the best ideas to arrange the clothes and other items in the closet is by installing storage boxes. You can align vertical boxes in the shelves and drawers and categorise the storage items accordingly.
For example, you can put three or four storage boxes on a shelf and categorise lingerie, t-shirt, shorts and pyjamas. A wired basket also serves the purpose because it does not collapse and keeps things in place.
Use The Idea Of Colour Coding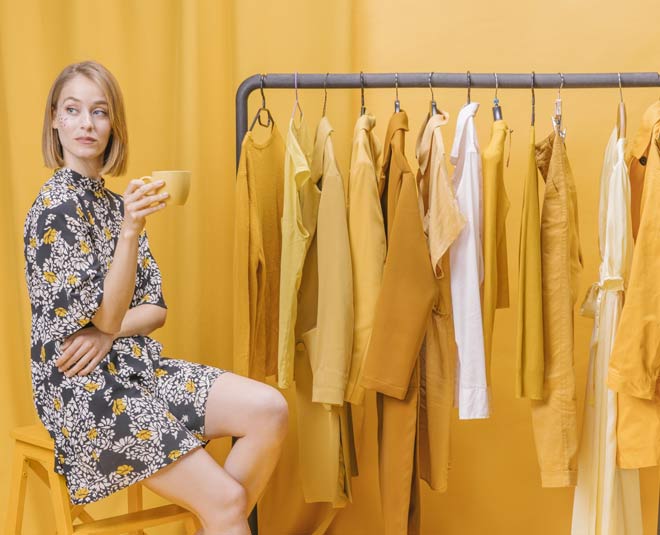 It might seem childish, but colour coding is an amazing organisation skill. It is a tedious task, but it comes in handy in the long term. It makes it super easy to pick the outfits, mix-match them and create a pleasing contrast.
Arrange Scarves On Hangers
Are you tired of playing treasure hunt when it comes to donning your outfit with a scarf? Well! With this trick, you will never have to waste time searching for a scarf lost under the pile of clothes.
You can fold the scarves and place them on a hanger. If you have more scarves, you can use more hangers. However, this is the best way to make your closet appear organised.
Use The Vertical Storage To The Best Of Your Abilities
One of the pro tips to enhance your organisation skills is to use vertical storage to the best of your abilities. It is a secret weapon that you can use for your benefit. A large space is best for storing different types of shoes.
It is perfect for stacking one box over another to store your favourite heels and flats. You can also use that space for storing jewellery boxes, hanging pants and trousers, keeping dresses wrinkle-free and arranging handbags.
Keep Clothes At The Level Of Your Eyes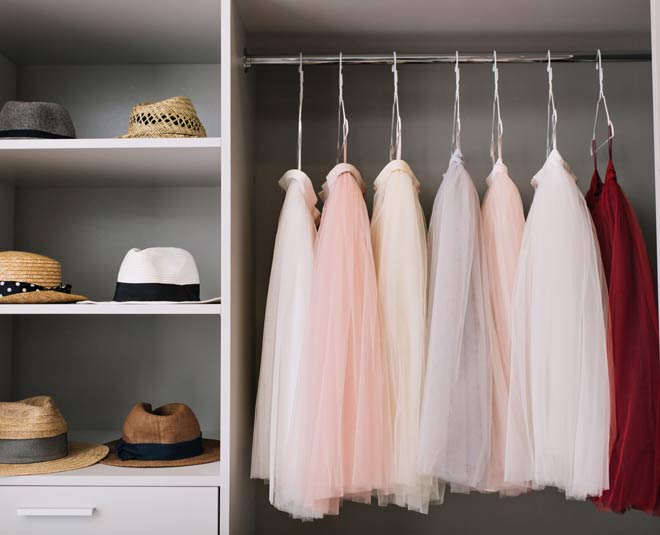 The middle shelf of the closet is the perfect area to store clothes. It keeps the fabrics at the level of your eyes. Thus, it becomes easy to pick out clothes without bending down or disrupting the organisation of the wardrobe.
Another tip for organising the closet is to keep less-used items on the shelves below. Use the top shelf to keep unused clothes, bags, accessories, etc. This way, you will be able to maintain the organisation for a longer duration.
Don't Miss: Tips And Tricks To Protect Clothes From Fading
Use Walls To Organise Small Items
The walls on the sides of the closet serve as space for organising small pieces. You can then use the insides of the closet doors to hang silver jewellery and accessories. Without adding unpleasant looks to the room, you can use hooks with double-sided tape.
Whether it is your towel or a plastic bag. These hooks can bear a minimum amount of load. So if you do not have space in your wardrobe, you can use this hack to resolve your problem.
Don't Miss: Amazing Hacks To Organise Your Kitchen
Adopt Better Folding Techniques
If you are looking to organise the closet, you cannot get away with it if you do not follow the correct folding technique. If you are filling your drawers, use the file folding method. It will save space and allow you to store more items.
Similarly, instead of folding a pair of jeans or trousers, hang them. It will keep the clothes wrinkle-free. When you have to store your bras, it is always a good choice to go with a separate drawer or use a hanger. It will prevent them from misshaping.
Did you like the tips? Share your thoughts in the Facebook comments. Stay tuned with HerZindagi for more details.