At times in life we need to take some hard decisions, but making the most out of it is the smart thing to do. A lot of people are now shifting to smaller spaces given the current situation. If you're one of those people, we know you're confused about how will you adjust things in a tinier apartment. Need not fret, because we're here to help. Besides getting rid of a couple of things, some smart décor ideas can turn out to be useful. In a small apartment, you will want to keep most of your belongings, but in a way that it doesn't look cluttered. Also, an apartment without a little bit of free space doesn't look like a house, but a store. That's why decorating to also maximise the space is vital. You can achieve the same with the help of these smart home décor ideas.
Mirrors
The old traditional trick of using mirrors to maximise the space can never go wrong. It makes space look lighter, larger, and airier. If you can invest slightly more, buy a statement piece that will also add personality to the area you will be installing it. Placing a mirror in a confined space can be tricky. Some of the ideal spots can be behind your sofa, or television, on the full-size closet door, opposite to a window, etc.
Don't Miss: Follow These Do's and Don'ts While Decorating Your Home With Mirrors
Pull Out Chairs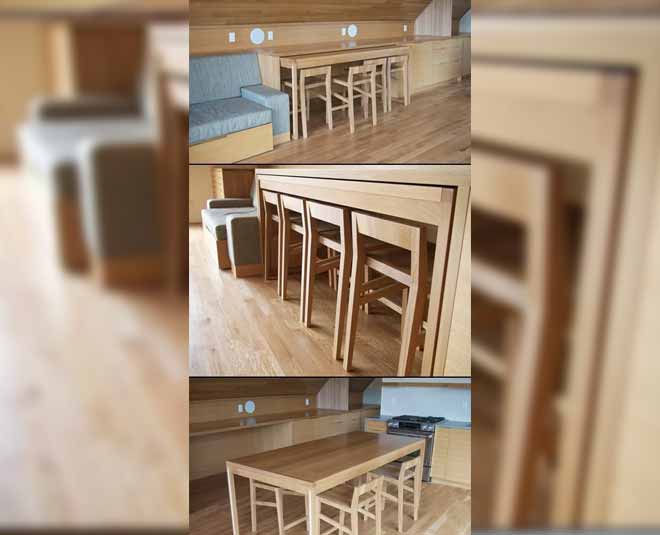 Using pull out chairs instead of regular ones can save a ton of space in your house. Also, you will be able to keep it anywhere, such as in your balcony, kitchen area, etc. if you're trying to save a few bucks and don't really wish to spend on new furniture, you can always get the old one customised according to your needs. Both the round the square tables will look amazing and will not use up too much space.
Don't Miss: White Room: Give Your Dull Room A Chic Makeover With These Home Décor Ideas
Bigger (But Fewer) Furnishing
We understand you already must be having a couple of bigger items that were perfect for your spacious apartment, but are making you feel uncomfortable about the smaller one. You can keep your big bed and dining table, but along with that place smaller pieces. For example, in your bedroom (tips to style the master bedroom), there should only be one huge item, and the rest of the things must be compact. Same way, with the dining or study table the chair, should be lighter and not bulky.
Wall Partition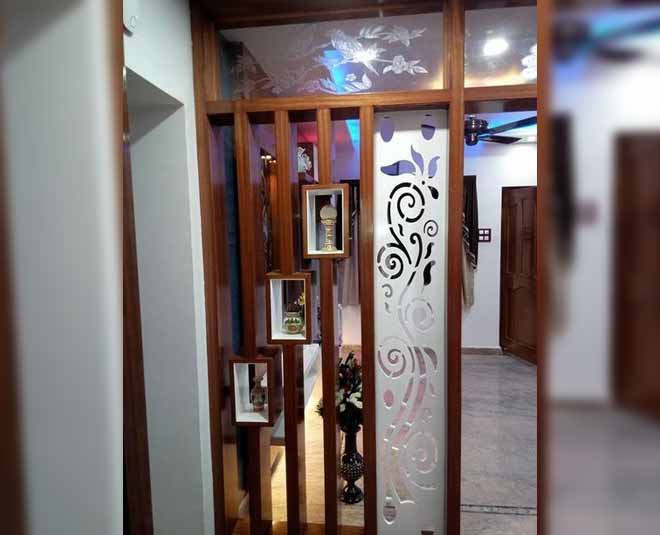 If your space has no separate rooms and just one hall with an attached kitchen, you can divide the space in the most sophisticated manner. Visit an old furniture market today and buy a wooden wall partition. This will give the illusion of a bigger space, alongside separating different areas in a room. This style looks absolutely chic!
Window Seats
Utilise the window in your house in various ways. Make it look like an art piece by installing curtains made from saree. And then, create a relaxing seating corner by putting a simple bench. You can accessorise it the way you want. It will be your own cozy space with natural sunlight and a nice view!
Vertical Garden
Don't have an open space to pamper your plants? A vertical garden is what you need in this case. It takes the least space, but still make an area look fuller and vibrant. Greenery naturally makes everything look lively and spacious, that's why keeping a few plants in the living room also looks stunning.
If you liked this article, do comment on our Facebook page. Stay tuned to HerZindagi to read more such stories.