They say controversy follows Sanju Baba, we say love does! If you think our new generation Ranbir Kapoor and Kartik Aryan are casanovas, then you have no idea about the love affair, some cute some ugly of the Munna Bhai protagonist, Sanjay Dutt.
Currently happily married to Maanayata Dutt, Sanjay Dutt had a long list of girlfriends and two ex-wives before this. While you may say that you have learnt enough about the actor in his biopic, 'Sanju', on his 62nd birthday let us take you through the stories and unknown facts about the three weddings of Sanjay Dutt! Here you will see unseen pictures followed by unknown stories so brace yourself for getting an insider from the spicy love life of actor Sanjay Dutt!
Maanayata Dutt (2008): The Fairytale Love Story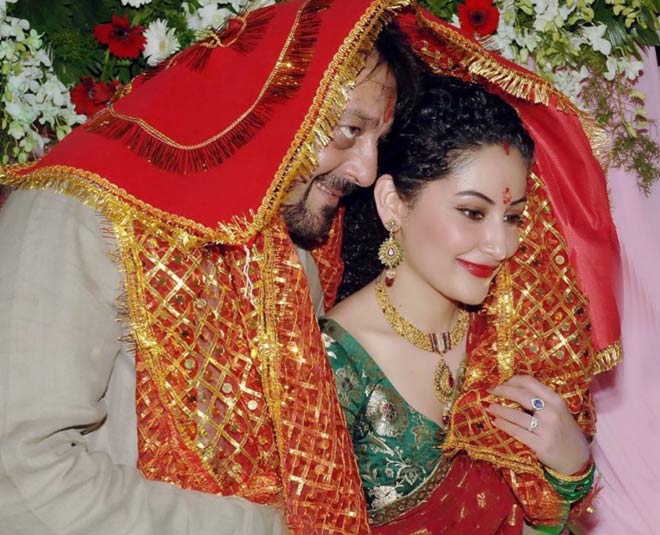 Image Credit: maanayata dutt instagram
The one thing that really stood out for us when we watched the movie Sanju was how Maanayata's character was shown as a rock for Sanjay. No matter how many allegations were placed on him and how much of an addict he was initially, Maanayata was there for Sanaay with all her heart. The way Maanayata is for Sanjay is all we have been looking for in our life partners. When she got married to him, she was very well aware of his previous two marriages and over 300 girlfriends.
Infact, when she first met Sanjay Dutt, he was having an alleged affair with Nadia Durrani. Maanayata left Sanjay awestruck with the care and compassion she showed for him. She took care of him like a child and loved him like he was everything she had ever wished for in a man! She was often seen dropping by at his shoots to give him home-cooked food and shower him with her love.
The two eventually fell in love with each other, and tied a knot in the year 2008 in a minimalistic ceremony, and have been showering love at each other like there's no tomorrow!
Rhea Pillai(1988-2008): The Heartbreaker's Heartbreak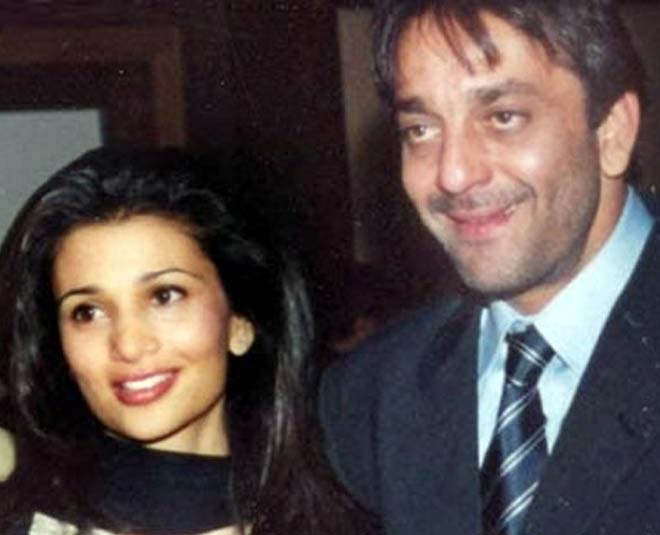 Image Credit: filmymantra
Rhea Pillai is an Indian model and the second wife of Sanjay Dutt. They got married in the year 1988 and filed a divorce in the year 2005 which was executed in 2008. Sanjay was believed to be madly in love with her. However, while some say that Sanjay fell in love with Manyata soon after his marriage with Rhea, there is more evidence of the fact that our casanova, heart-breaker, Sanjay Dutt got cheated on his wife who started developing a love interest for the famous tennis player, Leander Paes. Soon after their marriage ended, he tied a knot with Maanayata and she went on to live with Leander Paes.
Don't Miss- Bollywood Actresses Who Have Tied The Knot With Men Who Were Once Married
Richa Sharma(1987-1993): A Tragic Tale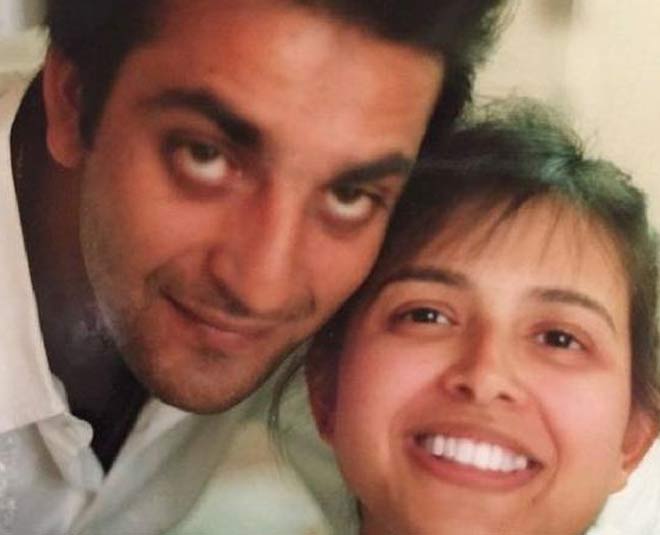 Image Credit: filmibeat
The actor first met Richa Sharma in the year 1985 when she had flown in from New York to Mumbai for her break in Bollywood. In the year 1987, the couple got married. What Sanjay fell hard for in Richa Sharma was her simplicity. For all those women out there who live under the pressure of putting on makeup in order to fit in and find love, it was the inner beauty that Sanjay Dutt fell so hard for. So much so that he decided to marry this beautiful lady. In one of his old interviews, he had even mentioned that he could no longer live without Richa Sharma. In 1988, they got blessed with a baby girl, Trishala.
Don't Miss- Bridal Entry Ideas At Your Wedding To Make Heads Turn And Jaws Drop!
Everything was going well till Richa Sharma got diagnosed with cancer and had to fly to the U.S. for treatment. Three years later, in 1992 when she came back fit and fine, it is believed that Dutt had already moved on.
In the year 1993, Richa Sharma, the woman who fought cancer with all her might just to come back to Sanjay Dutt was in for a shock when Sanjay Dutt filed a divorce(read about other Bollywood divorces). Soon, in the year 1996, Richa Sharma passed away of brain cancer and left behind a beautiful daughter, Trishala Dutt.
On the occasion of actor Sanjay Dutt's birthday, we wish him many more happy and healthy years to come and hope he keeps making his fans believe in love with the lovely relation with Maanayata Dutt!
If you liked this article, stay tuned to Her Zindagi for more such articles!