Sabarimala Temple is one of the most talked-about temples in South India. This temple is dedicated to Lord Ayyappan. Lord Ayyappan is the son of Shiva and Mohini. Ayyappan is a celibate who is also called an incarnation of Buddha.
The much-awaited verdict on Sabarimala is now out. Back in 1990, a petition was filed in Kerala High Court to seek a ban on the entry of women inside the Sabarimala temple. The court upheld the restriction of women of a particular age bracket to the holy shrine of Lord Ayyappan.
Later, the court questioned the ban saying the ban cannot happen under the constitution. Kerala Government was in favour of women to enter the inside the sanctum sanctorum of the temple.
Last year, a five-judge bench of the SC allowed the entry of women of all ages to the temple. Even after this decision, a lot of followes camped outside the temple to prevent women from entering the temple.
The SC referred to the petitions which were seeking review of the previous judgment.
The Verdict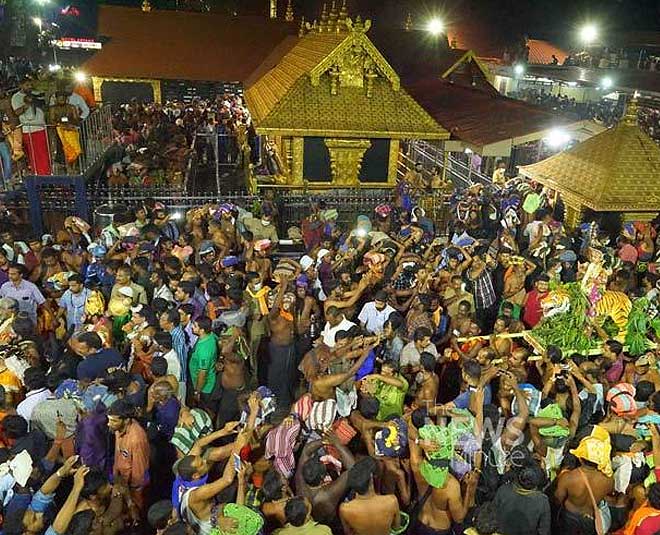 Chief Justice Of India, Ranjan Gogoi read the verdict. The judges have upheld the previous decision and said that the permission for women to enter the temple will remain valid.
The Supreme Court has left the rest for the government to decide who this will be implemented. The preparation of the two-month-long festival at the temple has just completed and there is a proper security system in the temple.
Don't Miss: Ayodhya Verdict Out: Here Is SC's Decision On Ram Janambhoomi - Babri Masjid Land Dispute
Women Who Made History By Entering The Temple
Kanaka Durga and Bindu Ammini were the first women to enter the Sabarimala Temple. The same temple that banned the entry of women of menstrual age. The two made an attempt to enter the temple and were sent away by the protesters. Police tackled the entire situation. Protesters also burnt effigies of Pinarayi Vijayan, Chief Minister of Kerala.
The priests also carried out a purification of the temple after these women entered the shrine.
Why Women Entry Was Banned?
As per the Hindu tradition, Lord Ayyapan was born with powers of Shiva and Mohini who is the female avatar of Vishnu. He defeated Mahishaduri. This temple that is dedicated to Lord Ayyappan is one of the most revered temples in the country.
Now menstruating women were not allowed in the temple. There are two stories to it. It is in the honour of Malikapurathamma, a lady demon who was defeated by Lord Ayyappan and then proposed to marry him. He said that he would marry her on the day devotees stop coming to the temple.
As per the other legend, Lord Ayyappan was born in a royal family who rejected all the desires including connecting with any woman. Menstruating women were not allowed the temple as the people thought it would disturb the celibate deity Lord Ayyappa or Ayyappan.