Earlier this year, queen of controversies, Rakhi Sawant shared a couple of pictures from her wedding. Interestingly, Rakhi Sawant had cropped her husband's face from every picture. The two got married in an intimate wedding ceremony last year in the month of July.
Now, according to the latest reports, Rakhi Sawant's husband, Ritesh is all set to enter the Bigg Boss house as a wild card contestant. We will further dig into all the details but let's first tell you a little about the UK-based businessman.
Who Is Rakhi Sawant's Husband, Ritesh?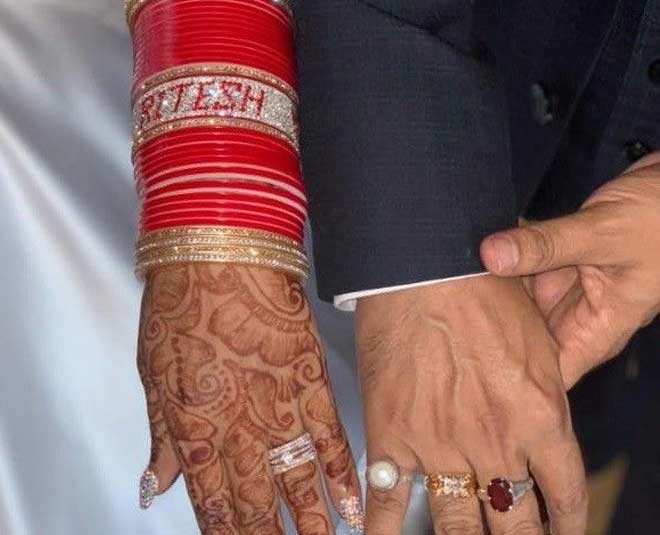 Ritesh is a businessman working in the UK. Rakhi and Ritesh first started to chat on a messaging app. After an year of knowing each other well, Rakhi Sawant realised that she has feelings for Ritesh. Soon, Ritesh asked Rakhi if she would marry him. Rakhi Sawant in an interview said, "Trust me, I met him for the first time only 15 days before our wedding. He came down and I was sure that I had met the right guy."
Ritesh, in a recent interview, talked about meeting Rakhi and getting married to her. He said, "It was love at first sight for us, and before that, we didn't meet each other. We used to talk on phone, and then we met each other and got married within two to three days. I told Rakhi that our pictures should not be leaked anywhere in the media or social media, and as an ideal wife, she followed that. Rakhi is like a small child and, to be honest, the kind of love and affection she has showered on me and my family, she has won my family's heart after our marriage. She is like an angel to me and I don't think I could pay her debt in the next seven births."
On why the couple decided to keep his identity under the wraps, Ritesh in a telephonic interview said, "I would say that she is the best wife because she has been so considerate with me. I thought that announcing our marriage would affect my business because I was holding two to three defence projects and I was also doing a project in the aerospace sector, in which I was connected with the government."
Rakhi Sawant's Husband To Enter Bigg Boss House
Rakhi Sawant's husband now wishes to reveal his identity. In a recent interview, he shared that the makers want him to enter the show as a contestant. His entry was earlier scheduled for Christmas but he couldn't make it because of his work. Now he has requested the makers if he can enter the Bigg Boss house next month.
Don't Miss: Queen Of Controversy, Rakhi Sawant's Journey Has Been Full Of Struggle But It's Inspiring
He further shared that he hasn't got any confirmation from the makers about the same. He said, "I have told them I will be available in the first week of January, but I haven't got any confirmation until now so let's see when it happens. I am expecting to enter by mid-week. I will go as a contestant, I have requested the makers. I want to go inside as her support. I feel Rakhi has come into my life as a blessing and she is a very good person."
Talking about his wife Rakhi Sawant's game on Bigg Boss, he shared that Rakhi has the potential to win the show. He further shared that he is being misrepresented and her true side is not being shown inside the Bigg Boss house. Ritesh shared that he wants people to know about her story.
Rakhi Sawant entered the Bigg Boss house as a challenger and getting a lot of attention due to her funny antics. It would be interesting to see how Ritesh's entry changes Rakhi Sawant's game on the show. What do you think? Share your thoughts with us! For more such stories, stay tuned!