Bigg Boss 14 is soon going to get its 4 finalists who will make it to the grand finale. According to a lot of voting trends on social media, Rubina Dilaik, Eijaz Khan, Jasmin Bhasin, and Rahul Vaidya are believed to be in the top 4.
These 4 contestants have managed to come a long way inside the Bigg Boss house and soon we will know who is taking home the trophy.
We can't really wait to see which contestant will win the show this season. We had a quick chat with Tarot Card Reader Sonia Malik and asked her to predict the winner of Bigg Boss 14. Have the cards predicted the name of your favourite contestant? Read on to know.
Eijaz Khan
The celebration card with cups in hand depicts victory. It is a very positive card and winning cups show the win. According to the tarot cards, Eijaz Khan has high chances of winning the show this season.
Eijaz Khan, who was missing from the limelight for a long time before entering the Bigg Boss house this season, has become a household name now. His strength on this show has always been his strong point of view which doesn't change no matter what. Talking about his game to date, he has smartly strategised each and every task given to him inside the Bigg Boss house.
Eijaz Khan is currently out of the Bigg Boss show to meet his prior commitments. He is likely to enter to the show again by this week or next week.
Rubina Dilaik
Rubina's Page Of Wands card depicts that there is a lot of negativity going on in her mind at the moment. As compared to Eijaz's tarot card, Rubina's is a lot weaker and shows confusion.
Though Rubina Dilaik has emerged out to be a strong contestant on the show, do you think her confusion in this crucial stage of the show make her lose the game?
Don't Miss: 3 Reasons Why We Think Rubina Dilaik Can Win Bigg Boss 14
Jasmin Bhasin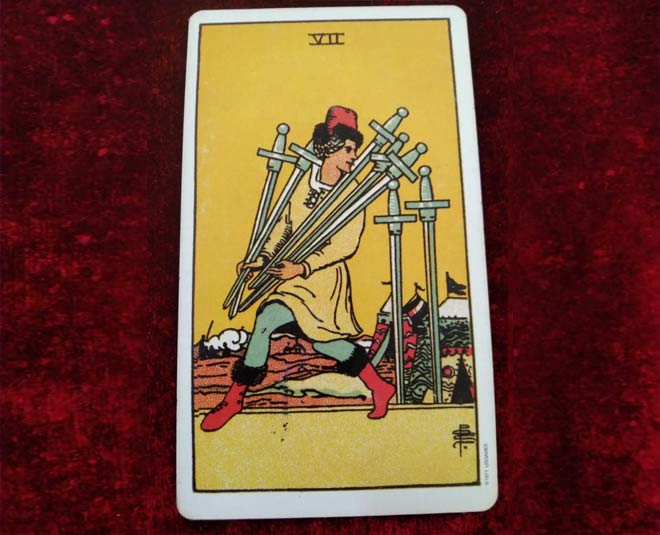 The 7 of swords card for Jasmin Bhasin doesn't depict victory and clearly she can't now as she got evicted from the show a couple of weeks back. However, she will again be seen on the show as a connection of Aly Goni.
The internet was divided over Jasmin Bhasin's game while she was inside the Bigg Boss house this season. While many felt that she didn't really contribute to the game and just managed to make it for long because of sheer luck, many others felt that she was entertaining.
Don't Miss: Bigg Boss 14 Winner According To Google, Rubina Dilaik, Eijaz Khan Or Pavitra Punia?
Rahul Vaidya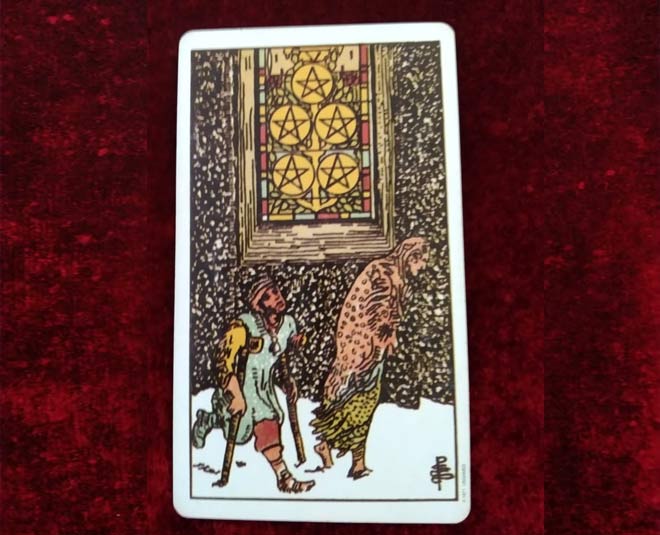 The Five Of Pentacles card depicts financial loss, worry, and lack of mindset. As shown in the card, an injured man on crutches walks behind an old barefoot man, does it also mean that Rahul is just following someone inside the Bigg Boss house?
The card clearly doesn't show victory. It only depicts poverty. On occasions, Rahul Vaidya grabbed eyeballs for his issues with co-contestants, Rubina Dilaik and Jaan Kumar Sanu. During tasks, he has always been active. However, he has been somewhere missing from the game altogether for a few days now.
Well, according to the tarot cards, Eijaz Khan has the highest chances to take home the title this season. However, Rubina Dilaik, too, is giving his tough competition with the second strongest tarot card. What do you think? Who has higher chances to win Bigg Boss 14? Share your thoughts with us. For more stories on Bigg Boss 14, stay tuned!