Rakshabandhan is around the corner and the excitement can be felt in the air! All the brothers and sisters from around the country can't wait for this day to come, for themselves to dress up, for the brothers to wear beautiful rakhis and for sisters to get amazing gifts!
However, have you thought about how you will be decorating your house and the different elements that are associated with this festival? Don't worry, we are going to help you out with some amazing decoration tips!
Decorating The Plate
Image Credit: rakhi.in
We suggest you go beyond the usual plate and placing your rakhi on the plate. If you want to up your game, read this carefully! Take the prettiest plate that you have at home. On that plate, on one side place the chocolate/ sweets whatever it is that you prefer. Now, in small containers place tika, rice and curd. Make sure these are in tiny containers and not directly on the plate or they will create a mess. All these things on the periphery of the plate, leave the center empty. On the remaining space in the side, take a small cushion that you get with watches and tie your rakhi around it. Tie it just like watches are tied around these. Place a diya in the center and your plate is ready!
The Seating Arrangement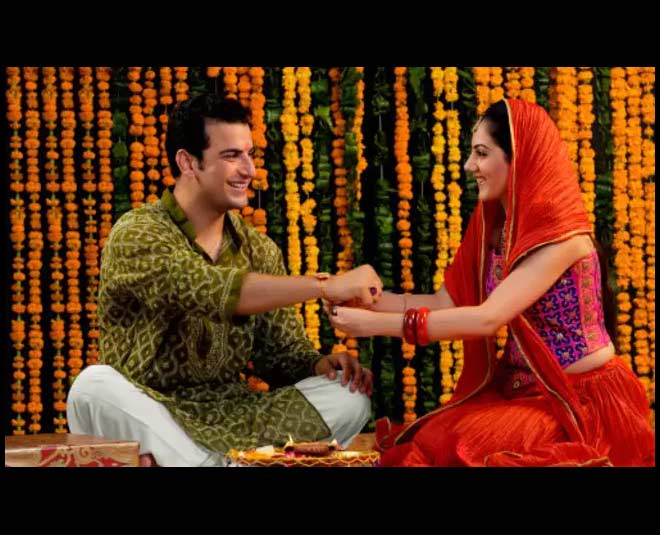 Image Credit: floweraura-blog-img.s3.ap-south-1.amazonaws
Rakhi is not one of those sophisticated festivals. It is extremely down-to-earth (quite literally) because here, the brother and the sister have to sit on the floor while tying Rakhi and exchanging gifts. What you can do here is decorate the wall that is behind you. Hang flowers or a red cloth with tassels, either way make your background festive!
Don't Miss- Raksha Bandhan 2021: Date, Auspicious Time, Significance, Katha, Rules You Must Know
The Puja Room
Generally, on the day of Rakshabandhan, the family has to get up early in the morning, observe a fast, take bath, wear new clothes and light a diya in the puja room. This is why we suggest you decorate the puja room well and make it look more festive! Change the cloth on which you have placed all the idols. Pick a more sparkling cloth preferably in the shade of red and golden. Instead of lighting the normal diya, on this day take out the bigger lamps that you light on Diwali. If you make your Gods wear dresses, change it on this day. Make them wear new outfits just like you and your brother! Right outside the puja room, make a Swastik with flowers and you are done!
Don't miss- Wish Your Brothers A Happy Raksha Bandhan 2021 With These Messages, Quotes On Facebook, Whatsapp
Twin With Your Kanha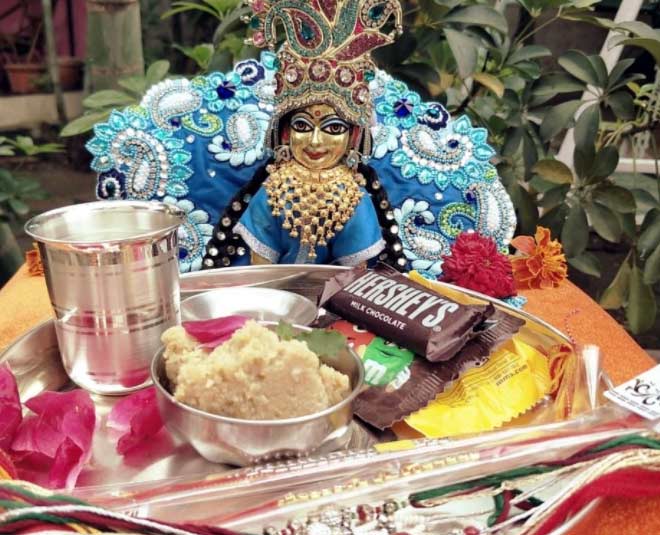 Image Credit: i.pinimg
A lot of us girls also tie the Rakhi to our Krishna idol. This one is for those of us who do not have brothers or who believe that our protector is Lord Krishna. If you are someone who does this or ties rakhi to other gods, we suggest you twin with them! Make them wear the same colour outfit as you, you can either buy a rakhi for them or make the rakhi on your own. We suggest you make it on your own considering you know the size much better. You can make his rakhi with a tiny peacock feather in the center to make it look better!
We hope you enjoyed reading this article and are as excited for the festival to come as we are! If you wish to read more such content, stay tuned to HerZindagi!