Nita Ambani is wife of the richest man in Asia, Mukesh Ambani. Chairman of the Reliance Industries Limited, Mukesh Ambani is one of the top billionaires around the world. The Ambani family owns everything that speaks luxury. After all, with a total net worth of billions there is nothing that the Ambanis can't buy.
Ambanis own some of the most expensive things in the world. Today, we talk about Nita Ambani. She is not only the wife of Asia's richest man but she herself heads a lot of foundations like the Dhirubhai Ambani Group Of Schools. She is also the co-owner of the IPL team Mumbai Indians. Here are the most expensive things Nita Ambani owns.
Personalised Lipstick Collection
Nita Ambani has a thing for lipsticks and she has a collection of customised lipsticks which have been especially curated to match her outfits. The packaging of these lipstick bottles is reportedly made of silver and gold. The entire collection costs around INR 40 lac.
Luxury Handbags
Nita has a collection of luxury handbags from brands like Jimmy Choo, Goyard. These cost around INR 5 lac per bag. Nita Ambani was snapped with the Kapoor sisters in London lately and we had all eyes on her bag. Nita carried this Hermes' bag made from Himalaya Crocodile Skin. This one is one of the most expensive bag brands. The handbag has gold and diamonds studded on it. It was sold in an auction last year for USD 300,322.
Real Gold, Diamond Studded Sarees
Most days, we spot Nita Ambani wearing sarees. She loves keeping it traditional. Her wardrobe has some of the most expensive sarees from all around the world. For an event, Nita Ambani wore a heavy embellished saree that came with handwoven art, paintings, studded with real gold and diamond and emerald. This heavy saree costs a whopping 40 lakh.
Don't Miss: Then And Now: These Pics Are Prove That Nita Ambani Is An Ageless Beauty
Japanese Tea Set
Nita Ambani's morning begins with a cup of tea that is served in Japan's oldest crockery brand, Noritek. The tableware in the Ambani residence is studded with gold and platinum. It has been specially ordered from the oldest Japanese crockery that costs around INR 1.5 crore. If we cut down the price of a cup then it will come somewhere around INR 3 lac.
Set Of Expensive Watches
If you follow Nita Ambani regularly then you will spot her wearing some of the most expensive watches in the world. She has a big collection of watches from top watch brands such as Rado, Gucci, Calvin Klein and Bvlgari.
Huge Collection Of Shoes That She Never Repeats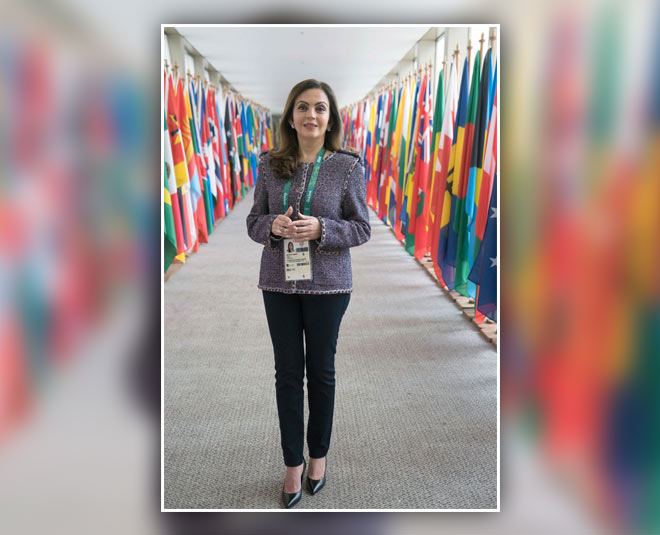 Do you know, Nita Ambani doesn't repeat her shoes? Yes, Nita Ambani has a huge collection of branded shoots from Jimmy Choo, Marlin, Padro, Garcia. The starting price of the shoes from these brands is in lacs. Now you know, Nita Ambani has such a luxurious collection of shoes in her closet. Who would want to repeat the shoes then?
Exclusive Jewellery Collection
We have seen
Nita Ambani
wearing some really ethereal pieces of jewellery on different occasions. From wearing statement diamond chokers to traditional gold jewellery to diamond rings, Nita Ambani has stunning jewellery pieces in her collection from top designers of the world.
Plush Corporate Jet
Nita Ambani also owns a plush corporate jet that costs a whopping INR 240 crore. This one was gifted to Nita Ambani by husband Mukesh Ambani. This airbus 319 speaks luxury with a business centre, satellite television, cabin for music and games and a lot more.
World's Most Expensive Car
Nita Ambani owns the most expensive card in the world. Last year, she purchased Audi A9 chameleon, this is a special edition car that has been produced in just a few units. The car costs around 90 crore. Can you imagine the salary of her driver? The salary package of the driver is INR 24 lac per annum. Other than this car, she also owns Mercedes Benz S class, Bentley Flying Spur, Roll Royce Phantom among others.
Did you like this article ?