Coconut water is believed to be one of the healthiest drinks. The drink is packed with multiple nutrients which are great for our overall health.
Nariyal pani or coconut water is rich in minerals, electrolytes, which make it a healthy beverage to enjoy. This drink is available just everywhere. Traditionally, we got them from coconut water vendors who cut its top and served it with a straw. However, things have changed post the pandemic.
Many people have started to ditch getting coconut water from road-side vendors and switched to packaged ones to prevent the risk of contamination. Recently, a brand introduced tech advanced hygienic coconut water cart and it is creating a lot of buzz.
India's Most Hygienic Coconut Water Cart
A video of the vendor selling fresh coconut water in Indore in a hygienic way is going viral over the net. In the video, a man can be seen selling coconut water in an unconventional way where he extracts coconut water through a machine and the process is completely untouched.
In the video, as we see, the vendor cuts the coconut with a metal tool and then strains its water through a machine and serves in a plastic glass. He then using the machine cuts coconut into two halves and takes out the flesh using a big spoon and serves it on disposable plastic. The vendor shares that he is serving a glass of coconut water for Rs. 50.
The video has managed to create a lot of buzz over social media. It has garnered more than 40 million views on Facebook. Have a look at the video here:
A Good Deal Or Not?
As soon as this video went up on social media, netizens flooded it with comments. While some were impressed seeing how hygienic the coconut cart was others felt that it was better that one drinks coconut water the natural way. Many also had questions like 'is the machine cleaned everyday?'.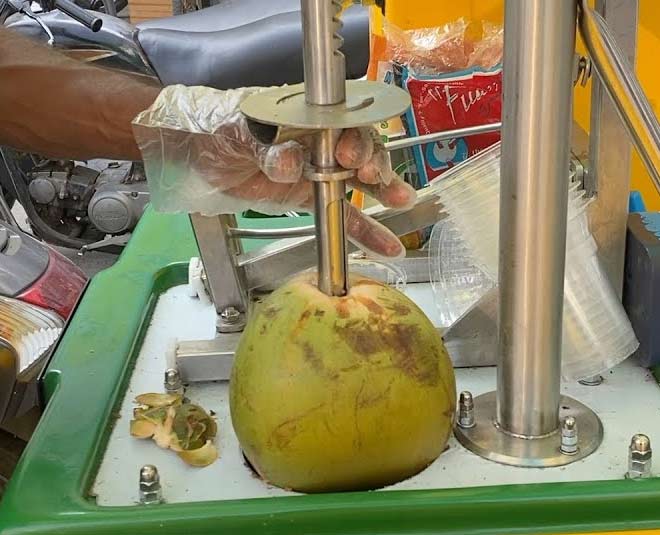 Yes, the vendor selling fresh coconut water in such a tech advanced way impress us at first, the creativity got a lot of appreciation but later, it did make us realise that something is wrong. The idea of selling coconut water in a plastic glass for convenience might look hygienic to many but it is clearly not eco-friendly and this is what most users have been complaining of online.
Don't Miss: Netizens Go Gaga Over Viral Video With Old Granny Bowling
A user wrote, "Hygienic is fine but it's a serious blow to the environment Bcz they use plastic cups, straws etc. no need for that. I would prefer to drink directly from coconut using a bamboo or metal straw." Another one wrote that it will be waste of resources. The user wrote, "What a waste of resources It is not good for the environment as it is promoting plastic also you would get less coconut water as you are just getting a glass instead of whole coconut."
Don't Miss: Coconut Water Can Benefit Your Skin And Hair In A Variety Of Ways
"Height of stupidity...when nature gives a container for free, why use plastic...just showing off ...when solutions are simple why make it complex (to gain money??)," wrote another one.
Honestly, I am personally not convinced with this hi-tech idea of drinking fresh coconut water in a plastic glass. Also, coconut water is completely natural and doesn't really need any filtration then why all the fuss? I have been drinking coconut water all these days and I know there is surely a risk of contamination so to avoid the same I wash the coconut properly under running water and then use a reusable straw to drink it. It can also be transferred to glass if one doesn't like using a straw.
What are your thoughts on the coconut water cart? Do you think it is more hygienic than having coconut water the way we naturally do? Share your thoughts with us on our Facebook page. For more such stories, stay tuned!