Those lazy summer afternoons when you want to drench your throat in something pleasant that can quench your thirst, and if you are health conscious, maybe something which is not artificially sweetened or aerated, in such situations, the very humble coconut water can come to rescue.
Summers are all about hydrating yourself, ensuring that you remain healthy. Mildly sweet and fresh, coconut water can be great for all health junkies. But so as to tell you, it is highly beneficial for your skin and hair too. Loaded with potassium, sodium, Vitamin A and C, protein & Iron, coconut water is your often ignored, beauty agent which can be an addition to your daily skin routine.
Here is what it can do to replenish your damaged skin and hair –
Coconut Water Is A Natural Skin Brightening Agent
For those of you are busy all day, travelling and exposing their skin to the sun, dust and heat tend to lose the shine of their skin. For them, coconut water can be very useful. It is a natural skin whitener and can renew your dark skin, improving the tone of your damaged skin.
How to use
Take half a tablespoon of turmeric and sandalwood, mix it in a cup of coconut water. Once the paste is runny, apply it all over your face and other problem areas. Let is sit for 20 minutes and then rinse it with cold water. Repeat 4 times a week and you will see the change.
Helps Combat Outbreak Of Acne
Coconut water is an anti-microbial and anti-fungal powerhouse, therefore it becomes an obvious remedy for acne outbreak. From hormonal imbalance to overexposure to pollution, there are a number of reasons for acne outbreak. To combat all this, coconut water can be of great use. It heals your skin and makes it smooth.
How To Use
Honey is known for its anti-inflammatory qualities and when mixed with coconut water can replenish your damaged skin. Take half a tablespoon of coconut water, mix it one tablespoon of honey and apply it on your damaged skin areas. Let it sit for 10 mins, rinse in cold water. Repeat the treatment twice a week and you will start noticing a change.
Can Control Your Hair Fall
Coconut water can naturally hydrate your hair, thus keeping them conditioned. It is loaded with vitamins and potassium, healing your damaged scalp and accelerating your hair growth.
How To Use
Take one tablespoon of yogurt and mix with half a cup of coconut water. Now, apply the mixture deep to your hair follicles. You need to ensure that the same treatment is repeated for at least 10 days. You will soon experience a change, your hair will be thicker and shinier.
Can Be Used As An Anti-Aging Mask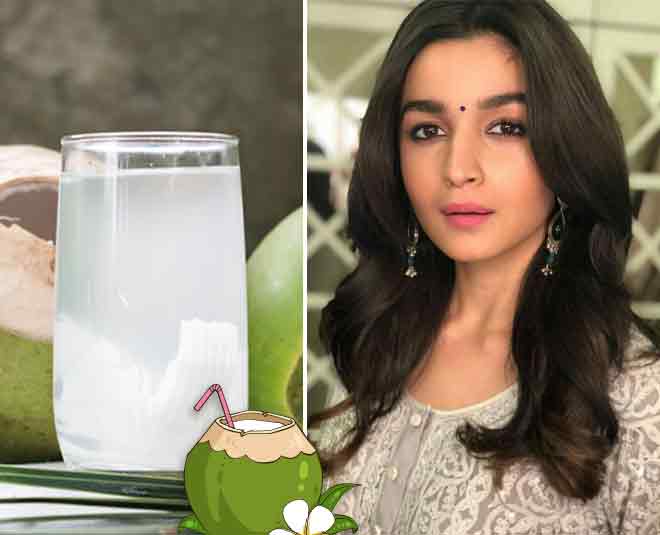 Given the fact that we are busy with our daily routines, aging marks seem to show up early on. Wrinkles, spots and fine lines can be done away with the right use of coconut water.
How To Use
Take one tablespoon of coconut water, half a tablespoon of sandalwood powder and 2 tablespoons of yogurt. Make a past and apply it to our face. Let it sit for 10 mins then rinse it with cold water. Repeat it 2 times a week and all your wrinkles will slowly vanish.