Chalk paint is an innovative paint that creates a matte and dry finish over the painted surface. However, it is often confused for chalkboard paint which is different as it creates a surface where you can write with chalks.
Why this paint is becoming a popular part of the home decor industry as it can go smoothly over several layers of paint which other paints cannot. Plus, this paint has a perfect consistency and is water-based therefore it drips like regular paints and can be removed off the brushes easily with soap and water.
From a wall to your wooden furniture this paint can help you give any place a classy matte look. But since the paint is so easy to use, many people have figured out ways to DIY and make this paint at home. Read on to see more about it.
How To Make Chalk Paint At Home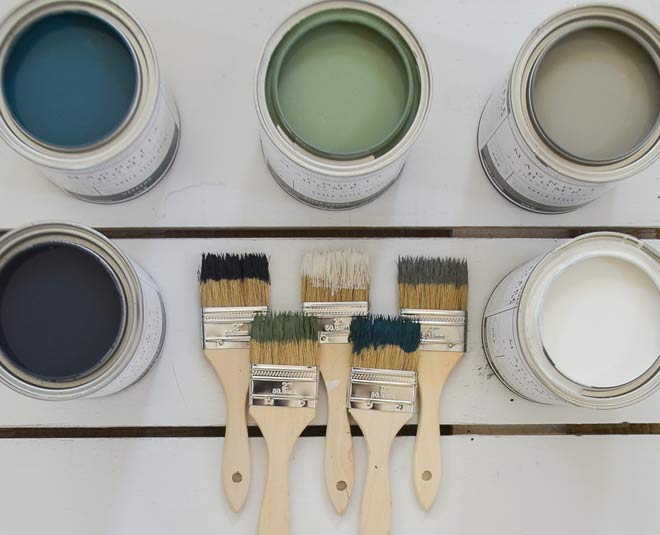 Chalk Paint is great when it comes to giving an antique and distressed look to your furniture. And making it is also super simple.
Ingredients
1 Cup Latex Paint
1-1/2 Tablespoons Water
2-1/2 Tablespoons Plaster of Paris/Baking Soda/Unsanded Grout
Method
Take plaster of paris, baking soda or unsanded grout and mix it in water enough to remove the lumps present.
Make sure the water is cool and the solution becomes absolutely lump-free after stirring it for a while before using.
Now take some latex paint and pour the baking soda/pop/unsanded grout mixture into it.
Mix both the solutions well and make sure there are no lumps left in the paint.
Your paint is mostly ready after this all you have to do is stir it for a while in order to scan for lumps.
How To Apply Paint On Furniture
Making the paint is one part and applying it well is one. Although this paint is very easy to use but it dries quickly so you will have to keep that in mind.
Start by preparing your furniture for painting. Just clean it with soap and water and you will be good to go.
Apply a coat of chalk paint using a flat brush on your furniture. This would dry off soon. So, wait till the paint dries off completely.
After that is done, head to apply the second coat of paint over the furniture and let it dry again.
Once that is done, take an after paint wax for your furniture and simply cover your furniture with the wax to protect the paint and the colour.
Allow the wax to dry for a few hours. Next, check the wax and go for a second coat if needed.
And you are done! An all-new piece of furniture is right in front of you.
How To Make Chalk Paint With Cornstarch
To make chalk paint with corn starch, all you have to do is mix equal quantities of chalk paint and water and then fill it inside muffin moulds.
Add a drop of food colouring of your desire and then stir it with a popsicle stick. Then use sponges or paintbrushes to play with your DIY(DIY Paper jewellery ideas) chalk paint.
Don't miss: Here's How You Can Restyle Your Normal Chairs To Regal Seating
If you liked reading this article then stay tuned to Her Zindagi for more.