All those who watched Bigg Boss 13 know that Rashami Desai's journey was nothing short of a roller coaster, one reason why is Arhaan Khan. Arhaan Khan entered the Bigg Boss house as a wild card contestant. Though things went smoothly between the two initially, it all turned bitter when the host of the show Salman Khan revealed on national television about the truth of Arhaan Khan's marriage and his child. Rashami Desai who was shocked hearing about it decided to forgive him but her friend Devoleena advised Rashami to be careful.
Devoleena's Take On Arhaan Khan
Devoleena was the one who constantly asked Rashami Desai to end her relationship with Arhaan Khan. Talking about Arhaan and Rashami's relationship in an interview, she said, "I don't think she needs to give time to Arhaan and her relationship; she needs to end it. It is going to be emotionally very tough in the future. I know it gets tough because you get attached to the person when you are in a relationship. But aage jaake pachtane se accha she should end now. When a person lies to you and you forgive him, he takes you for granted and one thing leads to another. Arhaan has kept her in the dark for so long, there's no point in giving him another chance. Then you get trapped in that relationship and there is no way out. Rashami doesn't need to think even one per cent over it. It will be tough, but time will heal everything."
Getting Death Threats
Devoleena Bhattacharjee always spoke against Arhaan Khan through the show and even after coming outside the house for the sake of her friend. However, now things have started to get way too serious for her. Recently, Devoleena Bhattacharjee started getting death threats from a woman, Arhaan's fan/supporter.
Don't Miss: Bigg Boss 13: Arhaan Khan Served With Legal Notice for Staying at Rashami Desai's House By Society Members
The woman asked Devoleena to stop speaking against Arhaan Khan. Here is a screenshot of what the woman messaged Bigg Boss contestant Devoleena Bhattacharjee.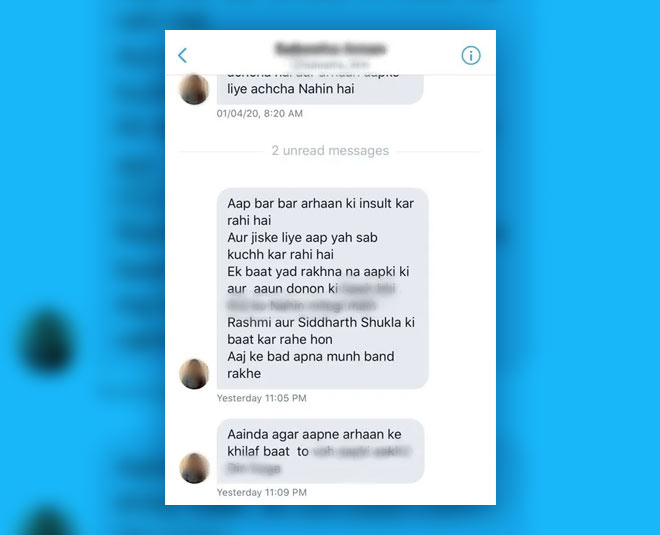 Image courtesy: Republic World
She wrote, "Aap baar baar Arhaan ki insult kar rahi hai. Aur jiske liye aap yeh sab kuch kar rahi hain, aap yaad rakhna, na aapki aur aaun dono ki laash bhi kisiko nahi milegi. Main Rashami aur Sidharth Shukla ki baat karrahi hon. Aaj ke baad apna muh band rakhe. Aainda agar aapke Arhaan ke khilaaf koi baat ki toh voh aapka aakhri din hoga."
To @MumbaiPolice @MahaCyber1 please look into this message where i am getting killing threats from this lady.Urge you to take action against it asap. pic.twitter.com/EFYCIks5FJ

— Devoleena Bhattacharjee (@Devoleena_23) April 21, 2020
Devoleena instantly asked Mumbai Police for help. She asked them to take urgent action. Mumbai Police instantly replied, "We have followed you. Please DM us your contact details."
Don't Miss: Rashami Desai On Speaking To Sidharth Shukla And Arhaan Khan After Bigg Boss 13
We are glad that the police quickly responded to Devoleena's post but what's strange here is that why is Sidharth Shukla's name being dragged here?
Also, two days back, #FraudArhaanKhan started trending on Twitter after screenshots of Rashami Desai's bank statements were leaked online. According to the screenshots, Arhaan Khan withdrew around Rs 15 Lakh from Rashami Desai's account. Rashami's fans started shaming Arhaan Khan for using her for money. However, till now, Rashami hasn't given a confirmation on the same.
After getting to know about Arhaan Khan's marriage and child, Rashami Desai was heartbroken and post the show she confirmed that she is not in touch with Arhaan anymore.