Also known as Sana inside the Bigg Boss house, Shehnaz Kaur Gill is one of the most entertaining contestants on the show. With her rival Himanshi Khurana's entry inside the Bigg Boss House, we got to see a different side of Shehnaz and that too got a mixed response from the viewers.
You call her dumb or cute, you can't ignore the fact that she is entertaining and keeps us all glued to the show. Shehnaz Gill comes from the Punjab industry and has a huge fan following.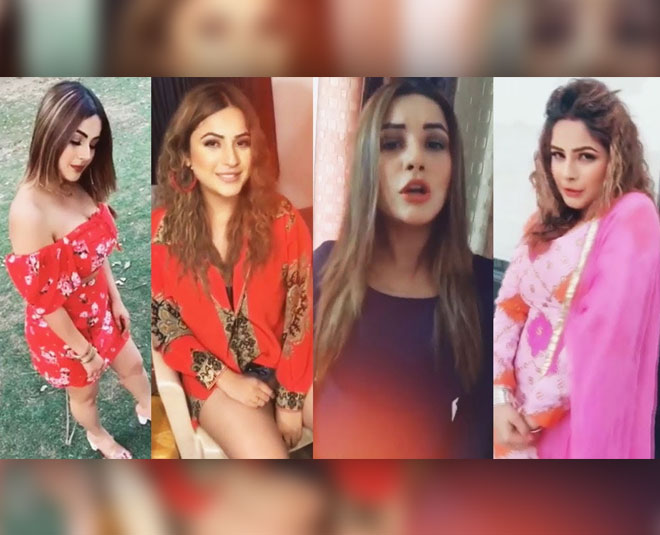 For the uninformed, other than doing her music videos and movies, Shehnaz Gill also does a lot of Tik Tok videos. Tik Tok is a social media video app where one can lip dub, shoot some comedy or talent videos.
Shehnaz is very active on the platform and has more than 2 million followers. For all you Shehnaz Gill lovers, we bring you some of her most popular Tik Tok videos here. Have a look:
In this video, Shehnaz Gill can be seen dancing to Maninder Buttar's Ik Tera song. Shehnaz can be seen wearing a beige coloured suit. Doesn't she look stunning?



We can see Shehnaz in her entertaining avatar, doing a lip dub here.

Don't Miss: Bigg Boss 13: We Bet You Don't Know These Things About Shehnaaz Kaur Gill
Here Shehnaz Gill can be seen in a totally different avatar in the video.



And here again, you can see Sana in a totally different look.
Ever since the show began, we saw Shehnaz Gill entertaining us all. However, with Himanshi's entry in the house recently, we saw a major change in her. On seeing Himanshi, Sana started crying like crazy and wanted to quit the show right away. And two days later, we can see her feeling really low.
After seeing Shehnaz Gill's video that body-shamed and abused, the viewers have been waiting for Shehnaz to apologise to Himanshi and her parents on national television.
Earlier, Shehnaz has accepted it on the show that she uses abusive language but who knew that we would get to see this other side of Sana with this controversy with Himanshi.
In yesterday's episode, we finally saw Shehnaz Gill apologising to Himanshi's mother on camera. The housemates have been trying to solve the issues between Himanshi and Shehnaz but Himanshi is still firm on her decision.
Will the two ever get along on the show? Time will tell! Stay to tuned for more gossip from the Bigg Boss house.