Akshaya Tritiya 2022: Date, Muhurat, How To Do Puja At Home
Akshaya Tritiya is falling on 3rd May this year. The festival is believed to be highly auspicious for the Hindu community.
Akshaya Tritiya is one of the most awaited festivals of the year. The festival falls during the Shukla Paksha Tritiya in the month of Vaishakha. The day is considered quite auspicious, especially for the Hindu community.
Akshaya means something which never diminishes. It is believed that what you do on this 'Tritiya' or date, never diminishes and gives you lifelong results. This is one reason why a lot of people do chanting, puja, and donate on this day.
A lot of people also invest in silver and gold on this day. It is believed that buying precious metals like gold and silver on this day brings good luck and success. Many believe that the gold and silver bough on this day continues to grow and never diminishes.
Akshaya Tritiya Significance
According to Padma Purana, Lord Vishnu had told Narad Muni that whatever deeds humans do on the occasion of Akshaya Tritiya, they will help them through his life and even afterward.
Akshaya Tritiya 2022 Date And Timings
This year, Akshaya Tritiya is falling on 3rd May 2022. The puja muhurat will begin at 05:39 am and end at 12:18 pm as per Drikpanchang.com
Akshaya Tritiya Puja At Home
To get the maximum benefits out of this auspicious day, you should perform puja at home as per Astro experts.
Begin your day early in the morning by taking a bath. If possible you can take a holy dip in a sacred river. It is considered highly auspicious on this day.
At home, in the puja corner, place a new idol of Lord Ganesha and Goddess Lakshmi.
Prepare a paste using sandalwood powder and rose water. Use this paste to apply tilak on the idols of Lord Ganesha and Goddess Lakshmi.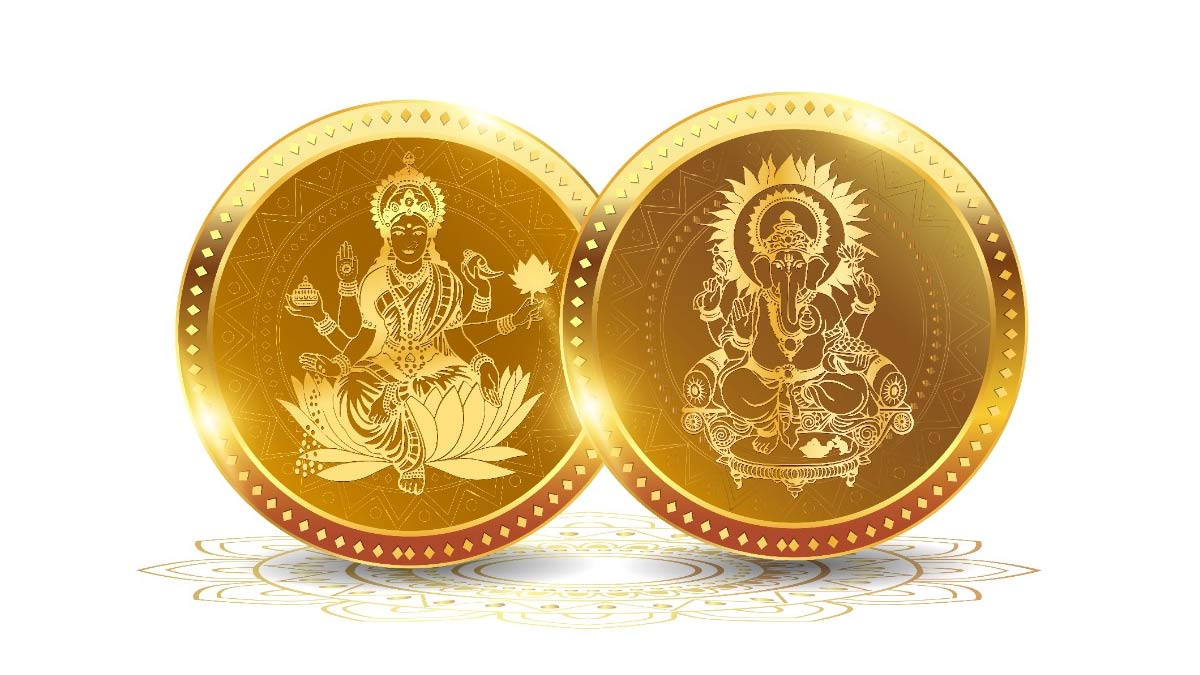 Start chanting the mantra for Lord Ganesh and Goddess Lakshmi.
"Om Gam Ganapataye Namaha" is the basic mantra that means you are bowing down to Lord Ganesh with all your existence and asking him for his blessings.
"Shreem" is the easiest mantra to please Goddess Lakshmi. The mantra means you are praying to the goddess for gain and prosperity in life.
If you have purchased new gold or silver items on this auspicious day then place them in front of Lord Ganesha and Goddess Lakshmi for their blessings. You can also take out the old ones and place them for puja for blessings.
Prepare bhog at home using ingredients like milk, rice or dal. Offer this to the deities.
Perform aarti at home with all the members of the family.
Distribute prasad to all the members.
Performing Akshaya Tritiya puja at home brings health, wealth, and prosperity to the household. The puja brings never-ending progress to the house and benefits all the members of the family.
Don't Miss: Akshaya Tritiya Prasad: Milk Cake To Rava Kesari, Here's What You Can Offer To The Gods
Things To Donate On Akshaya Tritiya
We spoke to Astro expert Sonia Malik and asked her what things should we donate on this auspicious day. The expert shared that donating some special things on this day can please Goddess Lakshmi and benefit the native in multiple ways.
Donating anna or food in any form is considered good on this day. You can donate essential food items like wheat flour, rice, sugar, dals to the needy.
Get some clothes and footwear for the needy. Giving them slippers and new clothes on this day is believed to give the native freedom from moksha. Also, it is said that this donation helps the native keep health issues at bay.
Donating food to cows is also considered beneficial on the occasion of Akshaya Tritiya. Prepare chapatis at home and roll some fresh jaggery or gur in it. Take it to gaushala and offer it to cows.
Do you have any questions related to Akshaya Tritiya 2022? If yes, write to us and we will get them answered for you by our Astro expert. For more such stories, stay tuned!