Akshaya Tritiya which is just around the corner is an important day in Vedic culture. The word 'Akshaya' means eternal which means never demolish and 'Tritiya' refers to the lunar third day. It is celebrated on the third lunar day of the bright moon of Vaishakha/ Baisakh month and this year it is falling on May 14th. On this day the birth of Lord Parasurama, the sixth incarnation of Lord Vishnu, is celebrated.
This day holds a great significance for Hindus and Jains. People perform various rituals to keep their mind and heart sacred. Devotees keep fast on this day and worship Lord Krishna, with 16 items of Puja called Shodashopchar Puja. But every pooja is incomplete without Prasad. Here are a few recipes which you can cook and offer to Lord Krishna. Scroll on to find out.
Kalakand Recipe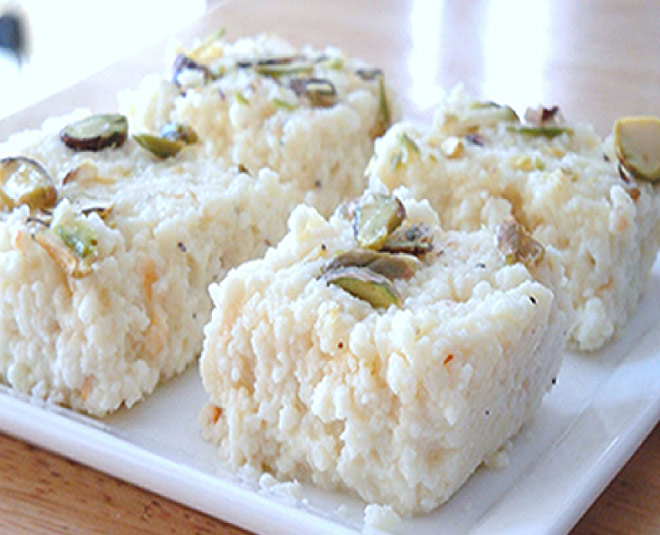 Ingredients
1 cup sweetened condensed
1 teaspoon silver leaf
2 tablespoon chopped pistachios
¼ teaspoon powdered green cardamom
2 cup paneer use ricotta
Preparation Method
Mix paneer or ricotta cheese with condensed milk.
Heat the mixture on medium-low heat.
Stir it continuously until it is reduced to two-thirds.
When the mixture starts to thicken, add some cardamom powder, pistachios and silver leaf.
Now, grease the tray and spread the mixture evenly and let it cool.
After cooling it, cut it into square pieces and your mouth-watering kalakand is ready to serve!
Khoya Barfi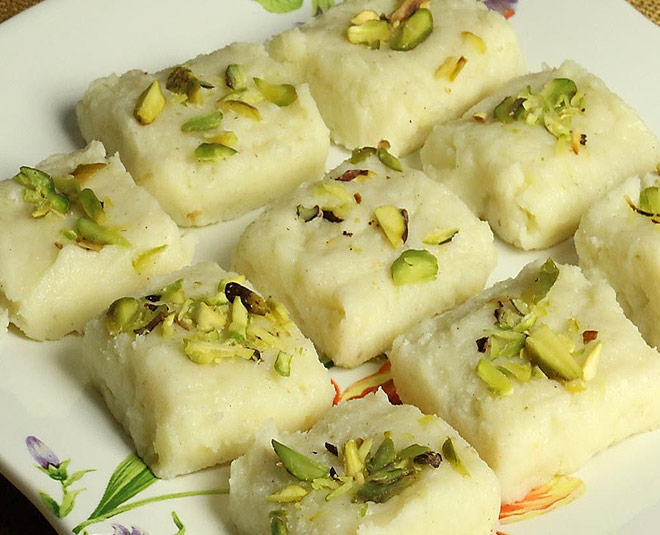 Ingredients
4 cups thick mawa/ khoya
2 ½ cup powdered sugar
1 tablespoon slivered almonds for garnish
2 tablespoon crushed pistachios
¼ teaspoon elicahi powder
1 teaspoon ghee
1-2 tablespoon milk powder
Process
Heat ghee and crumbled mawa in a pan. Cook for 1 minute and add 1 tablespoon of pistachios.
Mix it well.
Add sugar in the mixture and stir it continuously.
Cook on a low flame and make sure it won't stick at the bottom.
Stir it continuously, until the mawa becomes like dough.
Now, grease the tray and spread the mixture evenly and let it cool.
Sprinkle some eliachi, almonds, pistachios on it.
Keep it aside and let it cool completely.
Cut it into pieces and enjoy!
Kesar And Kaju Barfi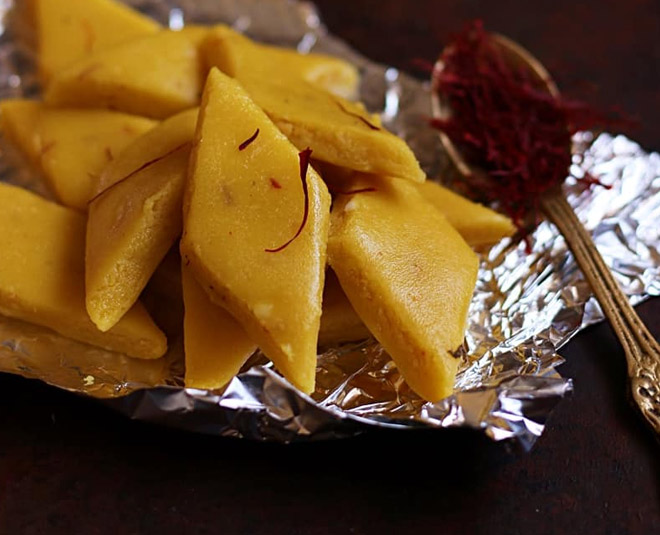 Ingredients
500 gms Kaju
300 gms sugar
½ teaspoon kesar
¼ teaspoon orange colour
2 teaspoon silver ( for garnishing)
Preparation Method
Take water in a bowl. Soak the cashew nuts for 3 hours.
Drain the water from cashew nuts and grind them finely.
In a pan, mix sugar and cashew nuts, and roast it on low heat.
Continuously stir the mixture on a medium flame.
Add saffron, orange colour in the mixture and mix it well.
Stir and cook for another 5-10 minutes on medium low flame or until mixture starts getting thick paste consistency and just starts coming together from a lump.
Switch off the heat.
Take the mixture and spread it on a plate or butter paper and allow it to cool.
When the mixture has reached to slightly warm temperature, grease your hands with little ghee and start kneading to form a dough.
Place the dough between two butter papers and roll out the dough.
You can also roll out the dough on a greased plate.
Cut the katlis into a diamond shape and serve!
Rava Kesari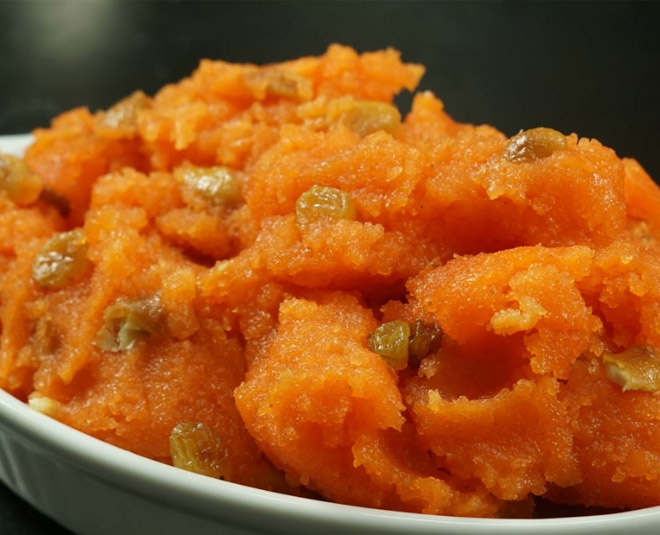 Ingredients
2 tablespoon butter
10 kaju/cashews
1 tablespoon raisins
½ cup Rava/ semolina
1 cup of water
A ¾ cup of sugar
2 tablespoon soaked kesar water
¼ teaspoon elachi powder
Preparation Method
Heat 2 tbsp ghee and roast cashews and raisins on low flame.
Keep aside cashews once turn golden brown.
Now in the same pan, roast rava for 5 minutes on low flame. Then keep it aside.
Pour 1 cup of water in a large container. Keeping the flame low, add roasted rava in it.
Stir continuously till the rava absorbs water and no lumps are formed.
While continuously stirring, add sugar in it.
Add 2 tbsp kesar water when sugar dissolves.
Add ghee and mix it well.
Cover and simmer for 2 minutes or till rava gets cooked completely.
Garnish it with roasted cashews, raisins and eliachi powder.
Stay tuned to HerZindagi for more!