There was a time when Akshay Kumar and Raveena Tandon were one of the most talked-about couples in the industry. The two were dating each other for long and they reportedly even got married. Both Raveena and Akshay were at the peak of their careers back in the 90s and their on-screen pairing received a lot of love from the public. After the release of their movie, Mohra, Raveena and Akshay were madly in love with each other. Their off-screen romance soon became the talk of the town. What happened next? Read on to know.
Akshay And Raveena's Engagement
Akshay Kumar and Raveena Tandon bonded well with each other. They were both Punjabis, had similar backgrounds, and clicked instantly. Soon, after the release of their movie Mohra, they were spotted together on different occasions. Reportedly, Akshay and Raveena were serious about their relationship and wanted to take a step forward by tying the knot.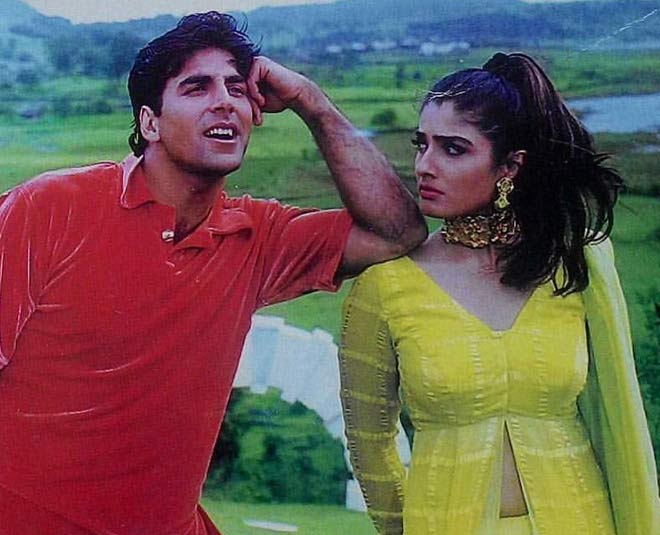 When Akshay Kumar promised Raveena Tandon for marriage, she stopped signing any movies as she wanted to be a housewife. In an interview, Raveena Tandon shared that Akshay Kumar had promised to marry her on the last day of their shoot. Before that, they got engaged in a temple. Talking about the engagement, Raveena Tandon shared that it was an elaborate engagement where his family came from Delhi and one of the elders of his family put a red dupatta on Raveena's head. However, soon, news of their break-up started to do rounds.
Don't Miss: Akshay Kumar And Rekha's Lesser-Known Love Affair, What Happened And Led To Their Breakup
Raveena Tandon in an interview shared that Akshay had a fear of losing his female fans and this is why he did not make his engagement news with Raveena public.
When Akshay Kumar Broke His Silence On His Engagement
Initially, Akshay Kumar kept mum about his break-up rumours. However, years later, he broke his silence and confessed to being engaged to Raveena Tandon. When he was asked if he was married to Raveena, he said, "It was only an engagement which broke up later. But excuse me, we were not married at all." He also shared that even after their break-up, they continued to share a cordial relationship. Akshay Kumar shared that he and Raveena shot for a long time even after their break-up.
Don't Miss: Throwback: When Twinkle Khanna Reached Priyanka Chopra's Film Set To Slap Her
However, Pramod Chakravorty, director of their movie Barood had a different take on Akshay and Raveena's equation on set after their breakup. The director had shared that the team had a tough time shooting due to the animosity between Akshay and Raveena. However, Akshay Kumar denied it and said, "That's again wrong. Raveena is a very professional actress. She won't do that. We have already finished shooting for Pramod Chakravorty's Barood. And who said we're not even on talking terms? We are indeed talking."
Not just Raveena Tandon, Akshay Kumar's name was also linked to many other actresses of the Bollywood world including Rekha, Sushmita Sen, and Shilpa Shetty among others. In an interview, Raveena shared that she had caught Akshay red-handed with Rekha and Sushmita Sen. She shared that after her engagement with Akshay, he also got engaged to two other actresses. She shared that Akshay Kumar used to propose to every girl. Raveena Tandon further shared that she was warned by a lot of her friends earlier but she didn't pay heed to them back then. Raveena Tandon took a step back and shared that it was the loyalty that meant everything to her and when Akshay came back to her, she didn't forgive him. For her break-up with Akshay, she didn't blame any actress but the man himself as he wasn't loyal.
Later, Akshay Kumar got married to Twinkle Khanna. On the other hand, Raveena Tandon tied the knot to Anil Thandani.