Akshay Kumar And Rekha's Lesser-Known Love Affair, What Happened And Led To Their Breakup
Akshay Kumar and Rekha's rumoured relationship was one of the most talked about things in B-town in the 90s.
Back then in the 90s, Akshay Kumar was known to have a lot of love affairs. He was one of the biggest actors back then too and his affairs with the leading ladies of Bollywood were always the talk of the town. However, one of his affairs grabbed a lot of eyeballs and that was with Rekha.
Rekha And Akshay Kumar's Affair
Rekha and Akshay starred in a movie titled Khiladiyon Ka Khiladi which released back in 1996. The movie did great business at the box office. However, the movie remained in news due to Akshay Kumar and Rekha's rumoured relationship. Back then there were reports that Akshay Kumar had broken up with Raveena Tandon because of his affair with Rekha.
Akshay was romantically involved with Raveena Tandon then but Rekha tried to get close to the handsome hunk despite knowing about that reportedly.
Don't Miss: Throwback: When Shilpa Shetty Claimed That Akshay Kumar Two-Timed Her With Twinkle Khanna
Raveena Tandon On Akshay And Rekha's Breakup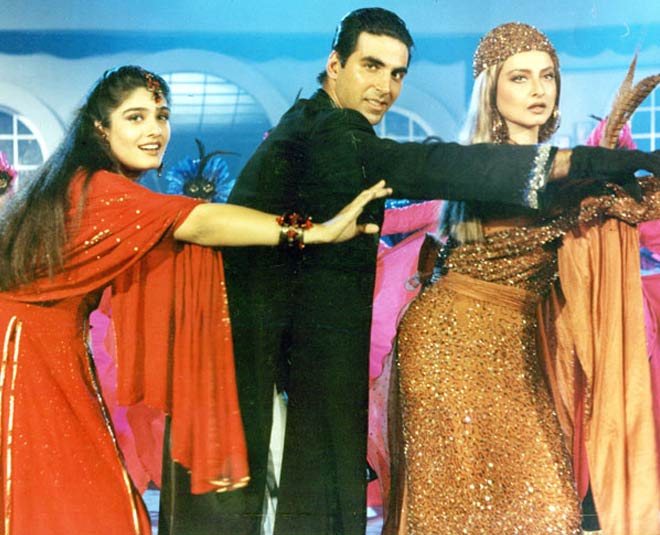 Raveena Tandon and Akshay Kumar were in a relationship while they were shooting for their movie Khiladiyon Ka Khiladi. Rekha too was a part of the movie, who played Raveena's on-reel elder sister. Rekha reportedly fell for Akshay Kumar while shooting for the movie and got really close to him. Akshay Kumar's then-girlfriend, Raveena Tandon didn't really like Rekha getting this close to him and she reportedly asked her to maintain a distance from boyfriend Akshay Kumar.
In an interview, she shared that it was Rekha to be blamed here and not Akshay. She said, "I don't want to say too much on the subject. I don't think Akshay ever had anything to do with Rekha. As a matter of fact, he would run away from her. Akshay tolerated Rekha because of the film. At one point she wanted to get lunch dabbas for him from home. That's when I put my foot down. I felt it was taking things a bit too far. She's a wonderful person, but she should learn where to draw the line."
Well, that quite cleared that Akshay Kumar didn't have anything for Rekha.
Don't Miss: Throwback: When Rekha Insulted Jaya Bachchan & Called Her 'Bechari'
Akshay Kumar And Rekha's Cordial Relationship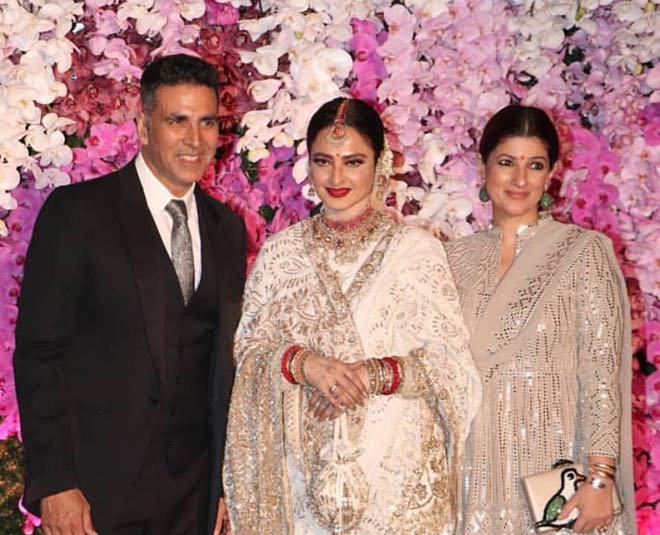 Years later, Akshay Kumar and Rekha maintain a cordial relationship today. The two bumped into each other at Akash Ambani and Shloka Mehta's wedding reception. They happily greeted each other at the event. Akshay's wife Twinkle Khanna also arrived for the event with him and the three together posed for the shutterbugs.
Akshay Kumar And Raveena Tandon
Akshay and Raveena were one of the most talked-about couples in the 90s. They were madly in love. Akshay Kumar and Raveena Tandon were dating each other for quite some time and it all made their fans wait for the marriage announcement. However, nothing happened.
In an interview, Raveena Tandon shared that Akshay Kumar had promised to marry her the day she finishes her last shoot. There were also rumours that they had got engaged in a temple. However, their relationship came to an end when Akshay Kumar's name was linked with other actresses. Raveena Tandon decided to put an end to the relationship because loyalty was everything for her.
Back then, Akshay Kumar was also linked with actresses like Ayesha Jhulka, Shilpa Shetty and Pooja Batra. Today, Akshay Kumar is happily married to Twinkle Khanna and the two are parents to Aarav and Nitara. For more such throwback Bollywood stories, stay tuned!
Recommended Video